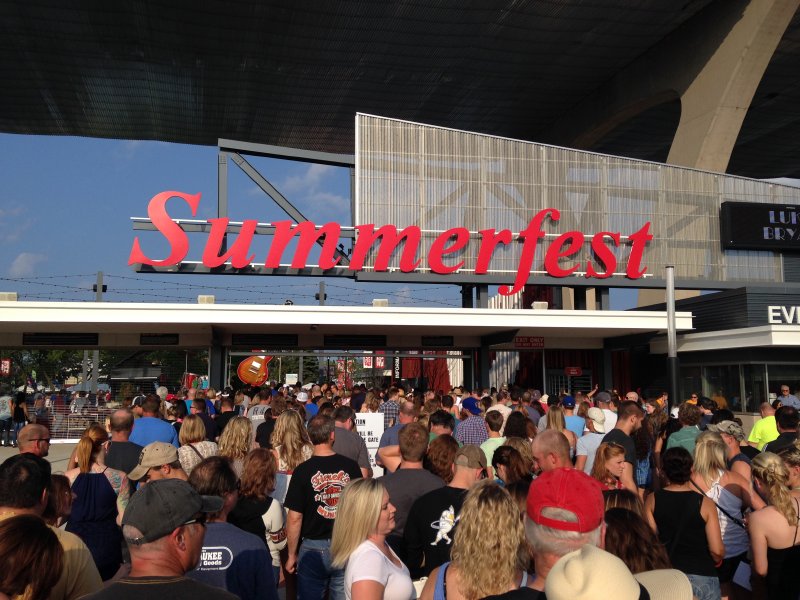 Summerfest 2014 by the numbers
A lot of big numbers go into making The Big Gig. This past year, nearly 2,200 seasonal employees – including 600 workers between the ages of 16 and 22 – were hired to put in about 140,000 hours, making sure the festival's more than 45 food and beverage stations, 800 acts and 1,000-plus performances went off without a hitch.
According to the early results reported by Summerfest, the final numbers coming out of the festival were happily just as big and impressive. This afternoon, the music festival announced growth in revenue, attendance, sponsorships and international media coverage.
According to Summerfest's early tabulations, 2014's rendition of The Big Gig – which wrapped up just last Sunday night with Usher's lone U.S. performance this year – brought in 851,879 patrons. Even with the early fog infestation, the late rain and typical summer construction, that's a 1.4 percent increase over last year and the highest attendance since 2011 (878,636). Since 2005's attendance of 901,841, Summerfest has averaged 857,598 visitors per season.
As you'd expect, more attendees means more bus rides, with Milwaukee County Transit System (MCTS) reporting a 13 percent increase in overall ridership to Summerfest in 2014.
Summerfest also reported food and beverage sales increased by 6 percent from last year's festival, while corporate sales increased by 6.4 percent thanks to new several sponsor partnerships – growing to 94 total brands and media partners.
Meanwhile, The Big Gig also seems to be growing its national and international footprint. According to the press release, though the coverage data is still being compiled, 687 media outlets covered or mentioned Summerfest between the beginning of the year and July 2014 – including 63 major media outlets, like The New York Times, USA Today, Entertainment Weekly, Rolling Stone, Pitchfork, Time and more.
Finally, in the food freak show numbers, Summerfest reported that 66,011 burgers, 20,799 brats, 17,842 eggplant strips, 96,344 mozzarella sticks, 38,202 ears of corn, 181,758 mini donuts and 33,728 ice cream cones were consumed over the course of the 11-day festival. Hey, at least eggplant and corn are vegetables.
Summerfest will certainly hope to at worst match these numbers next year when the festival hits again, from June 24 through July 5 (with a break on June 29).
Facebook Comments
Disclaimer: Please note that Facebook comments are posted through Facebook and cannot be approved, edited or declined by OnMilwaukee.com. The opinions expressed in Facebook comments do not necessarily reflect those of OnMilwaukee.com or its staff.