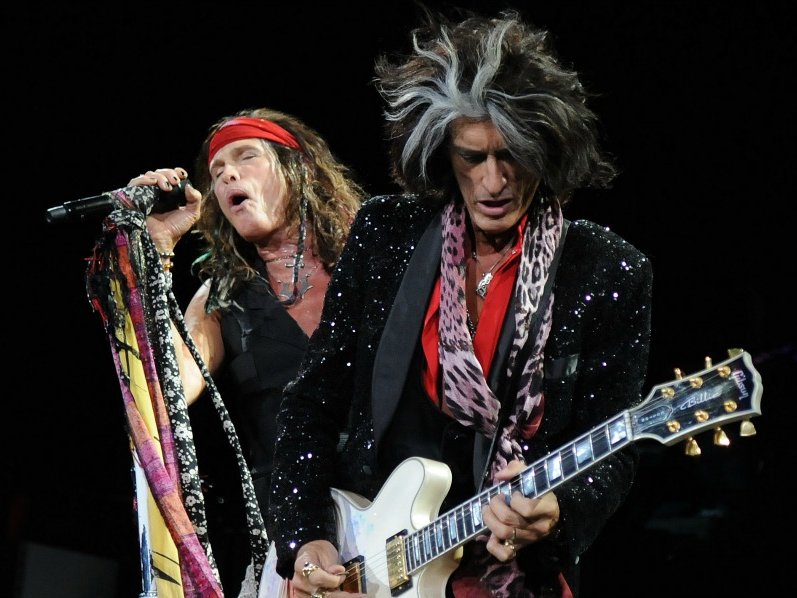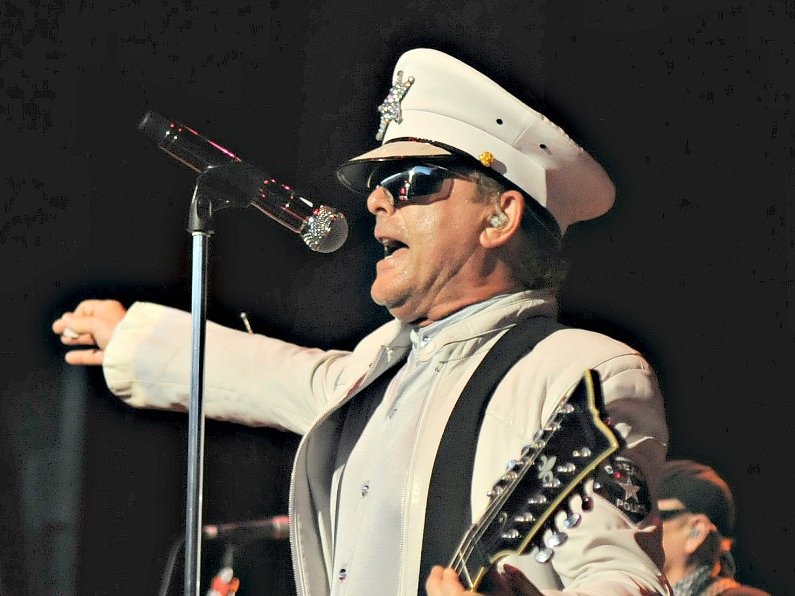 Aerosmith brings it back to the 70s with strong performance
When the lights went down at the Marcus Amphitheater just after 9:30 p.m. Saturday night on Day 10 of Summerfest, the two large video screens that lit up – including a circular screen designed to hypnotize – predicted a futuristic, or at least current, show.
A robotic voice narrated for two minutes over a collage of images racing across the large back screen, working the crowd up for the appearance of headliner Aerosmith – which promptly took the 20,000 or so fans back to the 1970s and early 1980s.
Currently touring in advance of a new record set to be released in the fall, the Boston-based rockers have featured a set list straight designed for those who became fans of the band three or four decades ago. That said, the band took enough breaks in the action to prove to the crowd that they are, indeed, four decades into a career.
Playing 16 full songs in just under two hours, Aerosmith reached back to play 1970s releases "Draw The Line" (1977), "S.O.S. (Too Bad)" (1974), "Last Child," (1976), "Lord Of The Thighs" (1974), "Combination" (1976) and "No More No More" (1976).
Of the group, only "Last Child" could be considered a crowd favorite.
Perhaps the reason for the set choice – which has been consistent all tour – is that the group's new record is being hailed as a return to its rock roots. To that end, new tracks "Oh Yeah" and "Legendary Child" fit in seamlessly. And, the band didn't introduce them – so much of the crowd was left wondering what they were, like many of those 1970s deep cuts.
Favorites that were played included "Jaded," which was really well received, "Sweet Emotion,"
"Love In An Elevator," "Livin' On The Edge" and "Walk This Way."
The songs were spaced out with solo's for every band member, but Joey Kramer's has been on the set list all tour long – and for good reason. He worked through his entire, impressive repertoire, and was joined by Tyler for what seemed like a memorable finish; at least until Kramer tossed his sticks into the crowd and capped the performance with his right fist, the back of his left hand, and bass accents played with his head. Yes, his head.
The other solo's were a little tired however, and brought the crowd down quite a bit. One Joe Perry feature gets the crowd going. A second, not so much. A third and a fourth? Eh. And when bassist Tom Hamilton was inevitably introduced for his spotlighted walk down the platform, one fan yelled "C'mon!" in exasperation.
While the breaks were long and perhaps prevented the band from playing more hits ("Falling In Love Is Hard On The Knees," "I Don't Wanna Miss A Thing," and "Cryin'" have been played on other tour stops), the crowd benefited from a fresh Steven Tyler.
The eccentric front man was on his game, holding his screams and hitting the high notes on each song with strength. I'm sure many wondered what condition his voice would be in, or he would act strangely or forget some words, but he was vintage Tyler vocally.
He no longer moves like he used to (perhaps due to that stage fall a few years ago) he kept his energy up by working the long platform that jutted out from the stage and moving between his band mates.
The platform also allowed more fans a "front row" experience, which Tyler took advantage of my making out with several female fans during breaks in the vocals. Yes, making out.
Because the set list didn't feature many fan favorites, their performance of "Dream On" to open their two-song encore brought on thunderous applause. Tyler did not disappoint, either, beginning the song behind a white piano at the end of the platform.
His vocals were impeccable, and then Perry added to the theater by climbing a set of stairs atop the piano for a few chords. Once Perry climbed down, Tyler went up for the climatic final words – hitting the notes just right as two fountains of smoke bordered he and Perry.
The group then ended on with their cover of "Train Kept Rollin'" a crowd favorite that ended the night on a high note.
On balance, Aerosmith performed at a high level, both musically and vocally. Perry was brilliant – as you would expect – as were Kramer, Hamilton and guitarist Brad Whitford.
At this stage in their careers, Tyler will always be the wildcard, but he brought it Saturday night. The constant (and lengthy) solo's and long instrumental play outs got a little annoying, but if the result is a strong Tyler – it's a good call.
I'll give the band credit for knowing what will work best for them at this point, but it'll be interesting to see if they can continue to draw tens of thousands at future tour dates once people realize they are sticking to this 1970s feel.
But, as long as Tyler sings like he did Saturday night, everyone will leave happy.
ztcszfsw
Talkbacks
IndependentGeorge | July 9, 2012 at 1:18 p.m. (report)
A far more insightful recap of the show than that published by the large local news outfit. Get Your Wings, Toys in the Attic & Rocks were the albums, along with Dream On and a couple of songs from Drawin the Line that made these guys relevant. Glad to see that was where their emphasis was. Uncle Salty and Back in the Saddle in place of a couple of solos would have made for a yet more outstanding gig.
Facebook Comments
Disclaimer: Please note that Facebook comments are posted through Facebook and cannot be approved, edited or declined by OnMilwaukee.com. The opinions expressed in Facebook comments do not necessarily reflect those of OnMilwaukee.com or its staff.