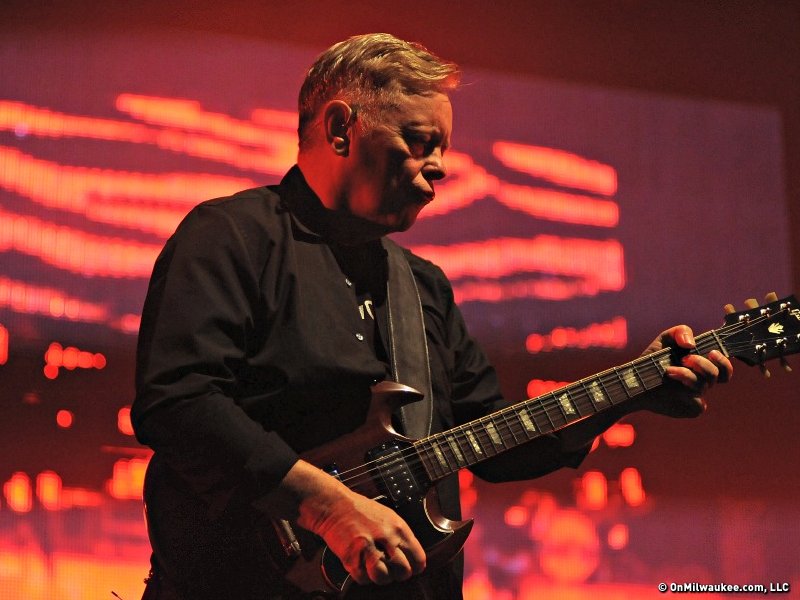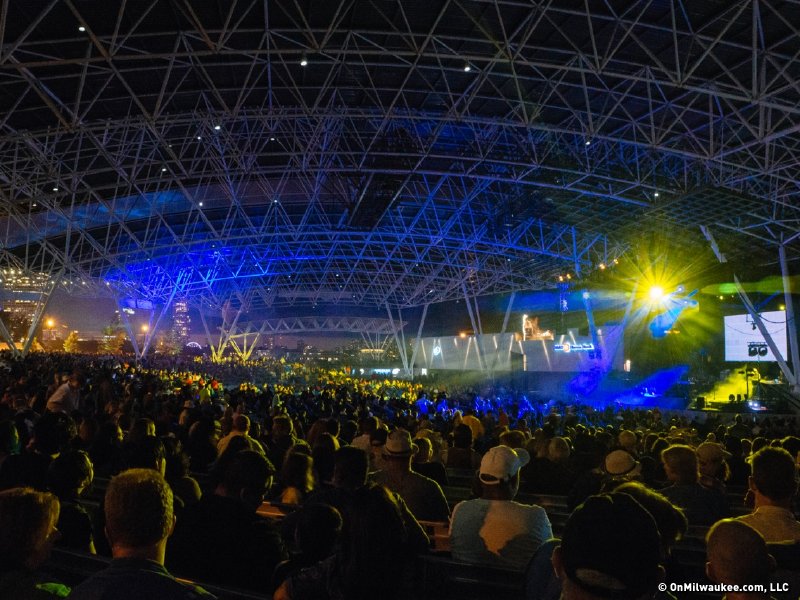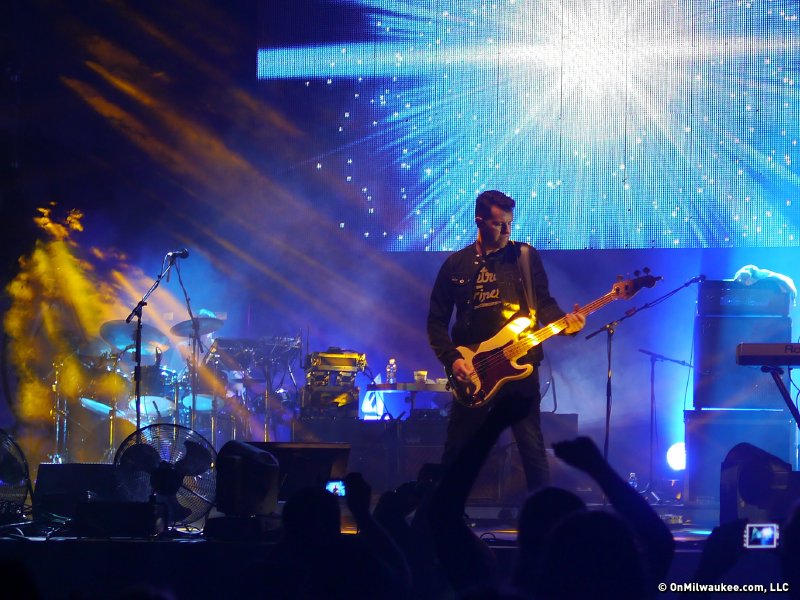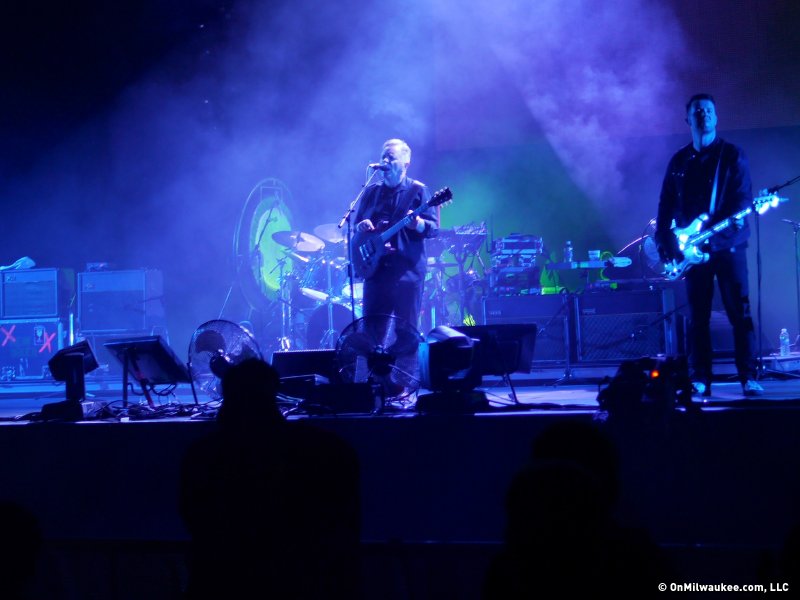 New Order revisits Summerfest after 25 years
Anyone with more than four Facebook friends is well aware that New Order – some of whose members were previously in Joy Division – gigged on the BMO Harris Pavilion stage at Summerfest tonight. (Were my five selfies with an empty stage behind me too much?)
Currently, New Order is on a mini tour promoting, well, nothing at all, really. The band released a B-sides compilation, "Lost Sirens," in 2013 but its last album came out in 2005 – and although it didn't spawn coke piles of hits like records past, it has its share of addictive tracks without sounding dated.
It had been 25 years since New Order played in Milwaukee – in 1989 the group shared the stage with PIL and The Sugarcubes – a fact that New Order frontman Bernard Sumner reminded us of tonight.
If memory serves, the word-of-mouth reviews of the '89 show were not flattering. I remember a friend saying she would have been more entertained by a boom box blasting "Blue Monday" in front of a collection of cardboard cut-outs.
But that wasn't the show we got tonight. Sumner, who is 58 years old, stood in the shadows with his bandmates for much of the performance, but delivered enough enthusiasm to fulfill a potentially once-in-a-lifetime concert opportunity for long-time fans.
Sumner is a resilient character, a survivor who has managed to keep his sh*t together despite the suicide of former Joy Division bandmate / friend Ian Curtis and the downward spiral of Peter Hook, bassist in both bands.
It was inspiring to see him so strong tonight. Uncharacteristic of his younger self, he even clapped his hands over his head and offered genuine sentiments of gratitude to the crowd.
Oh, how age changes us.
But fans had to wait for the goods, both old and new, to be delivered by Sumner and company.
Billed as an 8 p.m. show, New Order did not take the stage until almost 10 p.m. DJ Whitney Fierce opened the show for almost two hours and her beats seemed to drag on, at least for those of us who didn't drop ecstasy on our way through the gates.
Once on stage, New Order played a mix of new and old material – as well as several Joy Division "covers." New songs included "Singularity" and "Plastic" – a slick, seven-minute dance-pop number that debuted at the Chicago show last night.
"It's important as a band we continue to write new songs," Sumner said.
And even though philosophically most of us in the audience would agree with that effort, let's face it, we were there, mostly, for the hits. We came to dance, but more so, we came to remember.
Drunk or half drunk or not, long ago we let these songs serve as anthems for overly romantic notions of failure or the overly exciting love adventures that we would someday hopefully experience and even though we have more answers now, the painful hopefulness of the songs continue to be alluring.
And indeed, the memory-triggering hits were plentiful tonight: "Ceremony," "Age Of Consent," "Bizarre Love Triangle," "True Faith," "Blue Monday" and "Temptation" all made the cut. (Considering the parade of oldies, "Loves Vigilantes" felt left out.)
Also, Joy Division songs "Atmosphere" and the fan fave "Love Will Tear Us Apart" contributed to the well-rounded set list. Although, something was a bit off about "Love Will Tear Us Apart," the second encore song, which surprisingly didn't have quite the clamoring effect live. I missed the dramatic opening and, I admit, Curtis' voice.
But overall, it was a compelling show – with some muffled-sound issues at times – but having the chance to dance and sing with a thousand or so other dark souls was worth its weight in gold. Or, at the very least, it allowed many of us to cross one more must-see concert off the bucket list.
New Order set list:
Elegia
Crystal
Singularity
Ceremony
Age of Consent
Your Silent Face
Californian Grass
Bizarre Love Triangle
5 8 6
Plastic
True Faith
The Perfect Kiss
Blue Monday
Temptation
Encore:
Atmosphere
Love Will Tear Us Apart
Talkbacks
cpv13 | July 8, 2014 at 12:32 p.m. (report)
The wait was painfull with the same beat blasting forever. Agree with chadomac that the show should have been listed as 10pm. After 1.5 hour delay, we bailed at 9:30 and went to other stages. BMO and Summerfest screwed up big time. FYI, same thing happend at REO show.
chadomac | July 4, 2014 at 9:34 a.m. (report)
Summerfest did a horrible job planning and promoting this show. Why not advertise it as 8 PM DJ Whitney Fierce, 10 PM New Order? By advertising it the way they did, they had a lot of people expecting New Order to start no later than 8:45ish. Although it wasn't her fault, the crowd turned on the DJ several times when it just wouldn't end. Nobody expected her to play 2 hours of thump-thump-thump and it became mind-numbing to those of us waiting for the headliner to start. All of this could easily been avoided. Also, having two dance acts play at a seated pavillion as opposed to one of the other more open stages seemed like a curious decision as well. Horrible experience.
Facebook Comments
Disclaimer: Please note that Facebook comments are posted through Facebook and cannot be approved, edited or declined by OnMilwaukee.com. The opinions expressed in Facebook comments do not necessarily reflect those of OnMilwaukee.com or its staff.