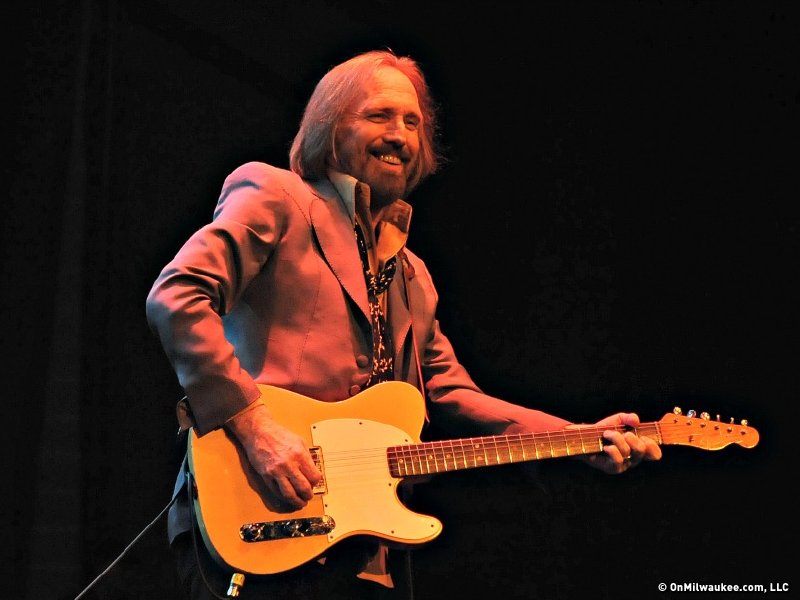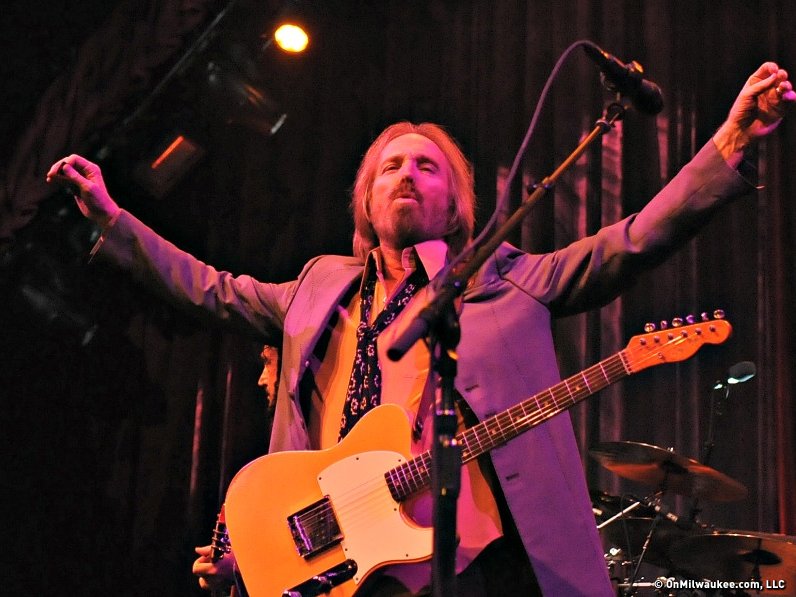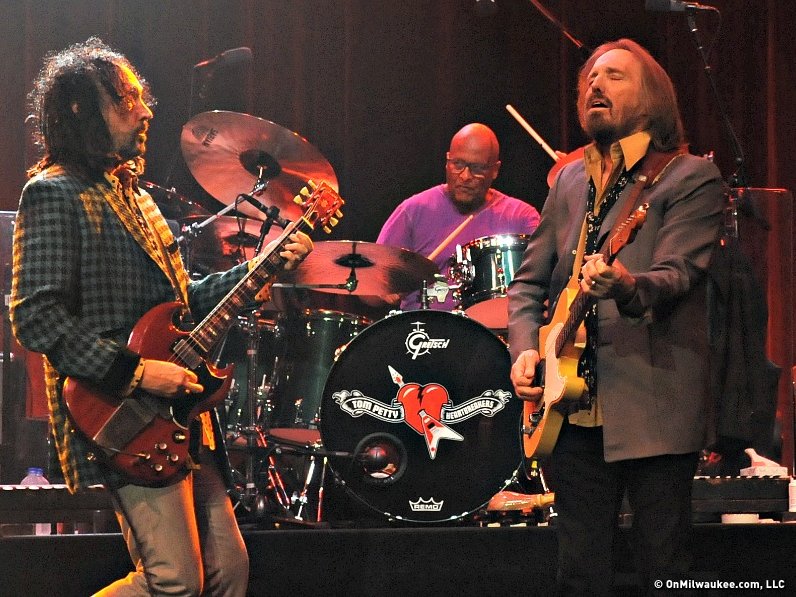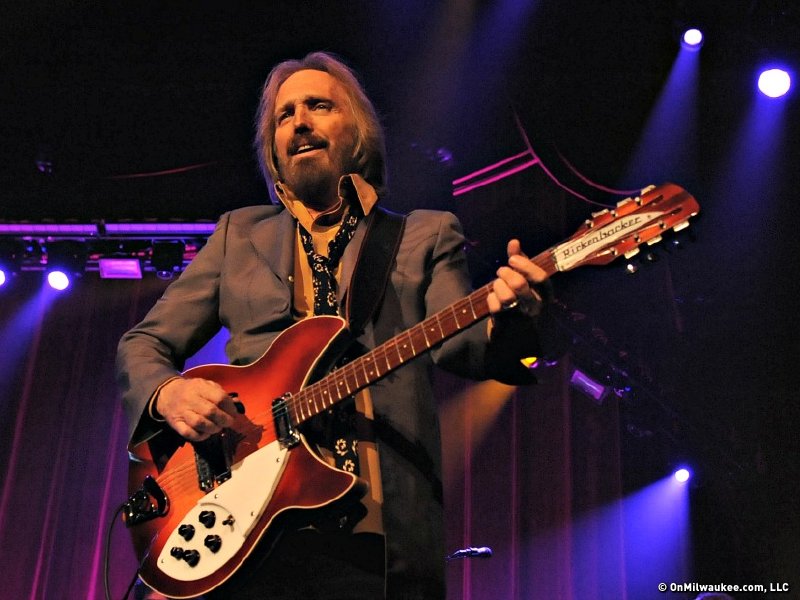 Petty performance predictably solid
Fans know what they are signing up for when they attend a Tom Petty and The Heartbreakers concert. The show is not full of surprises. It is filled with radio hits, hand clapping, lighter waving, guitar solos and committed, heartfelt, energetic musicianship.
The latter is, for the most part, why tonight's show at Summerfest's Marcus Amphitheater was sold out.
"I hope you don't have to be anywhere right away," he said after walking on stage. "My schedule is clear for hours."
Petty and company went on to deliver hit after hit, opening with a cover of The Byrds' "So You Want To Be A Rock 'n' Roll Star," followed by "Love Is A Long Road," "I Won't Back Down," "Last Dance With Mary Jane," "Free Falling," "A Woman In Love (It's Not Me), "Cabin Down Below," "Rebels," "Melinda," "Learning To Fly," "Yer So Bad," "I Should Have Known It," "Refugee" and "Running Down A Dream."
He also did a cover of the classic blues song "Baby, Please Don't Go" during which he inserted a somewhat puzzling story about having a relationship with a bi-polar woman. "Not that there's anything wrong with that," he added.
The band encored with "Don't Come Around Here No More," "You Wreck Me" and "American Girl." I was disappointed "Breakdown" was not thrown into the mix.
Most of the songs were major sing-a-longs and often Petty stepped back and let the audience carry the lyrics. Overall, Petty was very responsive to and seemingly sincere with the Milwaukee audience.
"We've been looking forward to this gig during the whole tour," he said.
Petty and The Heartbreakers appeared on stage just before 9 p.m. and played for a solid two hours. The band included multi-instrumentalist Scott Thurston, drummer Steve Ferrone (Petty said during his introduction he would "go and see him every night if he weren't in my band"), Benmont Tench on organ, Mike Campbell on lead guitar and bassist Ron Blair.
"(Ron and I) used to hang out and smoke ... I mean, have tea," Petty said.
A few of the band members, including Petty, were dressed in dapper suit coats and ties which created a mod overall appearance when juxtaposed with their long hair. They later switched to Mumford and Sons-style vests.
Like his solid concerts, Petty is consistent in his stage presence. He flashed an easy smile, spoke highly of his five-member band and thanked the audience often while putting a hand over his heart.
Born in 1950 in Gainsville, Fla., Petty's interest in music started at the age of 10 when he met Elvis Presley through his uncle who was working on the set of Presley's film, "Follow That Dream." Petty says he was an instant fan and later traded his Wham-O slingshot for a stack of Presley 45s.
Petty knew that he wanted to be a musician when he saw the Beatles on "The Ed Sullivan Show." He started taking guitar lessons from Don Felder, who later joined The Eagles.
Petty started a Gainsville-based band in 1976 called Mudcrutch with two musicians who would later be in The Heartbreakers. The Heartbreakers' first album featured the hit single "Breakdown," followed by two more albums, "You're Gonna Get It" and "Damn The Torpedos" that introduced audiences to smash hits like "Don't Do Me Like That," "Here Comes My Girl" and "Refugee."
Like Billy Idol, who performed at Summerfest last night, Petty's success was heightened by the emergence of MTV. His single, "Don't Come Around Here No More," featured Petty chasing Alice from "Alice In Wonderland" and then at the end eating an Alice cake. It remains, to this day, one of the most remembered videos from early MTV.
In 1988, Petty became a member of the Traveling Wilburys supergroup and the next year released the popular "Full Moon Fever," which unleashed more hits like "I Won't Back Down" and "Free Falling."
Petty has continued to tour, record and perform regularly. He will release another record with The Heartbreakers in 2014.
Petty reminds us we cannot stereotype Southern rock.
Although not overtly political, Petty made his associations clear when he asked Republicans Michele Bachmann and George W. Bush to discontinue using his songs at campaign appearances but gave Hillary Clinton permission to use "American Girl" during the 2008 campaign.
Despite all the radio hits, despite all the mainstream success, Petty's last name seems ironic. The themes of his songs are meaningful ("there ain't no easy way out" he wrote in "Won't Back Down"). His demeanor is sincere. And his commitment as a showman to provide a rocking arena show is unwavering.
There is nothing "petty" about Tom Petty.
Facebook Comments
Disclaimer: Please note that Facebook comments are posted through Facebook and cannot be approved, edited or declined by OnMilwaukee.com. The opinions expressed in Facebook comments do not necessarily reflect those of OnMilwaukee.com or its staff.