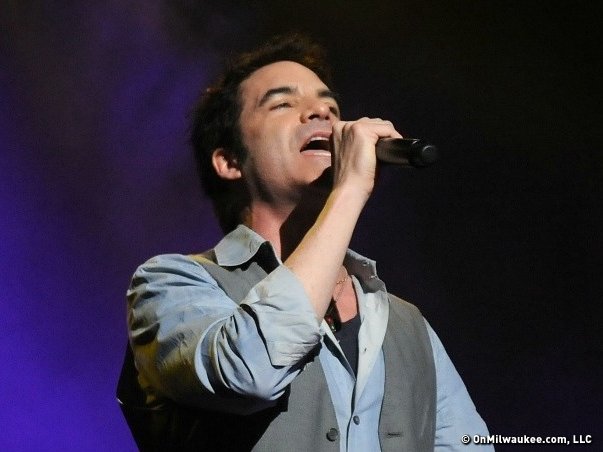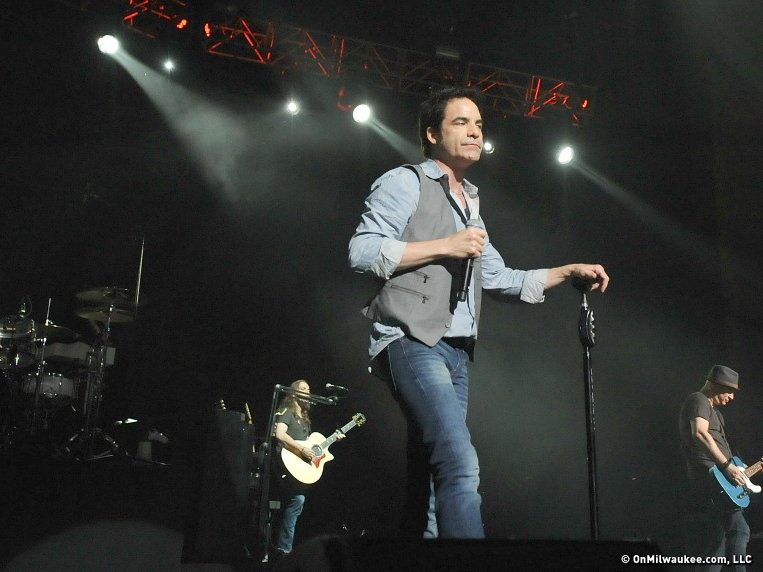 Train, Clarkson take Summerfest on a beautiful ride
From the starting whistle to when we all sing together, Train led Summerfest on a ride through love, pop and soul.
The headline musicians Friday night on the Marcus Amphitheater stage presented their fan favorites and mixed in some new material for their third appearance at the Big Gig.
"We want to thank everyone for letting us be here," Train vocalist Patrick Monahan said, mentioning the band's previous gigs at side stages before getting this latest opportunity.
With a huge California 37 banner looming large at the back of the stage, the San Francisco-based rockers kept the show very interactive with singing audience members, throwing signed t-shirts to the crowd and jumping into the front row to take cell phone pics while performing "Merry Me." At one point Monahan took control of one of the cameras to share a shot of what he sees from the stage.
Drummer Scott Underwood was the first to hit the stage, pounding the skins in a locomotive rhythm to get the crowd into the band's first set of songs, opening with "If It's Love" and including "Meet Virginia," the band's first breakout hit from more than a decade ago.
Other favorites followed, with the Doobie Brothers-inspired "I Got You" and a personal favorite, "Calling All Angels" from 2003.
Monahan introduced their new song, called "Mermaid," from the "California 37" album, in which he gets to play the sax accompanied by Brian Switzer on trumpet. A fan we can call "Monica from Milwaukee" got on stage and sang "Bruised" with the band, and another fan got to get on stage for a cover of Journey's "Don't Stop Believin'."
"Soul Sister" got the crowd on its feet, and the band stayed on stage in lieu of leaving and coming back for an encore. "California 37," "Drops of Jupiter" and "Sing Together" concluded the show.
Before Train left the proverbial station to take the stage, "Duets" and "American Idol" superstar Kelly Clarkson did a wonderful job of getting the Amp crowd moving and grooving. Singing to thousands ranging in age from toddler to old-enough-to-be-her-dad, Clarkson and a very talented band offered a 14-song warm-up act that was headliner worthy.
Clarkson hit the stage with "Dark Side" and went into "Here I Am" and "Since U Been Gone." One highlight was her cover of Annie Lennox's "Walk Away," which allowed the singer to showcase the power and range of her voice. She introduced a couple of new songs, superbly slowed the mood with a couple of ballads and brought the show back up with "Breakaway" and "Mr. Know It All."
And near the end of her set, Clarkson brought out "Duets" team member Jordan Meredith from Wisconsin to help her sing her largest single to date, "(Stronger) What Doesn't Kill You."
During Friday's show, Train's Monahan asked, "Can you feel the love out there?"
Well, after Kelly Clarkson and Train took the stage, the answer from the world's greatest music festival is, I'd say, a resounding yes.
Facebook Comments
Disclaimer: Please note that Facebook comments are posted through Facebook and cannot be approved, edited or declined by OnMilwaukee.com. The opinions expressed in Facebook comments do not necessarily reflect those of OnMilwaukee.com or its staff.