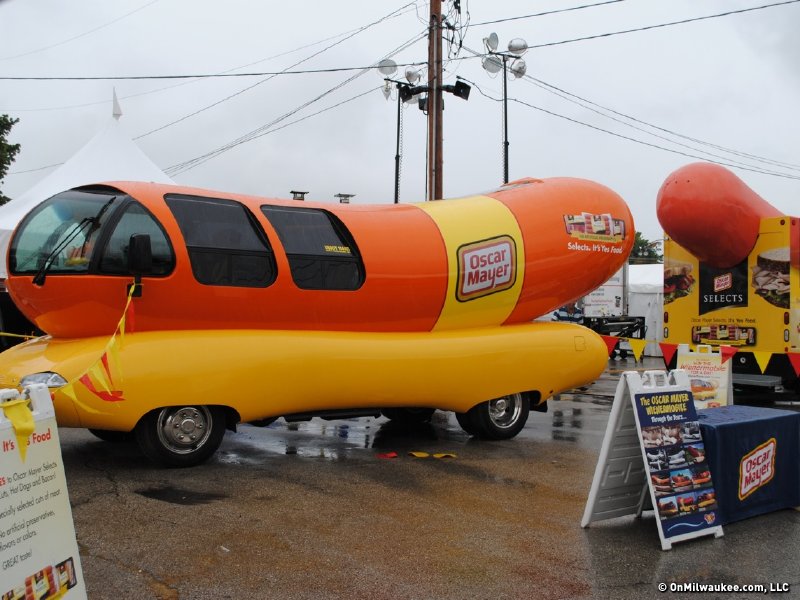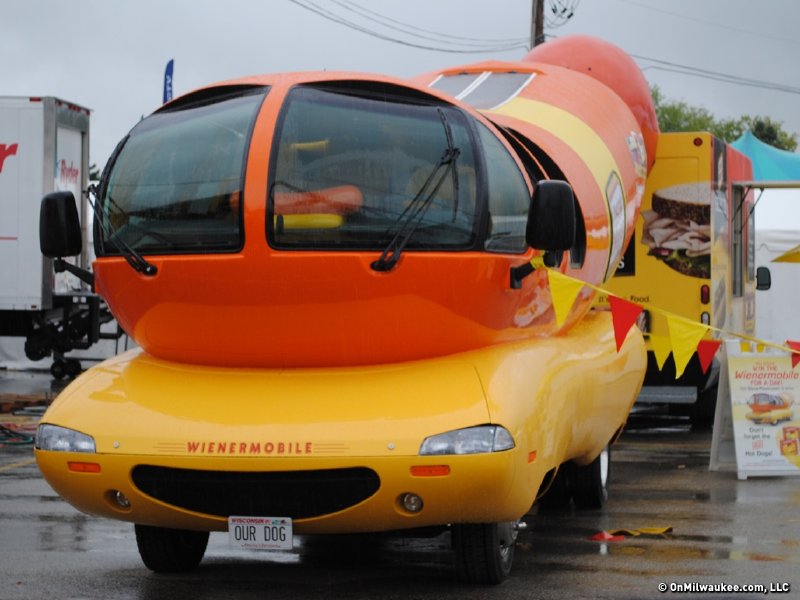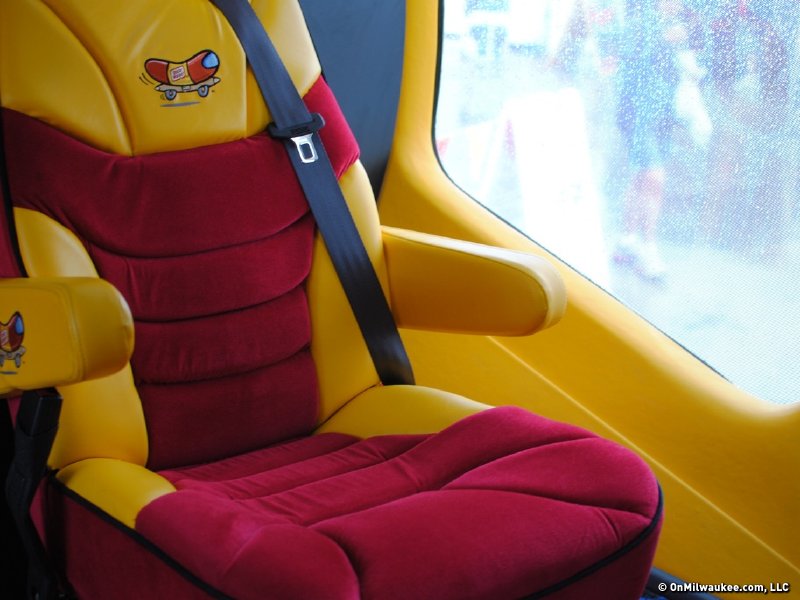 Hotdoggers relish their job as Wienermobile drivers
Jackie Calder and Emma Cuellar never believed their first professional title after graduating from college would be "hotdogger." However, Calder and Cuellar are two of 12 people in the country who have this title, which carries the responsibility of driving an Oscar Mayer Wienermobile around the country to state fairs, parades, car shows and many other events to promote the brand.
Calder, who graduated in May from Penn State with a degree in advertising, and Cuellar, who graduated in May with a public relations degree from the University of Texas, applied for the one-year position along with 1,200 other applicants.
After a lengthy interview process, which included a series of interviews at the corporate headquarters in Madison, 12 people were selected. The 2012-13 hotdoggers are the 25th team to roll across the roads.
"More people have gone to outer space than driven the Wienermobile," says Calder. "It's an awesome first job out of college."
There are six Wienermobiles currently on the road, featuring two hotdoggers per car who take turns driving. Calder and Cuellar are the current Midwest team, but they will switch routes with other teams along the way and will have the opportunity to drive around many different parts of the country.
Prior to hitting the road, the hotdoggers attend a school called "Hotdog High" where they lean about the brand, their job and most importantly, how to drive the Wienermobile.
"We received over 40 hours of training," says Cuellar.
Hot doggers are paid a "competitive salary" according to Calder for one year (they have a few breaks for holidays) and all of their on-the-road expenses are paid for. They also get quite a few free hotdogs.
The Wienermobile is currently parked next to the cream puff pavilion at the Wisconsin State Fair. Fairgoers can stop by to take a digital postcard with the Wienermobile and / or score a free wiener whistle.
Having a sense of humor is key to being a successful hotdogger. This is made clear from during the interview process when, at one point, the hopeful hotdoggers are asked to sing the "I wish I were an Oscar Mayer wiener" song.
Knowing and using bad puns are an important aspect of the job, too. During our interview in the rain, Calder reported she had "soggy buns" and later, when we were inside the Wienermobile, Cuellar said, "The Wienermobile seats six, but you can't sleep in here. It's not a wienie-bago."
All hotdoggers have a special on-the-road name. Calder's is "Pepperjackie Cheese" and Cuellar's is "Sal-Emy."
Driving the Wienermobile on the road generates non-stop waves and honks from other drivers. The hotdoggers are allowed to drive the Wienermobile around during their down time, too, but the vehicle has a 10:30 p.m. curfew.
"It has to get its rest," says Calder, patting the dash board.
Recently, on a day off, Calder and Cuellar drove the Wienermobile to a mall, and when they returned to the parking lot after shopping, some people were taking photos in front of it. They asked the hotdoggers if they would like them to take their photo in front of the Wienermobile.
"I said, 'Oh, thanks, but we're actually driving this home now,' and they laughed, thinking I was making a joke. I said, 'No, really' and showed them the keys, jumped in and drove away," says Calder.
Calder also recently picked up her mother at the airport in the Wienermobile. "My mom got to say, 'Oh, here's my ride!' when the Wienermobile pulled up," she says.
The Wienermobile is 11 feet tall (about 24 hotdogs, that is) and 27 feet long (about 60 hot dogs). It's a 2012 model – the newest of the six Wienermobiles currently on the road – and made by Chevrolet. The horn sounds the famous Oscar Mayer jingle and there's a removable bun roof. Plus, it has an awesome sound system and the ketchup-and-mustard-colored seats are super comfortable.
The first Wienermobile was designed in 1936. However, the Wienermobile as we know it today – a futuristic-looking, bubble-nosed hotdog atop a bun – was created by Milwaukee-born designer Brooks Stevens in 1958. Stevens also designed Miller's first logo.
Today, Philip Katz owns the five clustered octagonal buildings in Mequon that were once owned by Stevens. Four of the buildings are identical, and the fifth, which is in the center, serves as a retreat center.
In 1959, Stevens opened an automotive museum in the space, which became a place to display his own designs as well as others. It became a production facility in the late 1980s for the Wienermobile fleet. The museum closed in 1999, four years after Stevens died in 1995.
The buildings, nestled in a pastoral setting that includes birds, fox, deer and wild turkey, house Katz's business, Phillip Katz Project Development, LLC, along with the office space of a variety of others businesses.
Katz bought the buildings about four years ago, and heavily remodeled them himself. A portion of one of the buildings serves as a tribute to Stevens.
"I was really excited I came across the buildings. From the moment I came across this opportunity, I knew it was the right place," says Katz.
fateyzaddfyvfrsfcwsyfxzafq
Talkbacks
devidia | Aug. 15, 2012 at 11:48 a.m. (report)
I just thought of something else. If they drive these things through a tunnel, isn't that some sort of Freudian symbolism for something? Forgive me, but you had to know that that question was coming.
devidia | Aug. 13, 2012 at 10:49 a.m. (report)
What do they carry in the back of this vehicle? It looks like there's a lot more room behind the drivers seats for other stuff. I still think that they are propaganda tools to promote wienerism in the United States.
Facebook Comments
Disclaimer: Please note that Facebook comments are posted through Facebook and cannot be approved, edited or declined by OnMilwaukee.com. The opinions expressed in Facebook comments do not necessarily reflect those of OnMilwaukee.com or its staff.