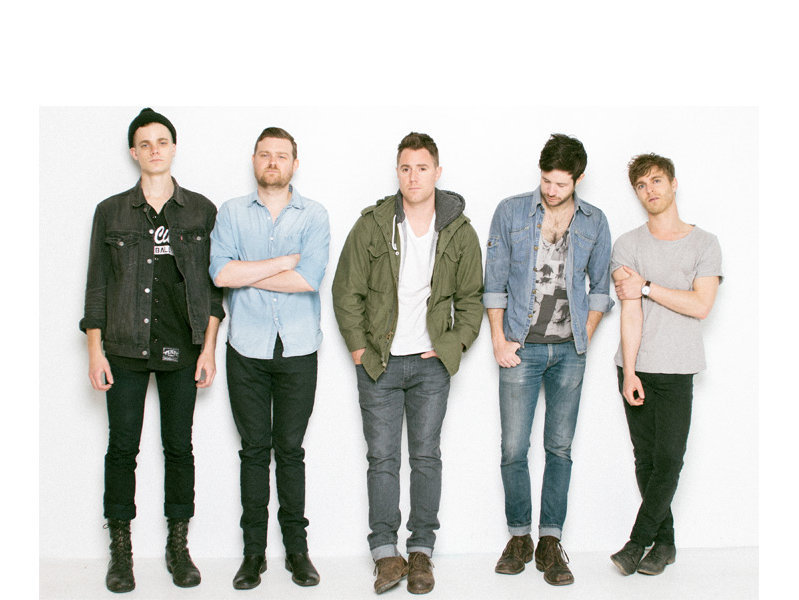 Third time's a charm: Wild Cub completes Brew City trifecta at Big Gig
When Nashville band Wild Cub, whose debut, "Youth," rode its accessible and infectious pop music with danceable beats and snaky, instantly memorable guitar runs into national -- and international -- success, the band expressed an eagerness to meet Milwaukee, formally.
As the band prepped for its second gig of 2014 here (in early April!), frontman Keegan DeWitt said the band was impressed.
"We were so surprised and excited by Milwaukee. From the beautiful Turner Hall – and the incredible people hosting us there – to the amazing crowd who moved for every single song ... the entire night felt special. Even though it was one of the coldest nights of the winter, so many people braved the weather and it was a total pleasure meeting everyone."
We even snuck out to The Safe House after for some drinks. We can't wait to get back in some warmer weather and explore."
A few months later, Wild Cub is playing its third Brew City gig of 2014 -- at Summerfest's U.S. Cellular Connection Stage Friday, June 27 at 8 p.m. -- and we asked DeWitt again for his thoughts on the city and on what seems like incessant touring.
OnMilwaukee.com: Has this road schedule been taking its toll or is everyone pretty much still sane (-ish)?
Keegan DeWitt: It definitely gets exhausting, but you sort of acclimate and learn how to still be productive in all those weird settings. I've gotten very good at scoring films in hotel rooms (laughs). We've really discovered that the music has deepened and taken on an entirely new meaning for us now that we've been able to share it with so many people in so many places every night.
In a lot of ways, there are two versions of every song: the small intimate version that a person experiences on the record by themselves and the larger more upfront version that we share with 500 to 5,000 people at a show. They are each really separate and amazing in their own ways.
We feel super lucky mainly because when we sat and finished this record, our first and only hope was, "I hope someone hears this."
OMC: Have you even been home since we last spoke in March?
KD: We just had a whole three weeks off! It was amazing. You get an opportunity to not only spend time with the people you love and care about, but you get to catch up on everything that gets held up when you're constantly traveling. The good news for us is that we have tried to figure out ways to bring our families or girlfriends on the road whenever possible so that we're never totally disconnected from our homes.
OMC: Has a lot changed for the band during all this time on the road? Have you been able to move up to bigger venues as the tours have continued?
KD: We've been able to travel the world with this record and that's been incredible. It's a wild thing to look back on and be in the midst of. We've had so many amazing and different shows in the past year: 5000 people in Austin with Vampire Weekend, 120 sweaty people crammed into our first-ever sold out London show and everything in between.
The simple answer is that it's so nice to travel and play for people who are aware and excited about our music. You spend so much time as a young band just trying to get people's attention, trying to have them remember your name or even ask your name. We're super grateful just to be able play in front of audiences who have showed up because they are fans.
OMC: How did the gigs go here, do you recall them? I imagine they might be a blur at this point.
KD: Milwaukee has always been special. No matter what size the show is, the crowds are so positive, so invested and super present. You quickly discover that sometimes a 5,000-person crowd can feel empty and a 120-person crowd can change your life. It really depends on the people and how authentically they love and connect with the music. Milwaukee has always been the type of crowd where, no matter what the situation or setting was, the connection was palpable.
OMC: Should we make a Thanksgiving dinner reservation for the band somewhere in town?
KD: I can neither confirm nor deny any plans for this fall.
OMC: Enjoy Summerfest. It's the world's largest music festival, you know.
KD: We can't wait. We are gonna make up for lost time and really explore this time!
Facebook Comments
Disclaimer: Please note that Facebook comments are posted through Facebook and cannot be approved, edited or declined by OnMilwaukee.com. The opinions expressed in Facebook comments do not necessarily reflect those of OnMilwaukee.com or its staff.