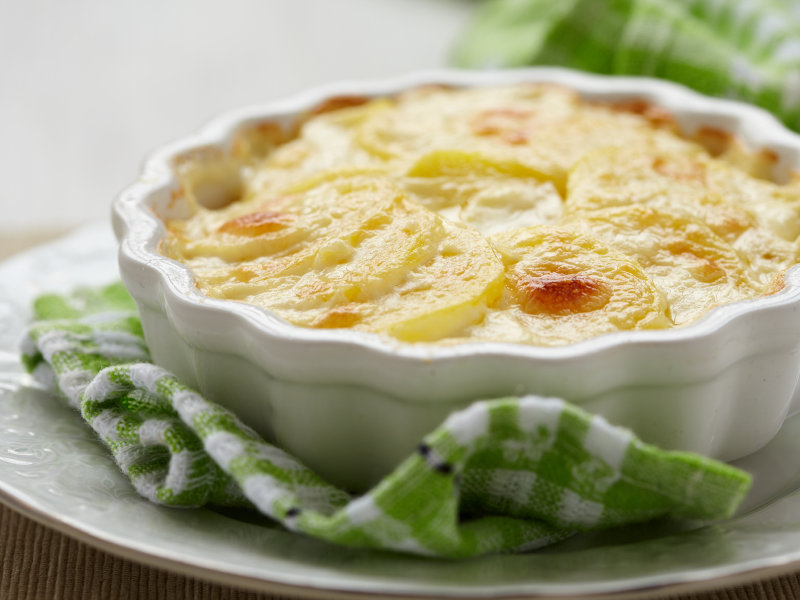 Side-ling up to the holiday table: Jacobs' au gratin potatoes
Want to pull out all the stops this holiday? Some of Milwaukee's most talented chefs have shared their favorite holiday side dish recipes with us. So, throughout the month of December, we'll share their takes on holiday-worthy fare.
Chef Daniel Jacobs of Wolf Peach says that this recipe brings back fond memories of good times spent with his dear mother-in-law.
"This recipe means a lot to my wife Kate and me. Karen, my mother-in-law, passed away last December. She was such an awesome person and a pretty good cook. We'd come over to help with Christmas Eve dinner at 12 p.m. and she'd have an open bottle of Pinot Grigio and Bloody Marys ready for us.
"She liked to talk and have a good time, but she'd often forget about the vegetables and turn asparagus and brown butter into a sort of pureed mess. Despite the fact that vegetables were not her forte, her potatoes were always delicious."
Au Gratin Potatoes
8 potatoes, sliced 1/4 inch thick
1 onion, diced
6 tablespoons butter
5 tablespoons flour
3 teaspoons salt
2 teaspoons freshly ground pepper
1-4 shakes of Worchestershire sauce
¼ teaspoon cayenne pepper
6 cups milk
2 cups cheddar cheese, shredded
Preheat oven to 350 degrees.
Lay potatoes out in a baking dish.
Saute onion with butter, salt, pepper, cayenne and Worcestershire over medium heat. Add flour and cook for 1-3 minutes, stirring constantly.
Add milk in steady stream, whisking until thickened.
Pour milk mixture over potatoes to cover. Sprinkle with cheddar cheese and cover with aluminum foil.
Bake in oven at 350 for one hour covered, then remove foil and cook for another 30 minutes. Dish is done when potatoes are fork-tender.
Facebook Comments
Disclaimer: Please note that Facebook comments are posted through Facebook and cannot be approved, edited or declined by OnMilwaukee.com. The opinions expressed in Facebook comments do not necessarily reflect those of OnMilwaukee.com or its staff.