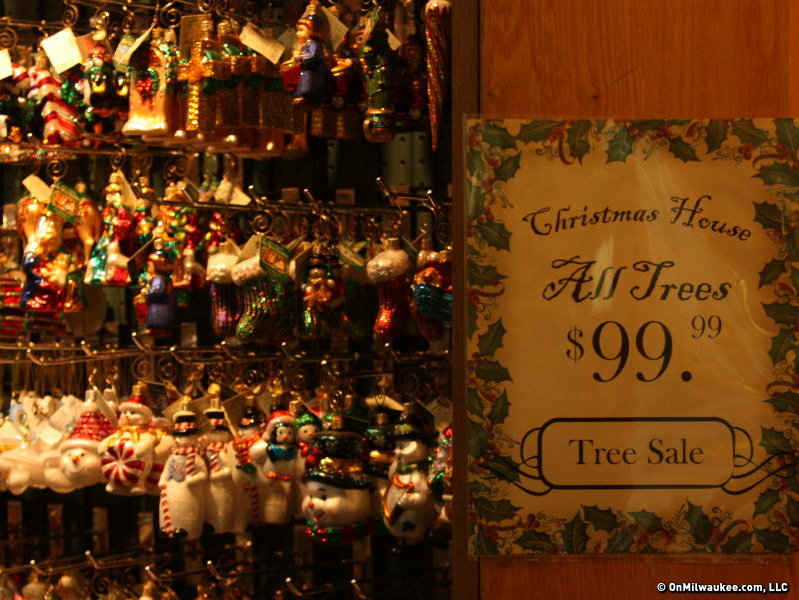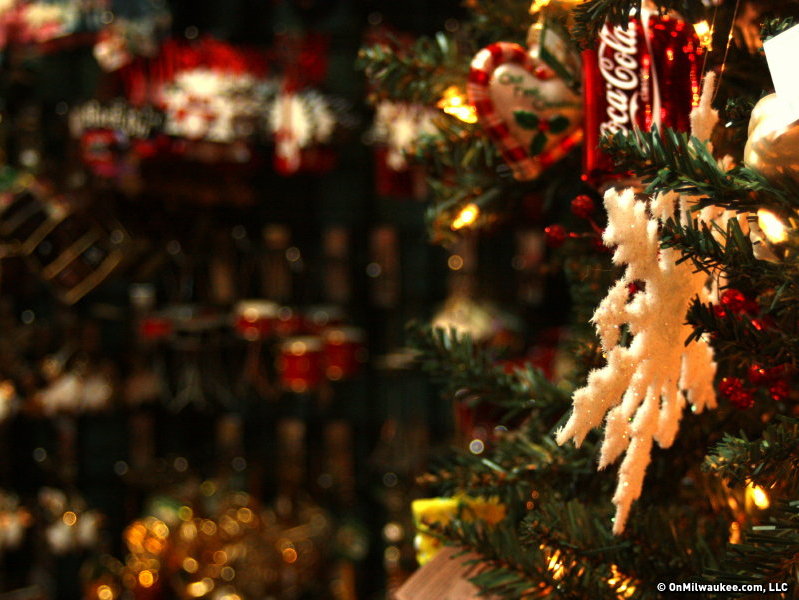 Pop-up shop brings Christmas cheer to Grand Avenue
Like farmers markets are to summer, Christmas pop-up shops are to winter. These temporary stores spring up all over the city and, for a few busy weeks, peddle everything you need to make the season bright, from stockings to Christmas villages and beyond. Come January, they vanish like Frosty the Snowman.
The Christmas House is a holiday pop-up store with high visibility, located in the Shops of Grand Avenue on the second floor overlooking the Grand Court. Operating in the building that houses one of the city's busiest lunch food courts, it's a good bet that these will be a prosperous few months for owner Kris Ratz.
The store opened in early October, stocked with inventory Ratz obtained from a friend who was closing a holiday store in Gurnee Mills. Ratz has previous experience in seasonal retail, having once run a Halloween Express, and he was looking to establish a pop-up in the Milwaukee area with his girlfriend.
The 827-square-foot space located in Grand Avenue seemed like a perfect fit.
"(The Shops of Grand Avenue) were doing the pop-up system so they were pretty aggressive about rent and trying to get some people back in," he said. "Besides which, you look at the store and the green wood is perfect for a Christmas store. It sounds silly, but that was a big reason we wanted the space."
Ratz likes the idea of being his own boss – plus, he finds the low-commitment nature of the pop-up shop liberating.
"We're just basically trying to hit the peak time right now," he said. "I think this is just a start, to try and see how it goes. We don't want to pay someone to be here all the time if we're not selling enough."
"I believe the pop-up concept (at Grand Avenue) was so successful because of the low risk associated with the program," said Tracy Korpela, marketing and specialty leasing director for Jones Lang LaSalle, the leasing agent for the Shops of Grand Avenue. "Having a three-month option is much less daunting than a one-year-plus deal – though surprisingly, most tenants have signed a one-year deal."
The Shops of Grand Avenue have ten pop-up stores in all, including Nikavonni's Menswear, Cierra's Women's Apparel and Shoes, Boss Chick Clothing, Sports World Sports Memorabilia and Bella Baby, which sells infant wear. Korpela says the mall's low rent has attracted vendors to the program, noting that all vendors are responsible for their own utilities, signage, marketing and merchandising.
Ratz has opted not to do print advertising, but has papered the mall and adjacent skywalks with flyers advertising the store's deals. His girlfriend promotes the store on Facebook, but otherwise they prefer to take a laissez-faire approach to marketing, which he says Korpela is "great" at.
"We've pretty much let the mall do what they've done (for advertising)," he said. "And we have the Wednesday indoor market which draws a lot of people. We're going to have the Jingle Bus in the evenings, so we'll be open later for them."
The Jingle Bus helped bring 10,000 people downtown last year. Its drop-off location has been moved to 3rd and Wisconsin Avenue to more specifically highlight what was called "the retail rebirth of The Shops of Grand Avenue" in a Nov. 19 press release.
The Christmas House draws customers mainly for its wide selection of ornaments, all of which are buy one get one free with complimentary personalization also available, which Ratz reports has been extremely popular.
"We can put the date on it, the name of your child or of all your kids, something like that," he said. "We have a lot of kids' ornaments and things like that. We also have a lot for the professions – doctors, attorneys, all that stuff."
But it's not just ornament-hunters who make up Ratz's clientele. Not many passers-by can resist the Christmas cheer of the store.
"It's just the glitter and the bright shiny lights (that attract people to the store)," he said. It's true that The Christmas House, on the south side of Grand Avenue's second floor, is hard to miss, and people often stop in to inspect the eye-catching inventory – which is a big part of the implementation of the pop-up concept.
"It is important to us that each store, despite their term, looks professional and welcoming for customers," said Korpela.
Not everyone is a random walk-in, however. Some of his customers are what Ratz affectionately calls "the Christmas freaks" – people drawn to the store's selection of name-brand items like Radko, Jim Shore, Fontanini and Studio 56. The Christmas House also sells high-end artificial trees for $99.
Ratz says he would recommend the seasonal pop-up idea to other retailers.
"I'm always my own boss," he said. The rest of the year he drives tow trucks. "I don't think I could do it any other way. I really would recommend it."
If all goes well, Ratz and his girlfriend may consider extending their lease and expanding their inventory to include other holidays. But for now, they are focusing on what the Christmas season will bring. Business was booming during the downtown Holiday Parade on Nov. 17, and on Black Friday Grand Avenue saw the highest numbers of shoppers in three years.
"I am positive the high traffic numbers were due to our 13 new stores, the positive press, the advertising we did – of course TJ Maxx and Boston Store, our two anchors, were extremely busy as well, which was expected," Korpela said.
As for the future?
"We'll see what happens," said Ratz. "We could get into some other type things, maybe as far as Easter. Right now, we're still going on the thought of Jan. 1."
Facebook Comments
Disclaimer: Please note that Facebook comments are posted through Facebook and cannot be approved, edited or declined by OnMilwaukee.com. The opinions expressed in Facebook comments do not necessarily reflect those of OnMilwaukee.com or its staff.