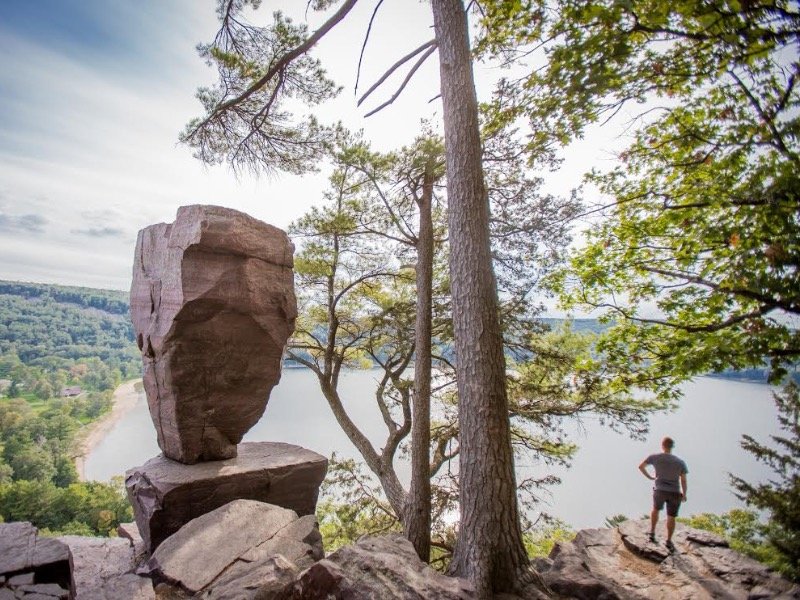 Adventure travel: 5 trip ideas for your best summer ever
Editor's Note: Sponsored content is paid third-party advertising content. OnMilwaukee's newsroom does not write or edit this content.
For those with an adventurous spirit and passion for the outdoors, Wisconsin is a great place to put another dot on your map. The state's bountiful natural resources, including national parks, lakes and wildlife, make it the perfect place for affordable recreational activities. Kayaking, whitewater rafting and hiking are just a few ways to experience Wisconsin's scenic, diverse landscape.
Keep your map app open. We have a lot of ground to cover. Here are five great trip ideas:
Located on Madeline Island (the largest Apostle Island), Apostle Island Kayaks is a great excuse to leave your smartphone in the car. One of the most popular kayaking destinations in the world, The Apostle Islands National Lakeshore on Lake Superior features gorgeous cliffs and caves to paddle and swim through. Rather jump off things? Cliff diving is already on the agenda. Stay in the area for more than 50 miles of mainland trails to hike and bike.
The perfect spot to unwind and enjoy nature with friends or a partner, you won't want to miss hiking and swimming along this Lake Michigan gem. One of the most scenic spots in Wisconsin, Kohler-Andrae State Park is a peaceful beachside getaway with 2.5 miles of pale sand and dunes. The park includes 135 campsites, 68 with electricity, and a nature center open May through October. Two adjacent state parks provide dune cord walks, hiking and biking trails, and more.
Flowing through old granite formations, Big Smokey Falls Rafting at Wolf River shows just how beautiful the land of the Menominee is. Up for a bumpy ride? This rafting excursion is the perfect bonding experience for friends or significant others. The reservation's largest waterway, the Wolf River winds 59 miles and drops 900 feet from the northern boundary to Keshena Falls. Crash over the rapids and enjoy the thrill and beauty of the Menominee land.
As Wisconsin's largest state park, Devil's Lake State Park is an outdoorsman or woman's dream come true. Breathtaking views from 500-foot Quartzite bluffs overlook a 360-acre lake. From the 1,000-mile Ice Age Trail to the rocky bluffs and sandy beaches, this is the perfect spot to camp, hike, canoe, mountain bike and more. Get out with your closest excursion-mates and gear up for an action-packed outdoors adventure.
Get your wetsuits ready. Kosir's Rapid Rafts was the state's first professional whitewater rafting destination and gives the most challenging and exhilarating rafting experience in northern Wisconsin, located on the Peshtigo and Menominee Rivers. Staying a while? There are campsites right there on the Peshtigo River and plenty of other activities including kayaking, tubing and hiking.
Wisconsin offers tons of outdoor adventures beyond the hiking boots, and they don't have to break the bank. Whether you're traveling with a group of your friends or a significant other, the state is filled with charming natural destinations just waiting for you. Looking for more adventure inspiration? Consider Travel Wisconsin as your go-to resource for outdoor activities and natural wonders, and be sure to download the app as well for quick, convenience access.
cxxqyzazzcsfsy
Facebook Comments
Disclaimer: Please note that Facebook comments are posted through Facebook and cannot be approved, edited or declined by OnMilwaukee.com. The opinions expressed in Facebook comments do not necessarily reflect those of OnMilwaukee.com or its staff.