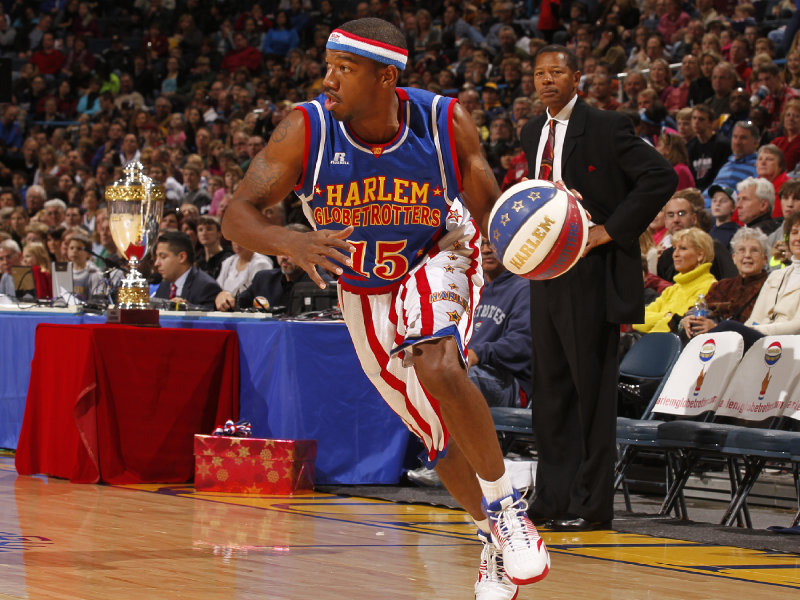 Globetrotters continue tradition of ringing in New Year in Milwaukee
Despite the fact that New Year's Eve marks the end of the old and the beginning of the new, it's a day rife with tradition.
Times Square.
Dick Clark (Yes, still).
A champagne toast and a midnight kiss.
The Harlem Globetrotters in Milwaukee.
The most entertaining basketball team in the world has been appearing in Milwaukee since 1988 and has been playing a double-header in the city for the last two decades-plus.
"Players look forward to it," Buckets Blakes said of spending New Year's Eve in the Cream City. "Milwaukee's a pretty cool place. It has a lot of things to offer."
Blakes will be making his 11th straight New Year's Eve trip to Milwaukee, and he says the team enjoys the trip as much as the fans enjoy watching the team help usher in a new year. The team stays to celebrate the turning of the calendar, often times coming up with a theme for the night before they hit the town for dinner.
"We'll all wear the same color when we go to dinner at night," Blakes said. "One year we wore all black suits. The next year it could be grey or purple. We try to keep it fun for ourselves after we finish having fun for the fans."
Blakes, who played at the University of Wyoming, also has some ties to Milwaukee and Wisconsin. The Phoenix, Arizona native helped groom Badgers senior and fellow Phoenician Ryan Evans; played junior college ball for current Bucks director of player personnel Dave Babcock and roomed with former Wauwatosa East star and Milwaukee Bucks player Tony Smith when both were in the CBA.
"I have plenty of ties there," Blakes said. "It's one of the things that sticks out the most about Milwaukee."
Blakes' enjoyment of the city and state, and that of his Globetrotters' teammates, can often be seen on the court as well during the double-header, which leads to crowds that return year after year.
"Some of us have made friends who bring their families to the game just about every year," Blakes said. "You really don't look in certain seats because you're narrowed and focused and ready to make people laugh and smile and then all of a sudden 'Hey, Buckets!' someone will call your name and you'll look up and then you remember who it is. We play so many games all over the world the seats are pretty difficult to remember but the faces and the names, it's pretty cool. You see their face and you're like 'oh yeah.' It's pretty cool. I thoroughly enjoy it."
That presents its own challenge for the Globetrotters, who need to come up with something new for repeat customers. This year, the team is allowing fans to "write the rules" for the game.
Fans can decide if the team plays with two basketballs, double points for a basket, a 4-point shot, a penalty box and adding a sixth player for the opponent.
"It's awesome. It keeps a lot of minds at work," Blakes said of the constant changes to the way the team plays and interacts with fans. "Everybody has some say so here and there. You can share an idea and if it's cool we'll try and see where it fits. And if it doesn't fit then other people will give ideas as well. Before you know it, we already have something set for the following season that we will try and implement and test out in training camp."
Such efforts to change up the game, as well as an evolving roster of talent, help keep this Milwaukee New Year's Eve tradition alive and well.
"Milwaukee is one of those places where everybody's friendly, they love the Globetrotters, they love basketball and they love tradition," Blakes said.
Facebook Comments
Disclaimer: Please note that Facebook comments are posted through Facebook and cannot be approved, edited or declined by OnMilwaukee.com. The opinions expressed in Facebook comments do not necessarily reflect those of OnMilwaukee.com or its staff.