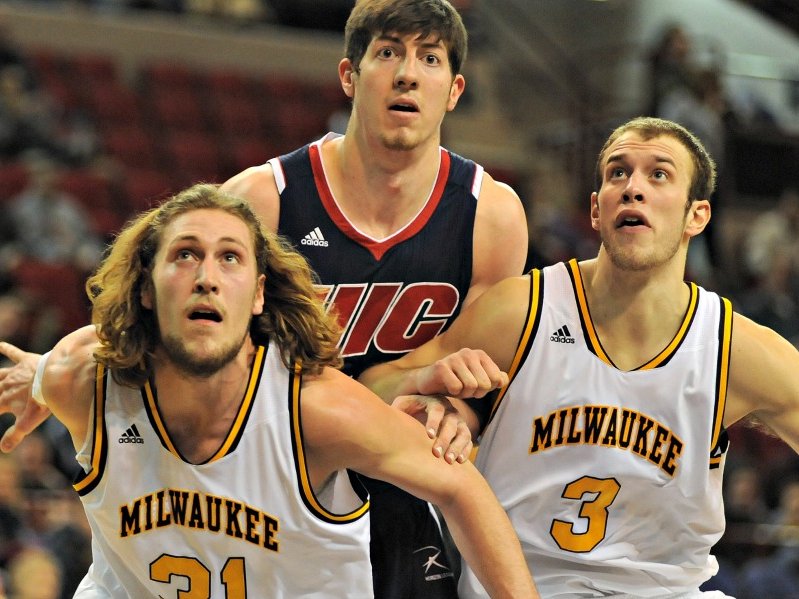 Panthers look to make a run in league tournament
A little over four months ago, Austin Arians stood on the court at U.S. Cellular Arena and looked around at the black and gold draping, the banners of past Horizon League and NCAA Tournament success, and the University of Wisconsin-Milwaukee swing man could only hope for bigger things in his sophomore campaign.
It was his team's return to Downtown Milwaukee following an eight-win season on campus, and new faces abounded.
On Monday afternoon, he stood about 50 feet from where he talked about hope and possibility in late October and spoke of a different kind in March.
The Panthers more than doubled their win total from a year ago to finish the regular season 17-13 overall and 7-9 in the Horizon League, good for fifth place. It earned them a home game at the start of the league tournament, which begins tonight when they play host to the University of Detroit Mercy.
"For the guys that were here last year, it's awesome – but at the same time the season's not over," Arians said. "We're preparing for the conference tournament right now and that's pretty awesome."
A win sends them to Green Bay, where they would likely play fourth-seeded Valparaiso University (17-14, 9-7), a team UWM lost to twice by 13 and 15 points, respectively. A second victory would earn them a date in the semi-finals with tournament host and No. 1 seed University of Wisconsin-Green Bay, which oddly enough the Panthers beat soundly in Green Bay and nearly beat in Milwaukee.
"We're just mentally out of it – maybe we're not focused enough and maybe we're just not mentally there," sophomore forward Matt Tiby said of the team's up and down nature throughout the conference season. "It takes a toll on our team and one thing's going wrong and it can trickle down and the whole thing can collapse on you, so we just got to come out and be ready to play."
The Panthers began the season with little outside expectation – they were picked to finish last in the league – but with solid wins over non-conference opponents like Davidson and Northern Iowa, not to mention the victory at Green Bay, it's easy to wonder "what if" had the team not gone 5-3 against the bottom four teams in the league.
Two of those losses came after the Panthers' impressive 73-63 win at Green Bay on Feb. 8, the Panthers dropped four straight, losing by an average of 16.5 points.
In fact, UWM lost all of its conference games this year by that average margin, including blowout losses of 28, 19, 15 and 22 at home.
"We haven't been consistent with the little things we do, such as rebounding, less turnovers," senior center Kyle Kelm said. "We just need to be more consistent. Getting the regular season off our mind and starting this tournament I think is going to help."
That said, when the Panthers play well they can beat any team in the conference and did start the season 9-2 and have won at least three straight games on three different occasions.
"We just gotta come out with the mentality we had that game (in Green Bay)," Tiby said. "Everyone was dialed in. Everyone was focused. You could tell it. A lot of energy. That's one of our main focuses every time we come out and play, we've got to have more energy than the other team. It's shown every single game that we've had big wins and big success over good opponent's so carrying on to 'March Madness,' we've got to bring all that. There's no off nights. You can't have an off night. So, we're going to come out here and be ready to play."
As Arians spoke on Monday, he faced the UWM banners that displayed the program's past success in this tournament, which includes championships in 2003, 2005 and 2006. The last time UWM appeared in a tourney championship game was 2011.
"It's 'March Madness' and anything can happen, but also knowing that when we play well we can play with anyone (is important)," Arians said. "We proved it. We went up to Green Bay and had them down 20 at one point almost. Just knowing that as a team is a good feeling going into the tournament."
Facebook Comments
Disclaimer: Please note that Facebook comments are posted through Facebook and cannot be approved, edited or declined by OnMilwaukee.com. The opinions expressed in Facebook comments do not necessarily reflect those of OnMilwaukee.com or its staff.