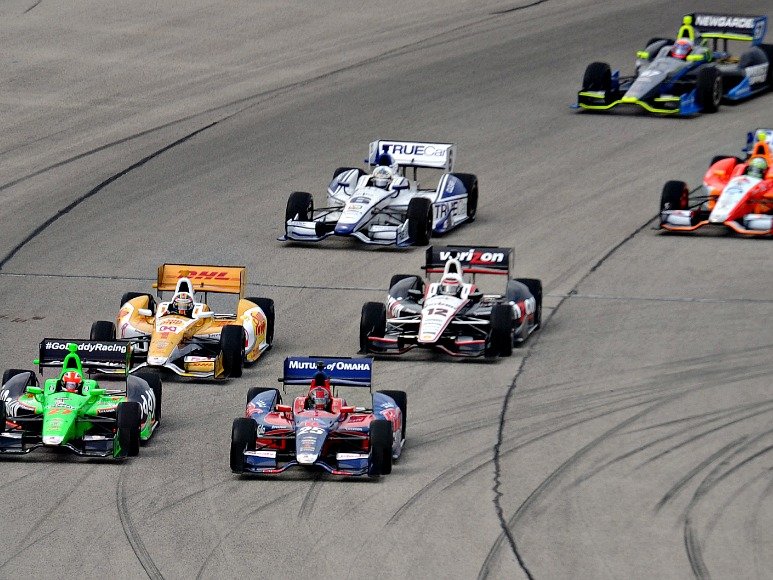 IndyCar's best returns to the Mile
Several years ago, IndyCar legend Mario Andretti and his racing division, Andretti Motorsports, brought open wheel racing back to Milwaukee and the famed Mile on the state fairgrounds over Father's Day weekend with a concept new to the sport, but not so new to Wisconsin: make the race weekend a festival.
This summer, Milwaukee IndyFest has moved from the packed summer slate to this weekend, just after the State Fair.
The Milwaukee Mile is open today for tires testing and autograph sessions, but the fest formally kicks off with a street party from 5 to 10 p.m. at The Hilton City Center and its Miller Time Pub, located at 509 W. Wisconsin Ave.
"I think things are going well. It's building the event back up," Indianapolis 500 champion and Andretti team member Ryan Hunter-Reay said. "The tradition of having Indy in Milwaukee has always been there. It makes sense. Especially with the way that Andretti Sports Marketing is doing this event now. It's a total family atmosphere. Everybody gets their race, gets to watch a race, but you basically have a fair for the kids and for the families and everything in town as well; inside the track. It's a great event.
"I think it's got a great future to it, a bright future to it. Hopefully we keep putting on a great show on the race track and hopefully everything comes together."
The weekend remains full of activities, which includes women's professional volleyball this year as well as rickshaw racing, live music and DJs.
"It's not just about the race," said fellow Andretti driver James Hinchcliff. "There's a lot more going on now. It's really fun for the whole family and that's the idea. This, at the core, is a family sport. And that's what I think Andretti Sports Marketing is trying to get across with the whole concept here. I think the last couple years we've seen some good growth.
"I thought it was fun doing it on Father's Day weekend, I thought that was kind of cool, but the new date, being so close to the State Fair, I think it's going to be really good, as well. It's going to be interesting to see how this year works out and hopefully just continuing to build momentum."
As for the race itself, the flag drops on the ABC Supply Co. Inc. Wisconsin 250 at Milwaukee IndyFest presented by the Milwaukee Metro Honda Dealers at 2:45 p.m. on Sunday at the Mile.
After winning circuit's premier race in Indianapolis on May 25, Hunter-Reay has had a target on his back in every race, and he's been "in demand" between them.
"I wouldn't trade it for the world," Hunter-Reay said. "It's been very busy, haven't had a whole lot of sleep but at the same time, I guarantee none of the drivers feel bad for me, that's for sure."
Hinchcliffe agreed with a laugh: "We'd trade places with him any day."
The Mile is a welcome stop for all the drivers on the open wheel circuit, for two main reasons.
The first is the surface itself.
"It's a challenging track," Marco Andretti said. "It has concrete. It doesn't have a lot of banking – it doesn't have any banking – but it feels like it's opposite. It presents a big challenge to the drivers, but to me, I love it. Love it."
The second is what it means to run – and to win – on it.
"It is the history," Hinchcliff said. "This is the oldest race track in the country. This is the only place that outdates the speedway. That's something that means a lot to us. As drivers, we have a huge respect for the sport and the history for the sport and knowing that this place has been around as long as it has and been a part of American open wheel racing for as long as it has, that was a huge motivator in wanting to come back here and stay here for as long as possible."
Facebook Comments
Disclaimer: Please note that Facebook comments are posted through Facebook and cannot be approved, edited or declined by OnMilwaukee.com. The opinions expressed in Facebook comments do not necessarily reflect those of OnMilwaukee.com or its staff.