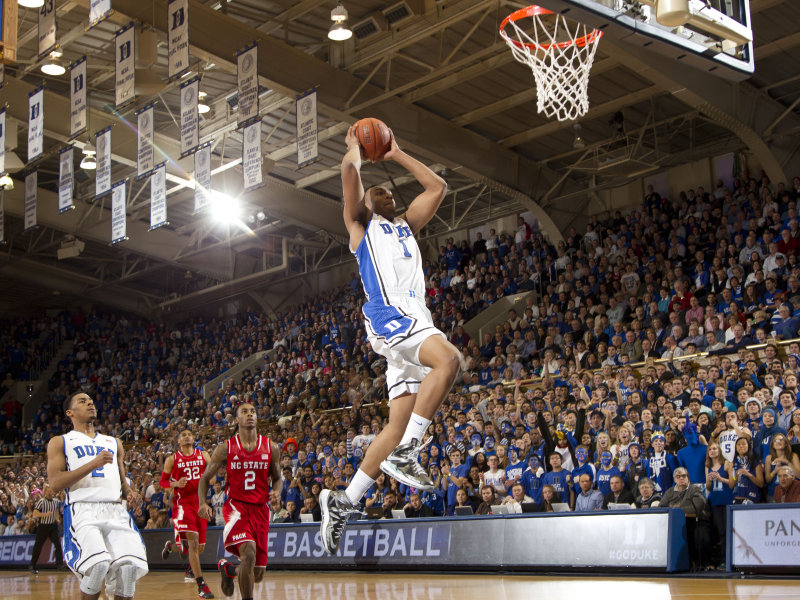 NBA Draft preview: Bucks look for a franchise changer
The 2014 NBA Draft watch actually began sometime around June 2013, when Jabari Parker, Joel Embiid and Andrew Wiggins all finished high school and committed to their colleges of choice.
All could have been top five picks in the 2013 draft, were that allowed.
Little changed throughout their freshmen campaigns, despite the inevitable ups and downs of playing major college basketball under a microscope. And despite Embiid missing the end of the season with a back injury, he had not fallen completely out of the conversation for the No. 1 overall selection.
In Milwaukee, the attention turned to this draft early as well after a 3-13 start to the season made it clear the team was going to be contention for a top lottery pick.
Toss in an ownership change at the end of the season, talk of a new arena, and finally securing the No. 2 overall selection last month, new co-owner Marc Lasry summed up the vibe in and around the organization succinctly on Monday during a question and answer session with the Milwaukee Press Club and Rotary Club.
"We're massively excited."
Some things have changed a bit since workouts began however, most notably the breaking of Embiid's foot, which required surgery.
"I think it's hard to take Embiid," Lasry said. "I think he's a phenomenal individual but with the injury and not knowing how severe and how long it will take him to recover, I think for us, today, we want somebody that's going to help us on day one. So, I think a lot of it is going to depend on what Cleveland does. To be honest, the other part of it is who contacts us and different things that we're hearing from the draft pick. But I would say right now, it's probably really going to be depending on what Cleveland does and then we'll make a decision, but I think it will be one of the others."
A day later, Bucks general manager John Hammond wasn't quite as definitive in saying it's a two-man race between Wiggins and Parker at the top.
"I don't think it's fair to say that right now," he said. "I think we have to still keep all of our options open. I think this is more than a two-man draft and I think it's going to prove to be that. It was talked about being a three-man draft before Joe got hurt and I think that's still the case. I think it was more than a three-man draft at that time and I think it's more than a two-man draft today."
What the organization does like is the fact that it is remains in a position of strength at No. 2.
"I think both players would be a phenomenal addition to our team," Lasry said. "I think if it's Parker, I think that would be great. If it's Wiggins, it would be great. You're not going to be disappointed either way. I actually think if you are the number one pick, then you've got a big decision to make. You really do. I think both players bring you different things, so I think for us it's great."
The second round
As of now, the Bucks own three second round picks, including the first one of the round at No. 31. They also own picks 36 and 48.
To many, the 31st pick feels like a late first rounder based on the depth of the draft, and could be a valuable trade trip when it comes to the team perhaps moving into the first round again.
"Somewhat of what we'll do in the second round is predicated upon what we do with our first pick. Again, there's always the option with us, with having three second round picks, that we might move up into the first round," Bucks director of scouting Billy McKinney said earlier in the draft workout process.
"That's always a possibility, hopefully. And if so we're always looking at those different scenarios – what player would we move up to get in the first round? And if we keep the picks, which players will we be looking at. Believe, me, we're going through a lot of possibilities right now so when I comes draft day we've got our ducks in a row so to speak."
In his final media availability before the draft, Hammond said a trade remains a strong possibility – especially with about a dozen players currently under contract.
"We'll have discussions with teams," he said of potentially moving the second rounders. "We're having those discussions with teams right now. I wouldn't rule that possibility out, but we'll see how that goes."
All the speculation comes to an end, finally, tonight in New York. The future becomes the present.
"This is a real opportunity," Hammond said after the lottery. "This pick, I don't think it can be any better timing right now for the new owners to come in, have a top tier pick like this, that we think really can be a building block piece for the future of this organization.
"There's a new day in Milwaukee. We have new ownership, get things are getting ready to happen here and I really believe that, twofold on that, I really believe that the new ownership is going to be a large part of the great things that are going to happen, the commitment that they're going to have, from an overall perspective, to this team, to this organization. And I think this pick is another piece in this puzzle."
Facebook Comments
Disclaimer: Please note that Facebook comments are posted through Facebook and cannot be approved, edited or declined by OnMilwaukee.com. The opinions expressed in Facebook comments do not necessarily reflect those of OnMilwaukee.com or its staff.