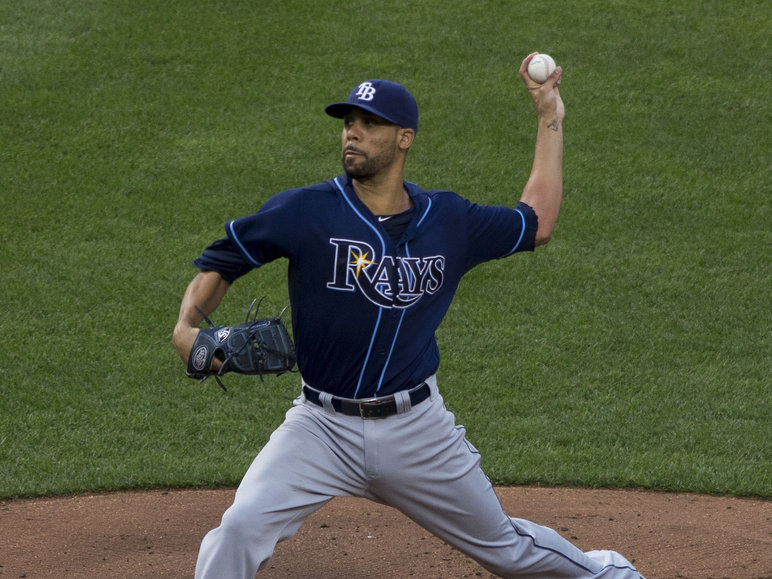 Price is right: Brewers should go all-in on Rays ace
"I'd say we're going for it. That's the way I look at it."
I'm not sure those are necessarily "famous" words here in Milwaukee – I had to Google it, after all – but the action Doug Melvin used those 13 words to describe is certainly acclaimed.
The trade for CC Sabathia in early July 2008 not only fortified the Milwaukee Brewers as a playoff team, it broke a 26-year postseason drought and – as Melvin would say this summer when Sabathia returned to Miller Park as a member of the New York Yankees – that run changed the expectations of the franchise.
That singular move for four prospects would be the first domino Melvin would eventually push over the following seasons, tiles that would include Shaun Marcum, Zack Greinke, Francisco Rodriguez, Kyle Lohse and Matt Garza.
The question facing Melvin (and owner Mark Attanasio) is, will they knock one more domino over in the final hours before the non-waiver trade deadline this afternoon?
The club has been linked to starting pitchers David Price of the Tampa Bay Rays and Jon Lester of the Boston Red Sox, but to me, Price fits the mold of what Melvin would like in a blockbuster trade.
Whatever the Rays may want for Price, their request will assuredly be higher for the 2012 American League Cy Young winner than what the Red Sox want for Lester, who will be an unrestricted free agent at the end of the year. Price, although due a large salary through arbitration after this year, would still be in the Brewers control for 2015.
Think Sabathia in the short term, think Greinke in the long game.
Heading into this afternoon's start against the Brewers in Tampa, the 28-year-old Price is currently leading the American League in innings pitched and strikeouts, and he has two complete games.
And, he's gotten hot.
After a tough start to the year, he's gone 7-3 over his last 10 starts with a 1.82 earned run average, averaging 7.9 innings per start while allowing opponents to hit just .204.
Now, Lester has been just as good over that time – heck, the whole season – and his postseason track record is longer and more successful.
But for the Brewers, Price's nine postseason appearances (including two World Series relief appearances) is experience enough when teamed with Lohse and Garza.
It's not about that though – it's about getting there in 2014 and giving it another go in 2015. And Price fits that bill.
While there are some questions as to how much life Price's left arm still has (even at 28) he's worth going "all-in" on, as the talk radio hosts have taken to calling it.
He gives you a third arm with World Series experience in the rotation for the stretch run this year.
Should the 2015 season go the way of 2012 (disappointingly), the Brewers will be able to move him (a la Greinke) for a sizeable return of their own.
I find it interesting when fans of any sports franchise become attached to players they either have never seen, or players of which they've only seen small sample sizes.
If you're always chasing the promise of four years from now, you miss the chance to win in the present.
And trust me – if Melvin sends four prospects to Tampa Bay and the Brewers make it to, or win, the World Series in 2014 (and/or in 2015) – no one will care in 2019 or 2020 if one of other guys actually pans out in Florida.
Talkbacks
AndrewJ | July 30, 2014 at 3:59 p.m. (report)
Price isn't going to matter if they keep putting up 3 hit games of their own. If they could get a 1b with a legitimate power bat, they'd be on to something. Reynolds can move into an all-or-nothing pinch hitting role, Overbay can get cut. On the CC trade... the amazing thing to me is that looking back, Melvin ended up giving away nothing. If anything, giving up the guys he did helped the team even more long term by not being stuck trying to grow them. LaPorta - I think he's playing in Mexico or the Dominican right now. Brantley - Was an all-star this year I believe, but not really a notable one. And plays a position we're stocked at. Zach Johnson - I don't think he ever made a MLB start. Might not even be in MLB at all anymore.
Photodavie | July 30, 2014 at 12:19 p.m. (report)
We have one of the best starting rotations in baseball, and it's also one of the cheapest. If you look at recent losses, the average runs given up by starters is less than 2.5 runs. It's the offense that has been struggling lately. We have the worst batting 1st baseman, Short Stop, and Left Fielders amongst competitors. If we are "going for it", we should trade for a 1b, SS, & a LF. Not starting pitching. Not worth losing more prospects.
Facebook Comments
Disclaimer: Please note that Facebook comments are posted through Facebook and cannot be approved, edited or declined by OnMilwaukee.com. The opinions expressed in Facebook comments do not necessarily reflect those of OnMilwaukee.com or its staff.