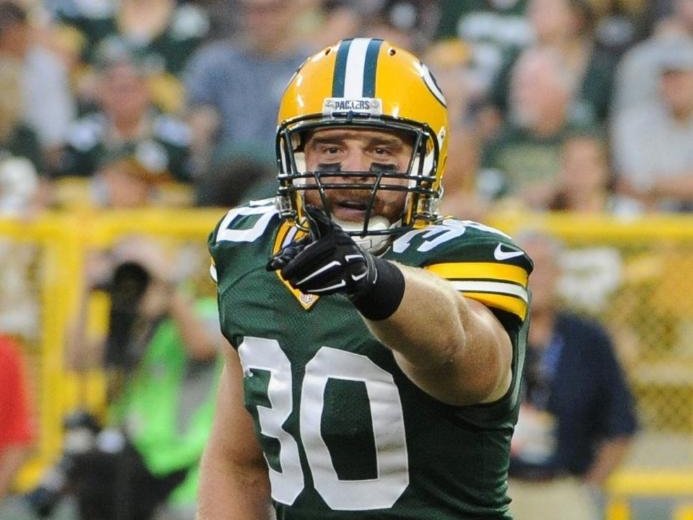 5 Packers to watch in 2014
Anyone who follows the Green Bay Packers has learned over the last handful of seasons that nearly every player on the active roster is an important one. Injuries tend to do that. But that doesn't mean some bear more attention than others. Here are five players to watch, and why, as the 2014 season begins.
Datone Jones

Photo: Packers.com
The 6-foot, 4-inch 2013 first round draft pick was largely invisible in his rookie campaign, save for the three sacks he recorded in back-to-back games in early November against Chicago and Philadelphia. That spurt showed his potential, and he needs to be more consistent with that this season. He should command less attention up front with offenses having to account for Clay Matthews and Julius Peppers outside of him. So, can Jones win consistently against single blocks? Can he force an additional offensive lineman or running back or tight end to account for him, even if it's just a chip or a shove, which could allow a teammate that additional, and often vital, half-step to get into the backfield?
The Packers aren't afraid to move on from a player, and move on quickly, if they aren't producing. But, they also are willing to show patience if they believe in the man. It'll be interesting to which category Jones will fall into this season.
Casey Hayward

Photo: Matt Becker/Packers.com
A second-round pick in 2012, Hayward made an immediate impact with a forced fumble, six interceptions and 21 passes defensed – but he missed essentially all of last year (he appeared in three games, but recorded just five tackles) after suffering a severe hamstring injury. He has practiced this summer, but was held out of the third preseason game for "precautionary reasons."
The assumption is that he'll be good to go this week in Seattle, but we won't really know if he's back to 2012 form until he's running stride-for-stride with receivers week after week. Does he still have the same speed? Will he have the same anticipation on passes? Will he be able to take advantage of the opportunities thrown his way if Tramon Williams and Sam Shields force quarterbacks to look elsewhere? With so many talented quarterbacks and wideouts on the Packers schedule in 2014, Hayward will be needed.
Eddie Lacy
Photo: Packers.com
What could their possibly be to watch for in Lacy, the NFC Rookie of the Year and Pro Bowler? Well, even he's curious how opponents will game plan for him now that an entire season is on film. The limited preseason repetitions of the first team offense didn't allow for us to see if Lacy is poised to take another step in the passing game with Aaron Rodgers, so that will be interesting to see how that develops (or not). He did get better as the year progressed, with 19 of his 35 receptions coming over his final six games.
If that happens, will he be on the field more often? You would think so. But then, will he stay healthy? He missed essentially two full games with a concussion, and was affected late in the year with an ankle injury. Lacy's running style won't change, so does that mean James Starks and DuJuan Harris will spell him more often?
Jordy Nelson
Photo: Jim Biever/Packers.com
Fresh off a new contract extension, Nelson is the unquestioned "No. 1" receiving option in the offense, even though Rodgers likes to say he will never force a ball to a particular player. Coming off a year in which he started all 16 games for the first time and recorded career highs in catches (85) and yards (1,314), Nelson bears a closer eye to see if he can continue to beat the opponent's best corner, and potential double coverage.
That said, he may also have his biggest season yet. Nelson was targeted about 7.9 times per game a year last year – up from about six times per game in 2011 and 2012 – but without Rodgers he couldn't really find the end zone. Beginning with the game in which Rodgers was hurt against Chicago on Nov. 4 through Week 15 – Nelson scored just once. With Rodgers, he scored eight times in nine games (including the playoff loss to San Francisco). He also averaged over six catches and about 97 yards per game with Rodgers. Extrapolate that production over an entire season, Nelson could challenge the century mark for receptions and the club records for receiving yards touchdowns in a year.
Julius Peppers
Photo: Jim Biever/Packers.com

Peppers has the resume of a future Hall of Famer with eight Pro Bowl and three first-team All-Pro selections along with eight double-digit sack seasons. But such a resume requires time to build, and Peppers comes to the Packers at the age of 34 with 186 NFL games under his belt. It will be interesting to watch the man work, especially now that he wears No. 56 and will be considered a linebacker for the first time in a career that is into its second decade.
In the preseason, he has lined up in his traditional defensive end spots on both sides of the line, and even on the same side as Clay Matthews. Peppers remains a freakish athlete and in great shape – he hasn't played less than a full season since 2007 – so it will be fascinating to see what he brings to the table as his role changes under defensive coordinator Dom Capers.
Facebook Comments
Disclaimer: Please note that Facebook comments are posted through Facebook and cannot be approved, edited or declined by OnMilwaukee.com. The opinions expressed in Facebook comments do not necessarily reflect those of OnMilwaukee.com or its staff.