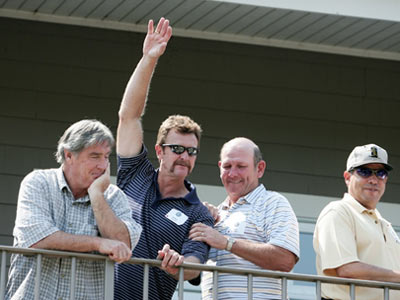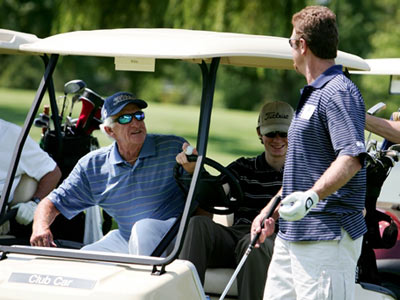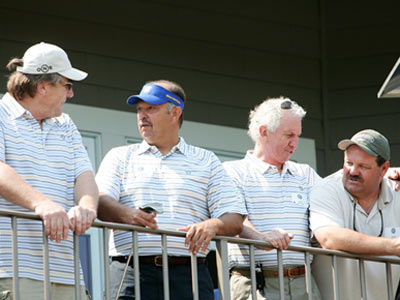 Harvey's Wallbangers come home to take a bow
The framed collectible on the silent auction table contained a Topps baseball card from each member of the 1982 Brewers. Just a few feet away, many of the men featured on those cards gathered on a veranda overlooking the practice green at North Shore Country Club.
As they smiled, reminisced, laughed and ripped each other, the question became inevitable:
Has it really been 25 years?
"It sure doesn't seem like it," said Jerry Augustine, a left-handed pitcher on that team.
That was a popular refrain as the group known collectively as "Harvey's Wallbangers" reunited for a golf tournament Monday that served as the opening act of a reunion celebration that will culminate at the Brewers-Cardinals game tonight at Miller Park.
After just a few hours together, the players -- many of whom hadn't seen each other in several years -- slipped easily into '82 mode.
That is, they began teasing each other mercilessly.
"By the looks of some of 'em, it looks like more than 25 years," said Robin Yount, the shortstop / MVP who looks as though he could still walk onto a big-league diamond and go 3 for 4.
"We've lived a hard life."
Former catcher Ted Simmons called the team "a unique group." Pitcher Don Sutton, a final-month addition who helped push the team over the edge, described the team as having two altar boys (Yount and Paul Molitor), five guys who escaped from Attica and "the rest of us."
Don Money, who took time off from managing the Brewers Class AA team in Hunstville to attend the celebration, said that two of the Wallbangers' favorite pastimes were giving each other nicknames and playing spirited of "flip" before road games.
Both pursuits were designed to embarrass the teammates as much as possible.
"Gorman was the guy who gave out most of the nicknames," said Money, who said his own clubhouse moniker was "Raggy Bitch," was bestowed by Thomas, who was also at the center of many of the flip games.
Flip was a hacky-sack like endeavor in which players would stand in a semi-circle and use their gloves and hands to bodies to flip a baseball back and forth. If you let the ball hit the ground, you were eliminated.
"When we were on the road, we would get to the ballpark three hours before the home team got there," Money said. "We had to play our flip. We played to win. When batting practice started at 5:30, you clicked it the other way. But, when we were playing our flip ... you're not on my team anymore."
The current Brewers can't match their predecessors in "flip," which is virtually obsolete in modern baseball, but they have a chance to rekindle some of the spirit created by the Wallbangers' success.
"I think these guys honestly believe they can win this thing and I'd like to see it happen because I think they can, too," Yount said. "They're as talented as anybody else out there."
Yount, who served as bench coach for manager Ned Yost last season, follows games from his home in Arizona and checks in occasionally with both Yost and Dale Sveum, his close friend and successor in the dugout.
"There is a little bit of communication there," Yount said. "I had my chance last year and they're doing just fine without me. They don't need my help."
Yount and the rest of the '82 team, along with members of the front office staff from that year, will be recognized in a pregame ceremony before the Brewers-Cardinals game tonight. In honor of the "Suds Series," the teams will wear 1982 replica uniforms.
Page 1 of 2 (view all on one page)
Next >>
substbzctuzzdavxqfuruvudfeu
Talkbacks
Adam | Aug. 14, 2007 at 2:19 p.m. (report)
Yount looks like he can still play..
sandstorm | Aug. 14, 2007 at 1:20 p.m. (report)
i cannot believe how absolutely sick i am of hearing about the '82 brewers. i was a big fan, and enjoyed the heck out of the DVD of that team, but this neverending stream of nostalgia for a team that ultimately choked is getting really, really thin. fer chrissakes, let it go already. and i'm sorry, but there cannot be a duller interview in sports than Robin Yount. great talent, super nice guy i'm sure, but has he said or done anything of great interest in...well...25 years?
substbzctuzzdavxqfuruvudfeu
Facebook Comments
Disclaimer: Please note that Facebook comments are posted through Facebook and cannot be approved, edited or declined by OnMilwaukee.com. The opinions expressed in Facebook comments do not necessarily reflect those of OnMilwaukee.com or its staff.