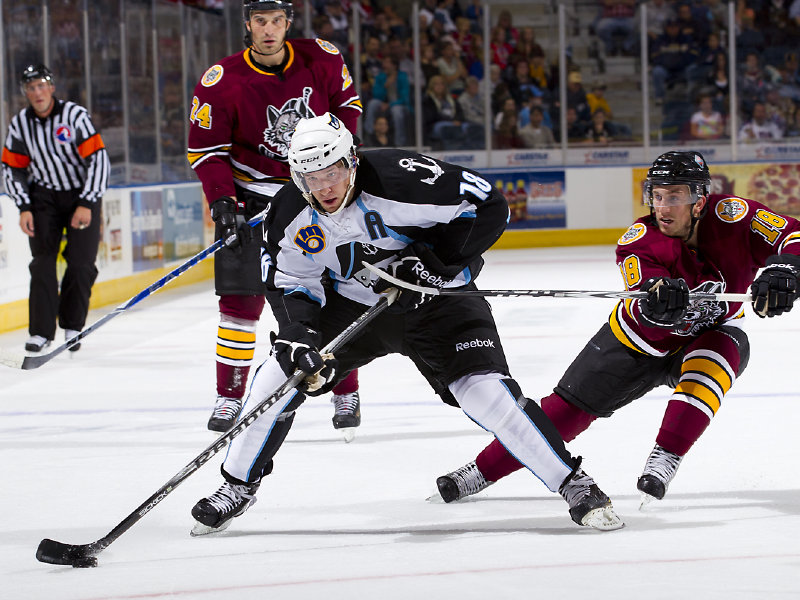 Admirals expect strong season
The Milwaukee Admirals open their home season tonight at the BMO Harris Bradley Center, but there is a buzz about not just the team – but the entire American Hockey League – due to the ongoing National Hockey League lockout.
While fan bases in those cities are having to get by without their teams, minor league affiliates like the Admirals are reaping the benefits.
Milwaukee has benefited with the inclusion of players who saw ice time with the Nashville Predators last year, including defensemen Jonathon Blum (33 games) and Ryan Ellis (32 games) and left winger Gabriel Bourque (43 games) on their roster.
"That's the goal – to play in the NHL and stay there," Blum said. "But we're here and we're looking forward to this year down here and if the NHL starts up tomorrow or in a few months the guys down here will be ready to go to camp and compete for spots."
It should make for an exciting early part of the season in the AHL, as NHL teams assigned players still on rookie deals to their AHL affiliates before the lockout began. The Edmonton Oilers sent nearly their entire first line to play for the Oklahoma City Barons, which includes former Wisconsin Badger Justin Schultz.
Jeff Skinner, the NHL's 2011 rookie of the year, had been assigned to the Charlotte Checkers, Milwaukee's opponent tonight. He signed a six-year, $34.35 million extension this summer, but has yet to report to the Checkers.
Rookie of the Year finalist Adam Henrique of the New Jersey Devils is playing in Albany while Brayden Schenn and Sean Couturier of the Philadelphia Flyers are playing for Adirondack.
Playoff sensations Chris Kreider (New York Rangers) and Brandon Holtby (Washington Capitals) are also in the AHL, along with other well-known players like Chicago's Nick Leddy, Phoenix's Oliver Ekman-Larsson and New Jersey's Adam Larsson.
"It's going to be really good hockey," said center Chris Mueller, who has played in 19 NHL games. "There are a lot of young prospects and a lot of guys who have already established themselves. That's going to be everybody. You're going to see names that were playing up in the NHL and in the Stanley Cup Finals that are going to be playing in the American League now. It's definitely going to be a competitive league and we're going to push each other because once it starts we all want to be up in the NHL."
These players – even those who signed big extensions in the summer like Skinner – are eligible to play in the AHL because they remain on their rookie, or entry-level, contracts. All of them can be recalled to their parent club when the lockout ends.
The Predators were a conference semi-finalist last year, and coach Barry Trotz has been seen in Milwaukee watching workouts. This season is an opportunity for many players to make an impression and perhaps get an early call up when the veterans try to work back into game shape.
"A little pressure is taken off," Blum said. "Guys are not going to be as nervous or worried about being called up. I trained in Nashville this summer and talking with guys that were there who were in minors during the other lockout (in 2004-05) said to have fun with it. You know you're there for however long because there's no NHL so be relaxed in your game and just play hard and have fun."
Mueller, who is entering his fourth year with the Admirals, noted that it's the first time Trotz and members of the Predators front office has been in town during training camp and the start of the season. It's also an opportunity to showcase themselves to other organizations.
"Every time we go to a game there's going to be NHL teams (watching)," Mueller said. "At away games, like Grand Rapids, Detroit's organization is going to be there because they have nothing else to do and they want to watch their young prospects. At the same time, once the NHL starts up, we're going to have games under our belts and be game ready so we'll have more of an opportunity than you would if they were playing right now."
Notes: You may see some different calls tonight at the BMO Harris Bradley Center, as the AHL is experimenting with a new rule, which is a change to the icing call. In order to better prevent big collisions – and injury – during icing chases, a linesman can make a judgment call on which player reaches the faceoff dots first. This will last through the end of November, at which point the AHL will decide whether to keep the change or revert back to the old rule. ... Patrick Cehlin, the Predators fifth round pick of the 2010 draft, made his North American debut with two goals in the Admirals' season opening win last week. ... Mueller netted his 70th career goal as an Admiral, third best in team history. ... Defenseman Mike Moore was named the Admirals captain for 2012-13. Moore signed with the Predators in the off-season after spending the past four years in the San Jose organization, posting 20 points and 85 penalty minutes in 62 games with Worcester in 2011-12.
Facebook Comments
Disclaimer: Please note that Facebook comments are posted through Facebook and cannot be approved, edited or declined by OnMilwaukee.com. The opinions expressed in Facebook comments do not necessarily reflect those of OnMilwaukee.com or its staff.