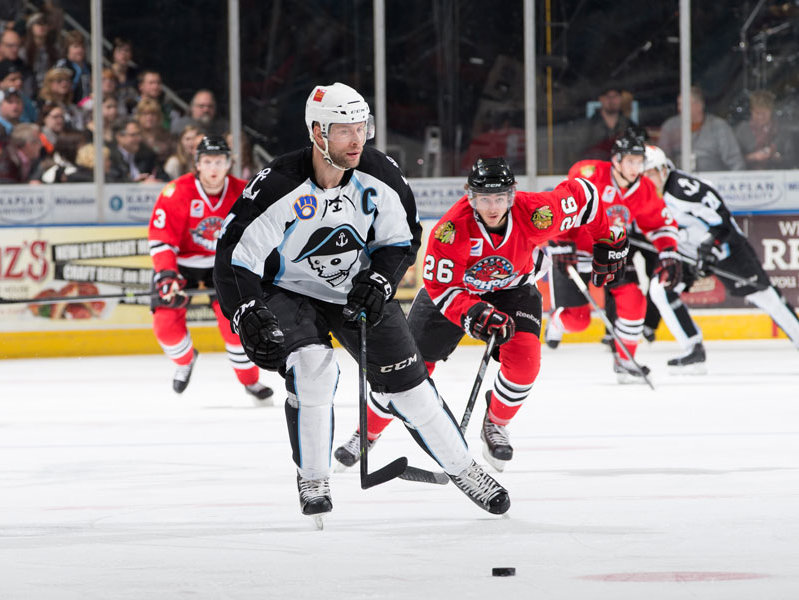 Admirals closing in on playoffs
A year ago, at about this time, the Milwaukee Admirals were in the midst of a scorched earth campaign across the American Hockey League in a desperate dash to make the playoffs on the last day of the season, winning 15 of their last 20 games and racking up 31 points in the process.
This year, with five games left in the regular season, the situation the Admirals find themselves in is less precarious.
Solidly in the Western Conference playoff picture as the current sixth seed, there is little need for a five-game winning streak to end the season, but head coach Dean Evason and his staff have impressed upon the team the need for playoff caliber play the last month and a half.
"We did the same thing last year and we were fortunate enough to get in on the last weekend last year, but we had to push. Our group and our coaching staff, honestly, we go game by game. I, personally, don't like to talk about where we're going to sit and where we're going to finish and all that kind of stuff because the reality is you have no idea. So, you take care of your games, play your games, and the end of the year – the end of the night – we know where we sit, and at the end of the season we know where we sit and we'll approach the playoffs from there."
Such singular focus has resulted in a 6-3-0-1 record over the last 10 games.
"We've put ourselves in good position here by playing well this last month," Admirals Captain Scott Ford said. "We've taken it just a game at a time. I know it's a cliché but playoff hockey has been one of our keys the last month and that's just playing hard every night, staying detailed, staying to our systems and doing whatever it takes to win."
Evason says that effort is all he's looking for over the final five contests – even though the Admirals play three straight in three different cities beginning tonight in Rockford, Ill.
"There is certainly a juggling act or a balance you have to consider, there's no question," Evason said about managing minutes this weekend. "But, having said that, if tonight you're in a close hockey game you're not going to worry about Saturday or Sunday. We're going to do what we can do as coaches to put the right people on the ice regardless if they're going to be tired for Saturday or Sunday and you just believe they'll muster up enough energy."
Ford admitted the team is a little banged up due to "quote," but there is a level of confidence in the locker room heading down the stretch and into the playoffs. Part of it is, from an energy standpoint, the Admirals continually run out four lines and employ six defensemen to keep players fresh.
Some of it also stems from the fact that key players like goaltender Marek Mazanec and skaters Taylor Beck, Colton Sissons, Simon Moser, Mark Van Guilder, Filip Forsberg and Joe Piskula all have played in the National Hockey League this season with Nashville.
And, rookie Calle Jarnkrok will return to the team once the Predators' season ends.
Evason agreed, and saw an additional benefit in the fact that Nashville's season concludes Monday, six days before the Admirals' and over a week before the playoffs would begin.
"No question – it's your team and you have the guys," he said. "Last year with the lockout we didn't get those guys until after we had played a couple games, so we didn't get the NHL guys. We're fortunate this year. We'll have them available to us to practice and actually play a couple of games with our group."
For now, though, the team is preparing for this final stretch and difficult three games in three nights in three cities weekend. The games matter, as Rockford and Charlotte are on the outside of the playoffs looking in, and Chicago wants to hold onto the fourth seed in the West.
"It's a quick turnaround time, especially with travel with road, home and obviously a six hour bus ride to Iowa is never fun," Ford said. "But, it is what it is with our schedule and this late in the year all these points are important. So we're just going to continue to play every game like a playoff game and just treat every game with respect, whether you're tired, whether you're not up for it – you've got to get up for it because it's that time of year where every point counts."
Facebook Comments
Disclaimer: Please note that Facebook comments are posted through Facebook and cannot be approved, edited or declined by OnMilwaukee.com. The opinions expressed in Facebook comments do not necessarily reflect those of OnMilwaukee.com or its staff.