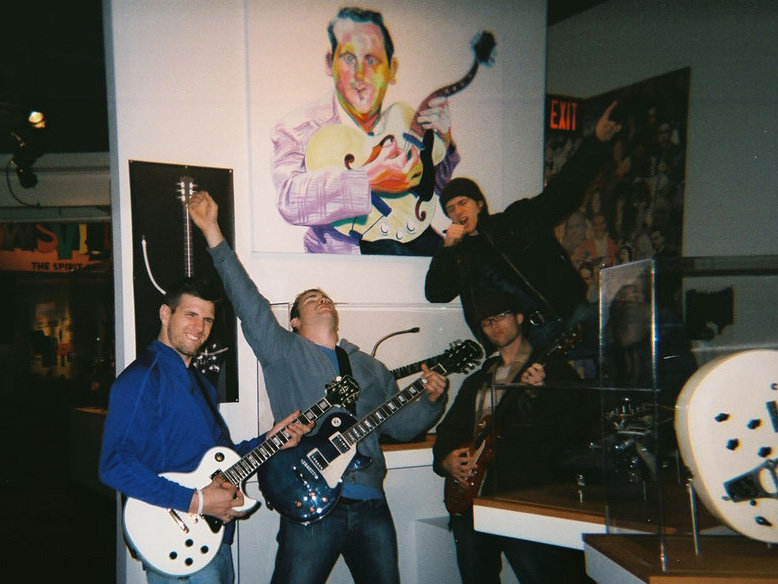 Admirals' scavenger hunt builds team chemistry
Getting more than two dozen hockey players acclimated to each other and the city they will call home for at least the next six months is no easy task.
To accomplish those feats, Admirals president Jon Greenberg and head coach Lane Lambert brainstormed with OnMilwaukee.com and sent the team on a scavenger hunt, allowing their players to learn about their new hometown and to bond with each other, outside of the practice rink.
Five teams were sent out on the town with disposable cameras to take in some of the best the city has to offer. Players stopped and posed for pictures with "The Bronze Fonz," made visits to Discovery World's Les Paul exhibit, the Milwaukee Public Market, Miller Park and Palermo's Pizza before ending their journey at Saz's.
Nolan Yonkman, the team's captain and a three-year veteran, said it was a great opportunity to spend some time with his teammates and show them around the city. During the season, there isn't much opportunity to explore the surroundings.
"We're always at the rink, this is our work, we're professionals," said Yonkman, whose team plays host to Grand Rapids Friday night at the Bradley Center.
"Sure, its fun when you come to work to do this, but you do these kinds of things and it loosens things up a little bit more and that's when you find the true characters of guys. Its good to see; you start to feel a little more comfortable with each other and that starts to build up the team chemistry."
Chemistry is important for a young group with as many new faces as the Admirals have. Lambert called his team's chemistry a "work in progress" and said the about-town adventure was a way to get the right mixture, outside of a game situation.
"It was a good opportunity for them to get together and bond," Lambert said. "It always takes a team awhile to get used to each other."
The timing was important, too. The Admirals are in the middle of a week-long stretch between games and play just eight times this month, with six of those games coming on weekends.
Daily practices can be draining on the body, as well as the mind, making an escape from the monotony all the more important.
"October is always a slow month," said Yonkman. "You don't play a lot of games and things like this help break it up. You need that break every now and then."
Vancouver-native Mark Santorelli is in his first season in Milwaukee, but has able to pick up the subtle nuances of the city thanks to his teammate and brother, Mike, who joined the team last season.
He and his teammates were still laughing Thursday, after taking a glance at the collection of pictures from the day.
"Just going around and taking goofy pictures, laughing and hanging out. All the groups had fun. We looked at all the pictures and that was pretty funning seeing what the guys came up with.
"We've had a tough week of practice and this let the guys relax, take it easy and just be guys," Santorelli said.
He even found it a little educational.
"I didn't know 'The Fonz' was from here," Santorelli said. "I saw the statue and couldn't believe it. That was pretty cool."
Just as the experience familiarized the team and city, it was a chance for people to meet the team, as well.
At St. Paul Fish, inside the Public Market, Beth Collins enjoyed the players' visits. Some of them sat down to a plate of oysters, while some sampled salmon-on-a-stick.
"They (were) really enthusiastic," Collins said. "They seem to like the market. We offered them all an oyster or two.
"They were all really nice guys."
Afterward, the event drew accolades from everybody involved. Greenberg plans to do it again next season. Players had a good laugh at each other's pictures and the coaching staff saw the team take another step in its development.
"The players really enjoyed it," he said. "They thought it was a great idea. Coaches were pleased with how it went. They thought it accomplished exactly what they wanted, which was to bond the players together and help them learn their way around the city. And, they got to have some fun doing it.
"It definitely was a positive experience. It's something we hope to do in the future. We can expand the places that we go."
Talkbacks
Fan | Oct. 31, 2008 at 7:51 a.m. (report)
Very cool idea! Would be great to see Bucks and Brewers do something similar.
Facebook Comments
Disclaimer: Please note that Facebook comments are posted through Facebook and cannot be approved, edited or declined by OnMilwaukee.com. The opinions expressed in Facebook comments do not necessarily reflect those of OnMilwaukee.com or its staff.