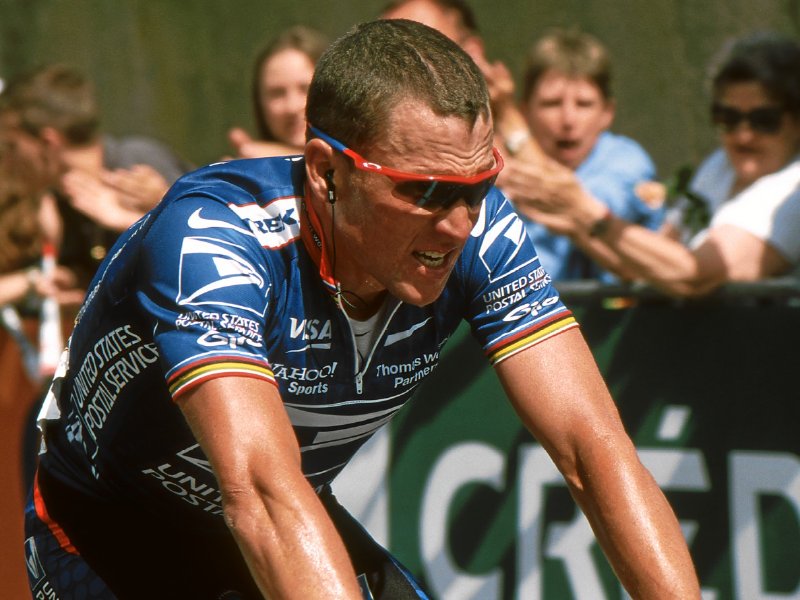 The mighty fall hard
He is still a hero to many, but make no mistake about it, Lance Armstrong is a fraud.
This week, the world cycling governing body Union Cycliste Internationale (UCI) swung the final nail in the coffin of arguably the worst cheater sports has ever known, stripping Armstrong of all of his Tour de France wins and banning him from the sport for life.
Last week, the United States Anti-Doping Agency (USADA) finally released their evidence against Armstrong, a 202-page document with sworn testimony from 26 individuals ranging from former teammates to massage therapists to doctors who had indisputable direct knowledge of Armstrong's rampant use of myriad illegal performance enhancing drugs.
Armstrong, likely knowing that the jig was up months ago, has been nearly silent on the matter since announcing in late August that he was tired of fighting decade-long allegations of doping, characterizing the USADA's case against him as "an unconstitutional witch hunt" and saying the process was "one-sided and unfair."
"There comes a point in every man's life when he has to say, enough is enough," Armstrong concluded. "For me, that time is now."
Of course we all know what happened next. The USADA asserted that Armstrong's Tour de France victories were stripped and that he was banned forever from the sport. The one thing that USADA failed to comprehend is that they had no jurisdiction whatsoever to make any such proclamation. That they looked silly and clumsy in making their preposterous statement lent many of Armstrong's most fervent fans to also believe that their man Lance was being singled out for persecution because of other's jealousy of his excellence.
But while USADA could not strip Armstrong of anything, the UCI certainly could. When the organizers of the Tour de France declared that whatever conclusions the UCI made they would abide by, Armstrong's world began to shatter around him.
After UCI chief Pat McQuaid asserted, ''Lance Armstrong has no place in cycling, and he deserves to be forgotten in cycling,'' one of sport's most epic falls from grace was complete. Nike terminated Armstrong's contract. He stepped own from his own charity, Livestrong. Radio Shack, Oakley, Anheuser-Busch, Waterloo-based Trek Bicycles, Giro Helmets, 24-Hour Fitness and others all severed their ties to the once-bankable star.
The details of the USADA's case against Armstrong showed a wanton disregard for the rules in what was described as "the most sophisticated, professionalized and successful doping program that sport had ever seen."
McQuaid commented that Armstrong's teams had a "win at all costs" attitude fueled by "deceit, intimidation, coercion and evasion."
To be sure, Armstrong has his supporters, many of whom have suffered from cancer like the now-disgraced cyclist. In fact, after Armstrong announced that he would no longer fight the charges against him, his Livestrong Foundation reported a spike in donations, according to spokeswoman Katherine McClane.
In all, some $500 million for cancer research, treatment and support has been raised by Livestrong based on the cycling success and goodwill of its famous founder.
There is no denying that Armstrong's personal fight against cancer and fundraising efforts have won him fans that will not ever be shaken by whatever he did for the sake of winning at all costs. There are even a great number of admirers that will never believe that he did anything untoward and is truly the victim of a witch hunt.
It is one thing to not care that Armstrong cheated. It is another to still hold out in your addled brain that he is innocent of the accusations.
Page 1 of 2 (view all on one page)
Next >>
Talkbacks
TosaJim | Oct. 24, 2012 at 5:14 p.m. (report)
Armstrong's cancer could have easily been the results of him doping....all the money he raised for cancer research was all about him and his image...I think he knew that someday he would be exposed for the liar and cheater he is. And Braun is a cheater too....just luckier than Lance.
TosaJim | Oct. 24, 2012 at 5:08 p.m. (report)
Armstrong's cancer could easily be the result of doping. Karma. It's great that he raised a lot of money for cancer, but it was all about PR for him...he's a cheat and a liar.
jsh | Oct. 24, 2012 at 3:23 p.m. (report)
And yet Ryan Braun actually failed a drug test. Which of course was overturned and the collector was blamed. The fans cheered the reversal, after all he's a hero. As was Lance to his faithful fans who only turned on the accusers. This will be replayed again and again.
Facebook Comments
Disclaimer: Please note that Facebook comments are posted through Facebook and cannot be approved, edited or declined by OnMilwaukee.com. The opinions expressed in Facebook comments do not necessarily reflect those of OnMilwaukee.com or its staff.