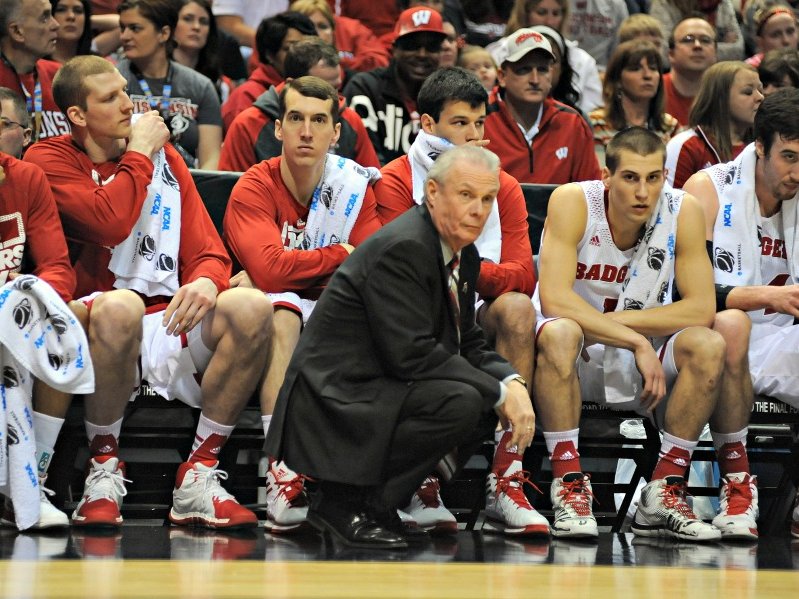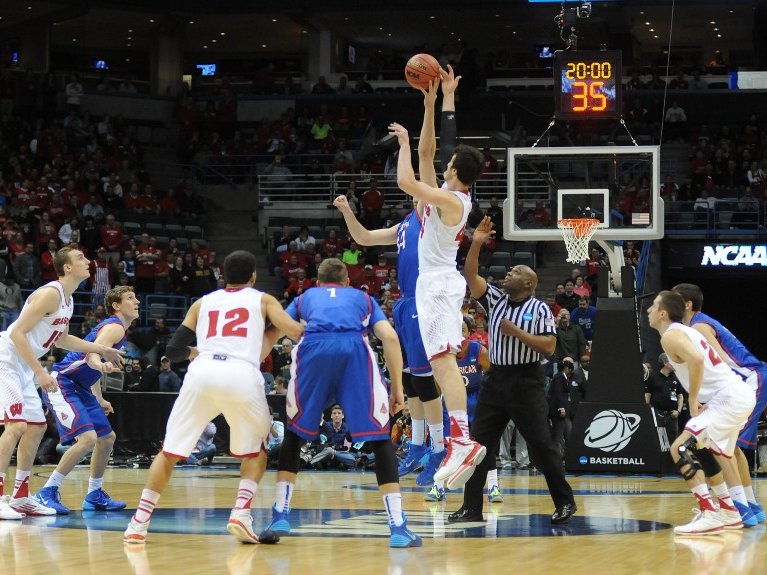 Badgers use old formula to crush American
Sitting on the media podium Wednesday afternoon, Bo Ryan tugged on his red warmup and looked down at the sleeves. He doesn't change much, so he quipped that it the same pullover he wore prior to the start of the 2004 NCAA Tournament in Milwaukee.
A little over 24 hours later, and little had changed for Ryan and his team. The second-seeded Wisconsin Badgers won their first tournament game of 2014 at the BMO Harris Bradley Center, crushing the 15th-seeded American University Eagles, 75-35.
Under Ryan, the Badgers are now 11-2 in opening games of the NCAA Tournament.
It was tight for about the first 10 minutes of the game, with the Badgers (27-7) going on a nearly seven-minute scoreless stretch and the Eagles hitting some shots to take a 17-10 lead.
A simple thing, really, changed it all.
Ben Brust hit a 3-pointer on a kick out from Frank Kaminsky with 9 minutes, 17 seconds left in the first half to pull the Badgers to within 17-13.
This singularly unremarkable act started a half-ending 19-3 run, which was the opening leg of a 50-9 marathon that lasted through the halftime and consumed nearly 18 minutes of game action.
"Once everyone sees one go down it kind of spreads," Brust said as Sam Dekker nodded in affirmation next to him. "Everyone started hitting a couple."
By volume, it was an impressive stretch of play. By appearance, it was not. Things don't change for Ryan and his Badgers. So 50-9 wasn't entirely fast. It wasn't sexy. Over that amount of time, it wasn't even that entertaining. There was a Traevon Jackson 3 there, a Dekker dunk here, a couple of offensive rebounds mixed in with some steals over there.
It was a simple key.
"Hitting shots," Ryan said. "Getting it (a lead) and stretching it. Then you stretch it some more. Just for the players, they sensed something. They felt that if they could do the things that we had talked about and the assistant coach (Gary Close) was right for us. We felt defensively we could do a decent job against the Princeton offense because of the Northwestern teams of old."
It was a run like any other set out upon by a Ryan-coached team seen in any of his previous 700 victories, it just happened to last a lot longer and was far more destructive to the opponent.
"Wisconsin has dismantled some really good teams this year," said Eagles coach Mike Brennan. "They're No. 2 seed for a reason."
Credit the Badgers, though. They rattled a heretofore steady American (20-13) offense, one that came in shooting nearly 50 percent on the season, and held them to 3 of 19 (15.8 percent) shooting in the second half and 29.7 percent for the game.
"We just couldn't score today," Brennan said. "We couldn't figure out a way to get some clean looks and make open shots."
Ryan noted that his team will not be as prepared for their next opponent on Saturday as it was for American, having had the better part of three days to break down the Eagles. Now, they have a day and a half at most. This is where the veteran coach hopes 2014 is different.
The Badgers haven't advanced beyond the Sweet 16 since 2005 or made a Final Four since 2000.
To change that though, Ryan won't make any – as you'd expect. It's about preparing for what's next, the next 40 minutes, the next possession, same as ever.
"I know it might sound old, but to me it's still about what's coming."
Facebook Comments
Disclaimer: Please note that Facebook comments are posted through Facebook and cannot be approved, edited or declined by OnMilwaukee.com. The opinions expressed in Facebook comments do not necessarily reflect those of OnMilwaukee.com or its staff.