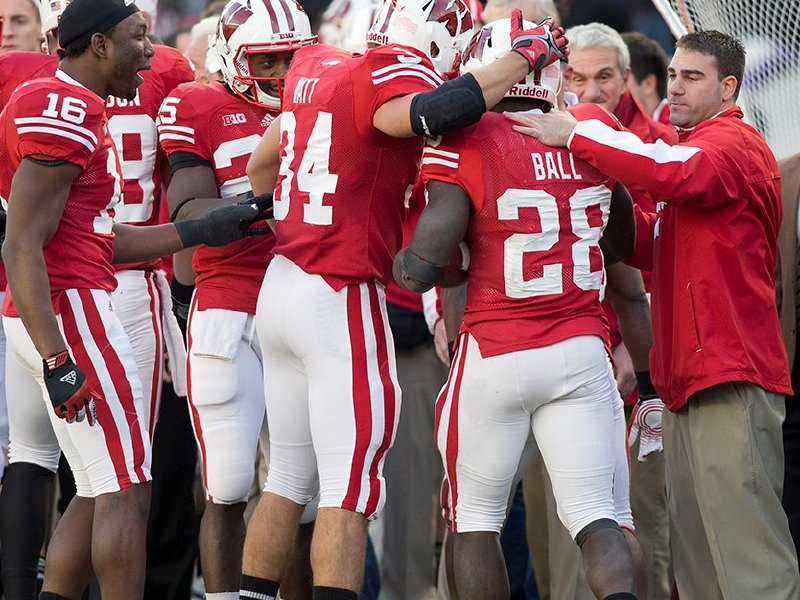 Badgers must learn lessons to reach Rose Bowl
It's Friday, it's about 50 degrees just before the calendar turns to December – so let's have some fun.
How about some word association?
Wisconsin Badgers : Rose Bowl.
Really?
It could happen, even as the five-loss Badgers head to Indianapolis for Saturday's Big Ten Championship against the 10-win Nebraska Cornhuskers.
"We're really excited for it," Badgers linebacker Chris Borland said. "It's an opportunity of a lifetime. This is the third time in a row we have a chance to win a Big Ten Championship. I think there are 10 other teams in the conference that wish they were in the shoes Nebraska and us are in right now."
Let's start there. This is the second straight year the Badgers head to Indy and many on the roster are familiar with the pomp and circumstance that has led up to championship Saturday.
"The environment was something that ever player dreams of playing in," Badgers running back Montee Ball said of the Badgers' 42-39 victory over Michigan State last year. "The environment was incredible, just the lights, the cameras, the fans screaming. It's something that was very special. The energy we had on our sideline was great and we're really hoping the same thing happens this weekend."
There is also some familiarity here between the two teams.
As we all know, the Cornhuskers rallied behind quarterback Taylor Martinez to score 20 unanswered points to beat the Badgers 30-27 in Nebraska in late September, but I don't feel as if the Badgers will take the field feeling the Cornhuskers are the better team. And, the Badgers had to have done something right to jump out to a 17-point lead.
The question is whether or not Wisconsin has learned anything from that loss, which was the second of four 3-point losses.
Ball says it has.
"Every play matters," he said simply. "That's basically what it comes down to losing close game. You never know if the first play is going to decide the game or the last play. You just have to make sure you approach every play like it's that deciding factor of the game."
To this point, it seems like the Badgers haven't quite grasped that lesson having lost three of four (all in overtime), but they are at least aware of it. That may help them produce without a doubt their biggest win of the year.
It can be done, for sure. While Wisconsin's done enough wrong in its five losses to, well, lose, an extra positive play or two Saturday could produce a win.
"It's been really frustrating," Borland said of the manner in which the Badgers have lost. "You hate to go down that way but you like to see the fight we've had. As far as a reason for the close losses, I think we've done things well. Maybe haven't executed in the clutch like we could but there's been no lack of effort in the preparation or execution really. All the things you need to win are there. It's just a matter of sealing the deal, which I think we've gotten better at despite it not showing in the games on Saturday's."
On the line is a trip back to the Rose Bowl for Bret Bielema's crew where they will face the winner of tonight's Pac-12 title game that features Stanford and UCLA. These two teams met just last week with the Cardinal winning 35-17.
The Badgers would be an underdog to either team, but neither are quite the quality of TCU and Oregon, the last two Badgers opponents in the Rose Bowl game.
Regardless of what may happen in Pasadena, a third straight Rose Bowl trip is nothing to sneeze at. Ohio State fans may hold their nose as Ball and the Badgers place roses between their teeth, but sometimes it pays to be a clean program. This would be one such instance.
"One thing that coach 'B' told us all is that 7-5 or 12-0, we'd still be in the same position right now, playing the same team," Ball said. "That's how we're approaching it. We're still looking forward to being Big Ten champs and heading to the Rose Bowl."
Talkbacks
TosaJim | Nov. 30, 2012 at 11:08 a.m. (report)
The Badgers are really not very good this year...and making it to the Rose Bowl this year is a joke. I think Nebraska will beat them on Saturday night so they won't have to worry about that...they can look forward to some unimpressive...no name bowl in January. Back in the day...there were 4 or 5 bowl games and if you made it to one of them it was very impressive...now it's all about the money and almost anyone with a loyal fan base (willing to travel and spend money) goes to a bowl game.
Facebook Comments
Disclaimer: Please note that Facebook comments are posted through Facebook and cannot be approved, edited or declined by OnMilwaukee.com. The opinions expressed in Facebook comments do not necessarily reflect those of OnMilwaukee.com or its staff.