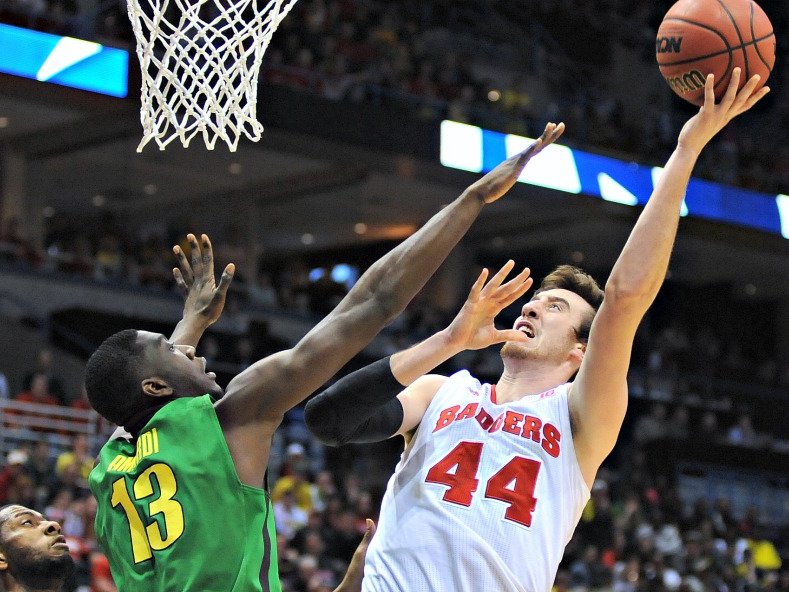 Another thrilling ride could be coming for Badgers
It was everything that is great about college basketball, and then some.
When Kentucky beat the Wisconsin Badgers Saturday night in the NCAA tournament it was a riveting couple hours.
Sure there was sorrow that the Badgers got beat on a wonderful shot by Aaron Harrison of the Wildcats.
But once you got over that shot, it was impossible to not recognize how spectacular this game was.
Back and forth, one team making a run and then the other coming back, unlikely heroes and wondering about whether the Badgers really belonged here.
Face the facts, Kentucky is a blue-chip basketball program with an enviable history and a legacy of heroes. Adolph Rupp coached there for 42 years and won four NCAA titles. After John Wooden he is probably the most revered coach in college basketball history.
There was always a little bit of doubt in my mind whether Wisconsin really belonged on the floor with Kentucky.
Wisconsin played disciplined basketball, sometimes running and sometimes more deliberate.
Kentucky had the "Fabulous Freshmen," those five rookies who were at home blistering the floor and living above the rim.
The obvious question was whether Wisconsin could hang with these marvels.
The Badgers not only played on an even level with the Wildcats, they gave them everything they could handle and more.
The mere fact that Wisconsin was in the Final Four was a surprise. They had been dominant during the early season, then went through a slump and then came back strong in the tournament.
If Bo Ryan isn't the best coach in all of college basketball, then he's close. The Badgers have always played as a reflection of their coach.
Ryan is a tough, no nonsense type of guy. He knows how to have fun, but I remember that Rick Majerus once told me one of the guys he didn't want to meet in a dark alley was Bo Ryan.
And for those who loved this year, as the saying goes, just wait until next year. The only player of note who the Badgers will lose is guard Ben Brust.
Ryan and his staff have always been good recruiters, finding players who can fit into the system. There's no reason to believe that success like that will come to a halt.
With Bronson Koenig, the surprise of the Kentucky game ready to step in for Brust, the Badgers also have sophomore Zak Showalter and freshman Jordan Hill who will compete at the guard position.
Wisconsin is high on a 6-foot, 7-inch forward named Ethan Happ from Illinois and Nigel Hayes, who played a lot this year, gives Wisconsin some depth along the front line.
This season was a thrilling ride for the Badgers and it seems almost too much to hope for another one next year. But on paper, next year's team looks even stronger than this season's.
Facebook Comments
Disclaimer: Please note that Facebook comments are posted through Facebook and cannot be approved, edited or declined by OnMilwaukee.com. The opinions expressed in Facebook comments do not necessarily reflect those of OnMilwaukee.com or its staff.