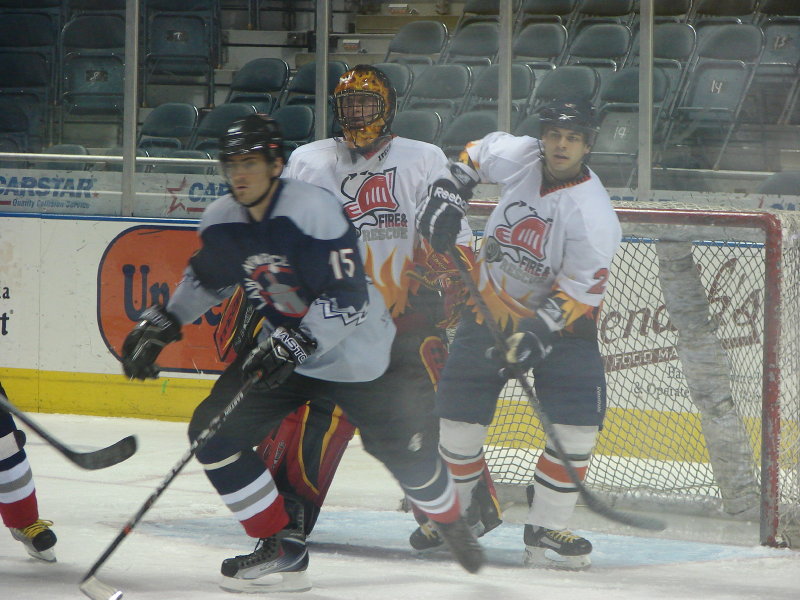 Wisconsin police, fire departments battle for the badges once again
Some things will come in time, being new to the Milwaukee sports scene. My nature is to want to run a marathon, but you've got to run a lap first, and I'm sort of fighting myself there. Milwaukee is a great sports city and I feel I should be doing everything all at once.
That's not possible, naturally, and I know I'll miss some things here at the beginning.
One event I'm glad I didn't miss was the Battle of the Badges, the charity hockey game between police and fire departments. The game, now in its ninth year, draws players from law enforcement and fire houses from around Wisconsin, including Homeland Security and the U.S. Coast Guard.
Milwaukee and Wisconsin's finest have been going at each other for charity all these years and now they are helping out Easter Seals and autism awareness.
I grew up in a house with a policeman, my dad, who also volunteered on the fire department. Many of my family members are also involved in public safety. They are professions that mean the world to me, but it's not often that this part of their lives is publicly displayed.
We all know they care about people they've never met – it's why they do what they do.
But their hearts go beyond the job, and this is a great example of that. Sure, they get the benefit of playing in a professional stadium following a minor league hockey game, but these guys started doing this in parks down in Kenosha. It's not about the venue, to sit on the same bench as future NHL stars or to play in front of thousands of fans, or even a Cup (they don't have one!) – it's to create awareness about something greater than themselves.
"As much as everybody loves playing hockey and are hockey fanatics, it's a fund raiser," said Roy Spielmann of the fire department team. "Our goal is to raise as much money as possible for our cause. That's what it's all about – giving back to our community. That's what the whole purpose is behind this."
For those waffling on whether to stick around after the Admirals game and watch, this isn't some beer league softball game – these guys can play. Many of the players boast either college or high school experience. It's the one part of the contest Spielmann says most surprises those who haven't seen it.
"We can't take guys anymore that are just starting out," he said. "Seven, eight years ago we could get away with that but now the game is at the Bradley Center, it's being televised by TimeWarner cable, we bring that extra professionalism to the game. For one night, you get to be in the NHL. You have two linesman, two referees, the game clock, the Zamboni is on the ice between periods. It's like a regular pro game except we don't have body checking."
The two teams, while there is a friendly rivalry, practice with and against each other several times before the annual Battle of the Badges contest and even team up to play in tournaments.
"It is fun. It's nice to play against your fellow brothers," said police department captain Kevin Armbruster. "But I guarantee you once we're on the ice it's a whole other ballgame. It's usually pretty competitive. The last few years the fire department has beat up on us pretty good but I'm hoping this we'll change things around. It's a fun rivalry."
The teams will play at the Bradley Center at about 6 p.m., following the Admirals game against Rockford.
Fans can get $5 off their Admirals ticket if they call (414) 227-0550 and mention "Battle Autism." The ticket is also good for the Battle of the Badges game after the Admirals contest. Tickets are also available on game day at the Bradley Center.
Facebook Comments
Disclaimer: Please note that Facebook comments are posted through Facebook and cannot be approved, edited or declined by OnMilwaukee.com. The opinions expressed in Facebook comments do not necessarily reflect those of OnMilwaukee.com or its staff.