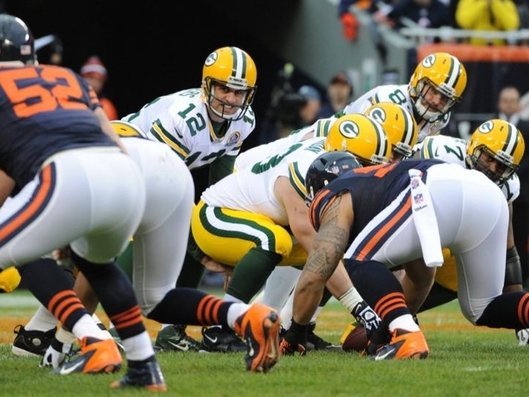 Bears may not want a pass rush against Rodgers, Packers
The only way the Bears' defense can hope to unhinge Green Bay Packers quarterback Aaron Rodgers is to mount a pass rush of a magnitude that has yet to be seen in 2013.
The problem is, it may make absolutely zero difference.
Indeed, the Bears may be better served if coordinator Mel Tucker devises a rope-a-dope pass rush, maybe a 1-9-1 alignment, maybe with Shea McClellin or Isaiah Frey at nose tackle. (No, really.)
Sacks become almost spooky when they involve Rodgers and the Bears. Rodgers was sacked five or more times in five different games last season. The Packers lost four of those games, all of them except … the Bears' game.
It gets spookier.
The Bears have beaten the Rodgers Packers twice, 20-17 both times (2008, game 15; 2010, game three). Both times it was on Monday nights.
Both times the Bears did not sack Rodgers.
The Bears sacked Rodgers five times in week two last season, and lost, and three times in game 14, and lost. All eight of the sacks were by defensive linemen and all but one of them by players starting Monday.
Sept. 13 at Lambeau: Julius Peppers 2, Shea McClellin 1.5, Henry Melton 1, Corey Wootton .5.
December 16 at Soldier Field: Peppers 1.5, Wootton 1.5.
Sacks always have the ability of being misleading or just irrelevant. The Washington Redskins sacked Rodgers four times in week two. Rodgers threw four touchdown passes, zero interceptions and posted a rating of 146.0 with 480 passing yards and four touchdown passes.
The Cincinnati Bengals also sacked Rodgers four times the following week. The Bengals won but the Packers rushed for 182 yards and scored 30 points.
The Bears won't be looking to give Rodgers a pressure-free game. The lack of a pass rush has been a leading factor in the Bears losing three of their last four and failing to hold any of seven opponents to fewer than 21 points.
"I don't know if it's desperation now," said defensive lineman Corey Wootton. "It's just something we need to do. Getting close is just not good enough. I don't think we're panicking. It's just something we have to get done."
"You've got to be relentless in your effort because you never know when you're going to get one."
Facebook Comments
Disclaimer: Please note that Facebook comments are posted through Facebook and cannot be approved, edited or declined by OnMilwaukee.com. The opinions expressed in Facebook comments do not necessarily reflect those of OnMilwaukee.com or its staff.