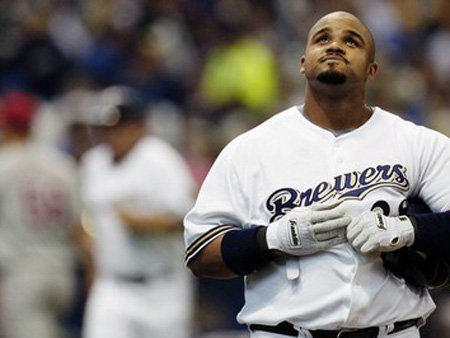 Reflections from a super sad Sunday in sports
Wow! Sunday doesn't get much worse than the last one. Only thing that could have made it worse was to get ptomaine poisoning from the ham and cheese sandwich.
A day with the Brewers leaving the playoffs and the Packers losing to the Falcons at home leaves a guy with a bad taste in his mouth, a crushing hangover and lots of questions and impressions.
1. The Aaron Rodgers Packers have now lost three in a row. I don't think it's Rodgers' fault. But, it is pretty clear to anyone with a pair of eyes that this is a much different football team than the one that was around last season. I think it comes down to the scare factor. The Packers had a quarterback who scared a lot of people last year. This year, they have a quarterback who doesn't scare anyone. Think what that does for opposing defensive coordinators.
2. The only playoff salvation was that the Brewers won one more game than the Cubs. The Brewers left the playoffs like wimps. Those big bats and clusters of runs all but disappeared during the most important time of the season. The Phillies, a slightly better than ordinary baseball team, looked like they were eons ahead of the Brewers. They pitched better, hit better and played better defense. Our guys, despite the brave talk, were wimps.
3. It seems like week after week Mike McCarthy talks about the failure of his team to execute the fundamentals of football. These are big-time athletes and you'd think the fundamentals are something they have with them all the time, not a pair of fine leather dress shoes they put on just for the dance. If McCarthy can't get his players to execute the fundamentals, that is, among other things, a coaching failure.
4. I don't know if I'm crazy or not, but I'd think about trading Prince Fielder. I know, everyone thinks he's a part of the core of this team. He hit 34 home runs last year. But 34 isn't that great when you hit 50 the year before. I'm not sure whether the stats bear this out or not, but my impression is that he doesn't have the kind of impact he should have. My guess is that Doug Melvin could get some pretty high-level pitching in a trade involving Fielder. Pitching. Very important, pitching.
5. One thing that seems to be happening to the Packers is that they are being manhandled at the point of attack. Out-muscled and out-hustled. Both McCarthy and Ted Thompson have said time and again that you win football games along the line, both offense and defense. It doesn't look like the Packers have the horses on their lines.
6. One of the identifying factors of the Mark Attanasio era has been a quick trigger. If something isn't working, make a change (see Yost, Ned). It might be time for the Brewers to pull the plug on Rickie Weeks. How many more articles are we going to have to read about his potential the day after a throw bounced off the heel of his glove?
7. In football, more than any sport, injuries happen. Good football teams take the injuries in stride, make adjustments and keep moving forward. Lousy football teams use injuries as an excuse and seem to be tied all in knots by the injury bug. Which one describes the Packers?
8. You can't help wondering if this last glorious couple of weeks was it for the Brewers. Somehow, you have to hope that Doug Melvin has some more rabbits in his hat. At the same time, this team doesn't have juggernaut tattooed on its forehead. It all seems so temporary. Almost like a wisp of smoke that floated across the horizon.
Facebook Comments
Disclaimer: Please note that Facebook comments are posted through Facebook and cannot be approved, edited or declined by OnMilwaukee.com. The opinions expressed in Facebook comments do not necessarily reflect those of OnMilwaukee.com or its staff.