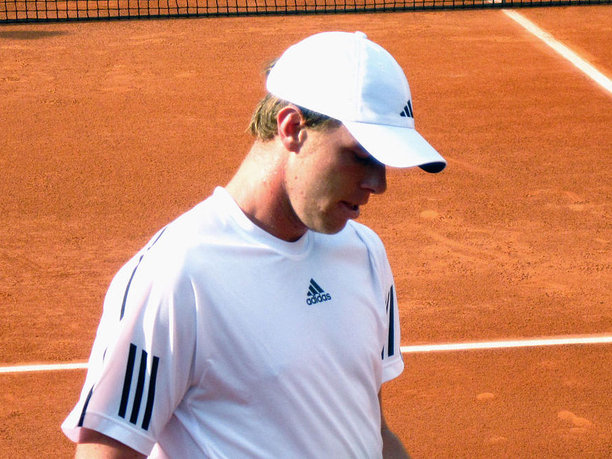 Happy Birthday America: Your tennis players still suck
I agree with Mark Belling about as often as I agree with my wife about what movie we are going to see. They are both rare.
But the other day on his radio show he was talking about the Wimbledon tennis tournament and how it marked the first time in over a century that no American man made it into the third round of the annual event.
This startling fact sent Belling off on one of his lunatic rants about what's wrong with America when we don't have any great men's tennis players and hardly any great men's golfers.
Belling had the statistics to back him up.
In tennis, there is only one American is in the top 20 and he's Sam Querrey (No. 19), who nobody's ever heard of. He won something called the Tennis Channel Open. In 2008.
There are five Americans in the top 15 of the World Golf Rankings, but non-Americans keep winning major tournaments way out of proportion to their numbers.
The question on Belling's show, and everywhere else, is what's happening to Americans in individual sports?
Belling thinks it's because we are raising a generation of lazy kids who don't want to make the kind of sacrifices needed to be great in tennis and golf. Football, basketball and baseball don't require the same kind of individual commitment.
I supposed there is something to that, but it can't be the total answer. Look at figure skating and gymnastics. Those sports require rigorous commitment and Americans excel in both sports.
But to label an entire generation as lazy seems but unfair and inaccurate. I think it goes deeper than that.
For one thing, the rest of the world has made major commitments to create opportunities for athletes. Look, for example, at how Korean women dominate the LPGA tour. There is a strong nationalistic fervor for that sport.
One thing that is obvious is that both golf and tennis remain largely a white man's sport in the men's world. There are hardly any blacks on the PGA tour and in men's professional tennis.
A variety of forces have combined (some would say conspired) to keep a deep well of athletes out of these sports.
Golf has suffered a little bit by being a mono-racial sport, but I think the impact on tennis has been huge.
If somebody had put a tennis racket into the hands of Michael Jordan or Chris Paul or Derrick Rose when they were 5, 6 or 7, the picture of American tennis might be radically different.
I know the United State Tennis Association has programs designed to get more minority kids involved in the game, but those efforts have been sporadic and remarkably unsuccessful.
I think if we can find a way to make meaningful inroads to increase opportunities for everyone we might see a return to the days when men from America were among the best in the world.
Talkbacks
crackerbat | July 3, 2013 at 3:28 p.m. (report)
Maybe because the newer generations have been brought up to be ULTRA TURBO NOSSSS XTREME!! /mild sarcasm/ I'm sorry, but golf is pretty boring to watch, tennis.. not far behind. I love playing both, but you won't catch me watching either.. ok, tennis if nothing else is on. But then, I'm an avid hockey fan, so...
Photodavie | July 2, 2013 at 10:47 a.m. (report)
As a tennis fan and amateur player for many years, I personally think that there is no American (male) rolemodel or superstar for kids to want to be. In my youth it was Sampras and Agassi. But now? Roddick was the closest thing to an American superstar in tennis over the last 10 years (when healthy). I don't think he's ever even won a major. I fee the same about golf. Since Tiger cooled off, there hasn't been a good American golfer to get kids excited and interested in golf.
Facebook Comments
Disclaimer: Please note that Facebook comments are posted through Facebook and cannot be approved, edited or declined by OnMilwaukee.com. The opinions expressed in Facebook comments do not necessarily reflect those of OnMilwaukee.com or its staff.