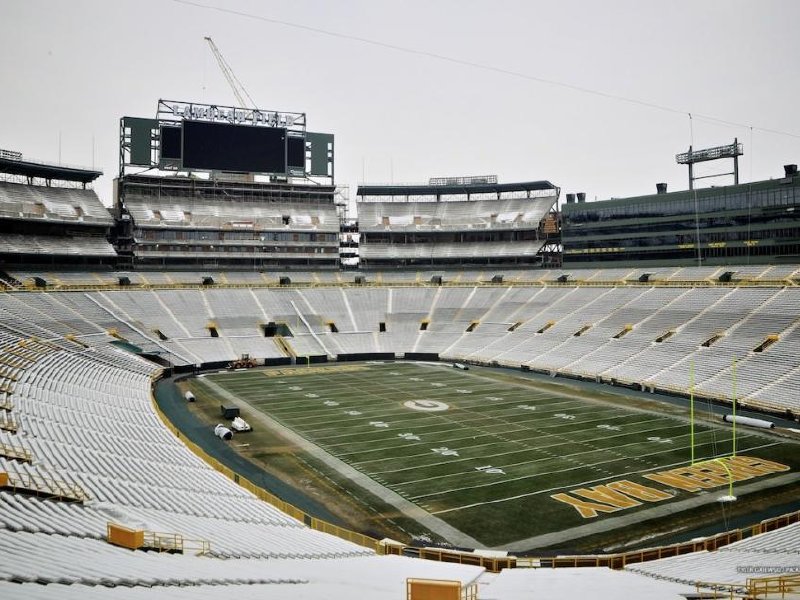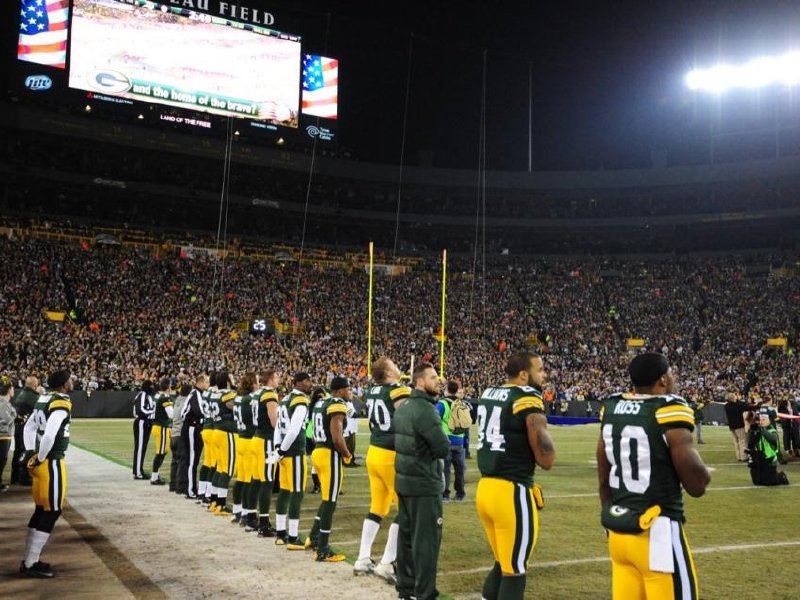 A stumble down memory lane in a return to Lambeau Field
GREEN BAY – The biggest difference of all was the absence of flying hotdogs and hamburgers wrapped in tin foil.
Oh, lots of other stuff has changed, but the most striking was no ducking to avoid, or leaping to catch, the flying burger.
I was in the press box at Lambeau Field Saturday night for the Packers' 24-10 Wild Card victory over the Minnesota Vikings.
It was my first time in the press box since Dec. 14, 1980. The Green Bay Packers lost that day, 22-3, to the Houston Oilers. It was the second-to-last game of another sad season for the Packers.
It also marked the first time anyone can remember that Bart Starr threw a tantrum and swore in public. Starr screamed at the officials because they had allowed a last play touchdown by the Oilers even though they had players offside. Starr said one of the referees had told him they didn't call it because it was inconsequential.
"Inconsequential, my ass," Starr steamed in the tiny space between the coaches' locker room and the players' locker room. That's where he traditionally met reporters after a game and then the reporters headed into the locker room. Maybe not coincidentally, but Ted Thompson was a linebacker on that Houston team.
My, oh my, how times and things have changed.
Back then the press box was maybe 40 feet long and had two rows of seats. Reporters sat in the first row. In the back row you found the radio and TV guys and the two or three guys who kept all the stats.
Heat was never a sure thing in December and January and it was not unusual for us to have to bring ice scrapers with us so we could clear the windows in front of us.
I smoked and had an ashtray right next to my notebook. Nobody ever complained. No computer. No cell phone. When I wanted to phone my story in I wrote it on a 25-pound monster called a TeleRam that I carried to press boxes, through airports, into hotels and cabs and just about anywhere when I was on the road.
You wrote the story, saved it to something called the bubble, then put a phone handle into a coupler and off it went, hopefully. It delivered, on a good day, about 50 percent of the time. Otherwise, we just dictated the story over the phone.
Things are a lot different in the press box now.
First of all it's a lot bigger and there are a lot more people. I'd guess 150 feet long and there are hundreds of people in the three rows. The seats are a lot more comfortable than the metal folding chairs we sat on. There are no cigarettes and no ashtrays. In 1980 reporters drank beer and some brought flasks of whiskey.
Saturday I didn't see a single cup for tobacco juice from a chewer. It was always a danger in 1980 because occasional spillage by chief chewer Cliff Christl caused a hurried stampede away from wherever he was sitting.
The press box back then was a place of high – or low – humor. It was semi-raucous. The first serious reporter I remember was Chuck Salituro, now a bigwig at ESPN. He had this cute giggle that he let go over something particularly funny, but basically he was pretty quiet and serious. He was the only serious one there.
Now everybody seems serious. I mean, this is football but the press box Saturday night was as reverent as reporters who cover Congressional hearings on raising taxes. There were rules that were announced. In 1980 the only rule was no snoring if you needed a short nap, and that rule was bent on more than one occasion.
Today's press box is kind of like the flight deck of the Starship Enterprise. Everyone has one or two or three electrical wizardry things. I sat next to an earnest 20-year-old reporter from ESPN Milwaukee named Sarah Barshop. She was incredibly on top of everything going on and for a while I worried I might need a fire extinguisher – she was doing stuff with such incredible speed. The world of journalism will be OK when she takes over.
In 1980 the Packers had one public relations guy who had kind of esoteric responsibilities, many of them having little or nothing to do with the actual game. He just tried to keep the peace and laughed too loudly at the jokes that weren't funny.
Now they have a staff of the most courteous and helpful people you could imagine. They are like genies in green and gold golf shirts who want to make sure that no wish goes unfulfilled. They are so nice and so professional. I do want to say that for years the Green Bay Packers have been the gold standard for game day management, and there is no reason to think they have relinquished that title.
There were several other things that are drastically different, one of them being height. This press box has got to be 100 feet higher up than the old one. Vertigo was an option Saturday night. It is so far away you really can't see much around where the ball is. You can see stuff that you don't see on television. But if you want to watch a ball carrier or a passer, you see a lot more on television that you do in this press box.
The guts of the stadium are also a world apart. They have a real auditorium where the coach and quarterback meet the press after the game. And the locker room is so plush it reminds me of staterooms on some of the yachts I've been on. Burled wood, thick carpets and plenty of space is a stark contrast with old locker rooms of metal folding chairs, jocks strewn all over and showers that run out of hot water, making big men scream.
But back to the flying food. There is a long tradition of teams feeding members of the press before the game. Some teams take it seriously, like the Milwaukee Bucks who even decades ago, put out freshly cooked dishes.
Others, like the Packers, kept it simple. When you walked into the press box, there was a guy dressed in white, behind a warming table. He'd see you, shout "hey, have one" and launch a foil-wrapped hot dog or burger in your direction. It was up to you to catch it. And if you wanted two, you needed to put one in your pocket before he'd throw another one.
Now, the spread in Green Bay resembles an upper middle-class wedding reception. The hundreds (yes hundreds) of people in the press box, were treated to fruit plates, a salad bar, fried cheese curds, roasted vegetables and herb roasted Yukon potatoes, lemon herb chicken and a prime rib carving bar, plus a dessert tray that could end you into diabetic shock. I expected to hear either "Feelings" or "The Chicken Dance" while watching everyone else dine.
I didn't dine. Back when I'd have two hot dogs, I always gave the Packers a check for three or four dollars after the game. Somewhere in Lambeau Field there's an envelope with 30 or 40 uncashed checks, each for three or four bucks.
It was quite a trip going back after all these years. I'd like to say that the good old days were the best days. But I really think that today things run so much smoother and life is so much easier that everyone is a lot more happy. Or at least, a lot less miserable.
Green Bay Packers – thanks for having me back.
Talkbacks
mp51 | Jan. 6, 2013 at 3:58 p.m. (report)
that's a cool right, david. i always find it interesting to "peek behind the curtain". what was the press conference like? did you get to ask a question? what was it? was it difficult for you to get around such a large place with your knee? were their many folks reporting back from your day? sorry for all the questions, but you let us peek back their, so i just wanted to hear more? hope you get to go to the nfc championship game...at lambeau!!!!
Facebook Comments
Disclaimer: Please note that Facebook comments are posted through Facebook and cannot be approved, edited or declined by OnMilwaukee.com. The opinions expressed in Facebook comments do not necessarily reflect those of OnMilwaukee.com or its staff.