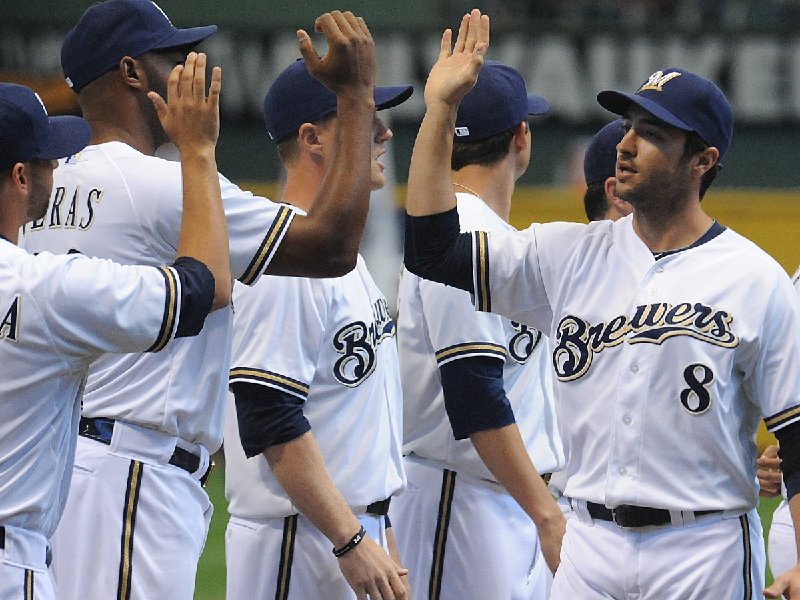 Sports are taking a bizarre turn
I have had about the most turbulent year anybody could ever expect to have during the first nine months of 2013.
Health issues have kept me in and out of the hospital and in and out of the mainstream of life. I've missed a lot but I've also been paying attention. And one of the things that I've discovered, once again, is how much I love sports.
I have always loved sports. But I am growing increasingly crazed about how bizarre the world of sports is getting and I'm troubled by where we seem to be headed.
Some examples:
Ryan Braun
The wheels are turning as experts in public relations and crisis management and rehabilitation all try to find a way to make Braun whole again.
It is not going to happen.
Too much of what he's doing seems contrived, creating the kind of thing that you would draw up in a classroom exercise. It has nothing to do with real life.
Ryan Braun calling up fans on the telephone to talk about all the evil things he's done. "Hi, this is Ryan. Got a sec?"
What do they think we are? Stupid?
I don't even know if it's possible to restore Braun's reputation. But one thing I do know, the artificial apologies that they seem to be creating are just adding fuel to an already roaring fire.
They might as well put him at a table in a Cousins restaurant and every person who comes in to get a sub has a chance to sit down with the disgraced outfielder and talk about cheese steaks, baked or fried potato chips and, oh yeah, performance enhancing drugs.
Dennis Rodman
For some reason, and it's probably our own fault, we are actually treating this man and his visit to North Korea as a serious piece of business. Rodman has never been serious. He has always been the oddest of ducks.
And now he is visiting North Korea and becoming friendly with their crazy child leader. He is proposing some kind of basketball exchange program with American players against North Korean players.
The problem here is that we are actually treating this seriously. We go to his news conference. We ask him questions. We wanted to know what Dennis Rodman thinks about Kim Jong Un. It would be simpler to figure out what's wrong with Rodman. The much more important and lots more difficult question is what the hell is wrong with us for taking this whole thing seriously?
Overwrought reaction to average plays
For some reason this seems to be a trend growing ever more popular. You can see it in every NFL game, and it's easy to recognize.
A cornerback or a linebacker or a defensive lineman makes a good tackle. Nothing outstanding. No touchdowns saved but it's a good, solid football play. Instead of getting up and walking back to the huddle the tackler jumps around, slaps hands, gets in the face of the ball carrier and jumps around as if he is just saved a touchdown on the 2-inch line to preserve a victory in the Super Bowl.
Football is a game made up of lots of ordinary plays and some very special plays. The ordinary plays are just that. Ordinary.
When players act like every play is an end-of-the-world play how can we tell what's really important?
I asked the question, what do they think we are, stupid?
The answer might very well be yes. They might think we are stupid. And the reason is that we might very well act like stupid people around them. Letting the world of athletes play with our emotions and play with our feelings so that we act like absolute dummies.
This whole thing just seems to be getting out of hand. There's the world of them and there's the world of us and we all used to be together. Now it's like never the twain shall meet.
Talkbacks
brewguru | Sept. 19, 2013 at 11:43 a.m. (report)
Dave, you might call me stupid, but Ryan Braun has absolutely nothing to apologize to me for. He took PED's. Big deal, over 50% of MLBers still take some form of PED's, they just haven't been stupid enough to get caught. In fact, if Shawn Marcum had taken some of what Braun did in 2011, maybe the Brewers would have celebrated a world championship. Would all these fans, like the self-righteous hypocrite who posted above me, be demanding that we give back the rings? PED's are no big deal. Greenies, the amphetamines that were so prevalent in baseball clubhouse before 2005, were taken by 99% of baseball players from the '50s thru the turn of the century. Those are definitely performance enhancers, yet no one in Milwaukee will rip on Hank Aaron or Robin Yount for taking them. Interesting, isn't it. Yet everyone wants to come down on Braun because he lied. (In fact, people are more upset with the lie than the act of using PED's itself, which is very interesting). Hell, at the time of Braun's suspension, he had teammates that had been convicted of beating his girlfriend and her father and another one who was busted for DUI in April. Yet NO ONE is condemning these two players.
TosaJim | Sept. 19, 2013 at 7:48 a.m. (report)
What most of us fail to realize is that all athletes, movie stars and celebrities are just human beings....with some extra special talent or in some cases, minimal talent and great public relations. We expect too much from them. Ryan Braun is in a no-win situation. He cheated...he lied...he got caught...he lied some more...no matter what he says now, nobody but the gullible and foolish are going to believe him.... Trade him and let's move on....and get rid of Hart and Weeks too.
Facebook Comments
Disclaimer: Please note that Facebook comments are posted through Facebook and cannot be approved, edited or declined by OnMilwaukee.com. The opinions expressed in Facebook comments do not necessarily reflect those of OnMilwaukee.com or its staff.