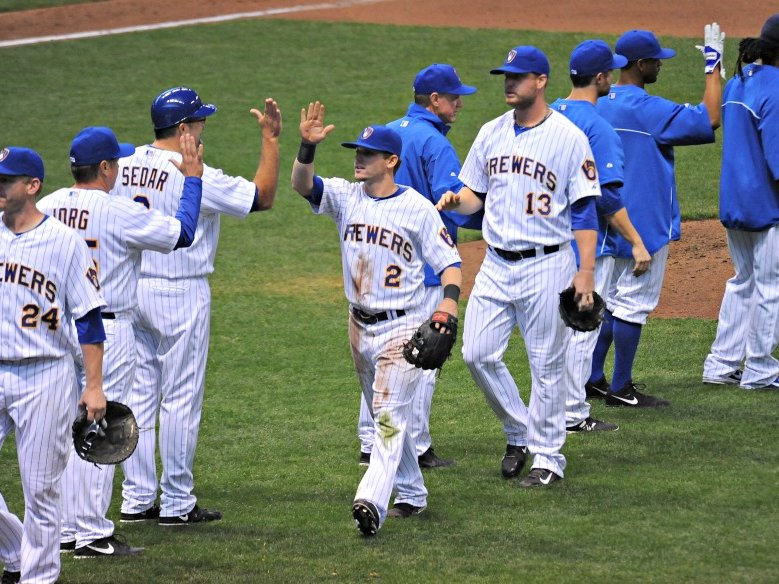 Brewers' road trip will determine reality vs. fantasy
Put the voice of John Facenda, the NFL Films announcer in your head.
Hear the drama as he says, "This (long pause) is crucial and critical week in their season."
This is not about the NFL though.
This is about the 2014 version of the Milwaukee Brewers, so far the biggest surprise in the major leagues this year.
If there is ever going to be a critical week for the Brewers, this is the one. This is the one where they can begin to remove the doubts and create the believers.
For seven days (starting last night with a exhilarating, come-from-behind, extra-innings win over the hated Cardinals) the Brewers can get the kind of recognition that a good baseball team deserves.
For the Brewers it's seven games in seven days against two division rivals who were solid picks to be better than the Brewers in pre-season predictions.
If this is a successful series there are several thing that will happen.
For one, national attention will descend on Milwaukee. Reporters from national outlets will finally be forced to sit up and take notice and the coverage of the team will ratchet up.
This city likes when national attention focuses on us and says nice things. And the Brewers can provide that.
A good series will also send a message to the league that this team may well be for real in spite of all that blather before the season ever started. When you think the team you are playing is better than you are, it can play with your heads a little bit. That's good for your home team.
And finally, a successful trip will work its way into the heads of the Brewers and their fans, solidifying our hope that what we are watching is not a dream but may well be reality.
No matter what anyone says, if we are being honest, our expectations weren't that high for the Brewers this season. So far they have vastly exceeded them.
A successful trip turns what could be a mirage into a touchable reality full of the possibilities of glitter and golf.
But what does a successful trip mean?
Some of the choices are simple, one or two or even three losses in seven games would keep this bus chugging along the road.
Is 3-4 okay? Maybe. But what about 2-5, or 1-6 or 0-7? Those are bad road trips. They also can have repercussions far beyond the number.
Coming home with your tail whipped can sometimes deflate the balloon so badly that it's extra hard to blow it up again. Professional athletes pay homage to the "one game at a time" mantra, but a run of bad outcomes can worm its way into a slightly shattered confidence.
A bad road trip and the national media, and attention they create, will move the Brewers off their radar screen. Once removed, it's hard to get that spot back.
And fans, who in this town are incredibly loyal, can have their fickleness tempted with a string of games that brings heroes crashing down to earth.
The most mature of us (players, media, fans), probably not including me, realize that a baseball season is a long, long time. It's more of a marathon than a sprint. Even if the Brewers come up a dud this next week it doesn't mean the end of playoff hopes.
Just as a surprising winning record on this road trip means a giant switch in the playoff odds in Las Vegas.
What it is, really, is yet another reason why baseball can be so very much fun to follow.
Talkbacks
Photodavie | April 29, 2014 at 8:11 a.m. (report)
With 3 key starters (Braun, Segura, and now Ramirez) listed as day-to-day, I think most of baseball would be shocked it the Brewers won 3 of 7 on this trip. I would be happy with 2 wins. We would still be in 1st place, above .500, and home for 9-game stand. GO BREWERS!!!
Facebook Comments
Disclaimer: Please note that Facebook comments are posted through Facebook and cannot be approved, edited or declined by OnMilwaukee.com. The opinions expressed in Facebook comments do not necessarily reflect those of OnMilwaukee.com or its staff.