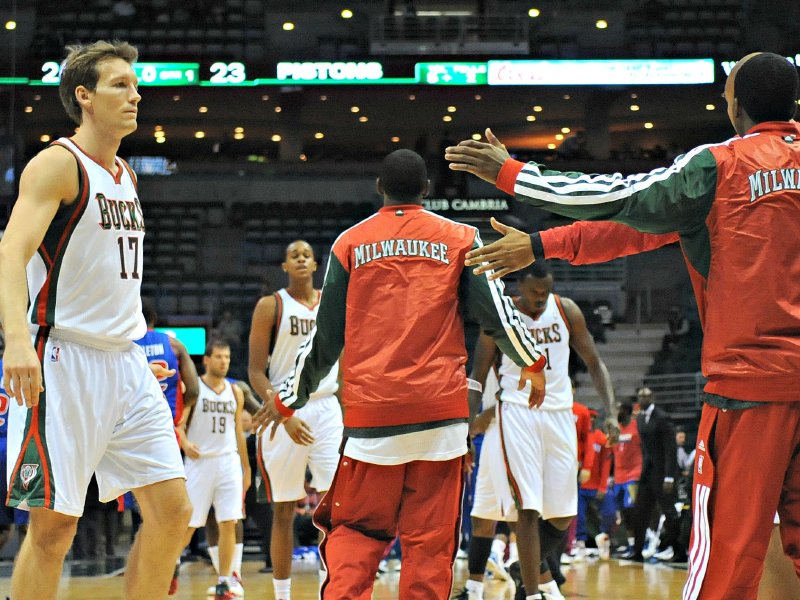 Bucks doing the little things right
Sometimes it's the little things that tell the story. You can always look at final scores and a final set of statistics and say those tell the story. But the one sport where that can be misleading is basketball, especially NBA basketball.
I was at the Bucks game Saturday night when they lost a close one to Boston and I was both surprised and impressed at the little things that make me think the Bucks have a real chance to have a successful season.
Here are some of the little things:
The "into it" bench. I'm not talking about depth. I'm talking about how players act when they are on the bench. There are many teams, and the Bucks have been one, where the players act like they are on a spaceship to Mars during a game. These Bucks were paying very close attention. They cheered, they got on the refs and they paid close attention to the game.
The time out huddle. When a team calls time out and the coach gathers his team in front of the bench, you can usually see half the team staring around the stands, saying hi to friends and nodding to family members or joking with each other. We've all seen it countless times. When the Bucks huddle, all of the players were stretching to see and hear what coach Scott Skiles was saying. It's clear they were invested.
The floor. This is an area of the court that in the past the Bucks have avoided like a plague. A loose ball would be on the floor and players stood around waving their hands. But this team isn't afraid to get a little dirty. Larry Sanders (more on him later) spent a lot of time groveling for loose balls. He's not the only one. All four guards aren't afraid to mess it up. Brandon Jennings, Monta Ellis, Beno Udrih and Marquis Daniels are all scrappers.
Larry Sanders. Potential galore. He's tall, tough and very fast. I was amazed at his speed up and down the floor. It's obvious he's still learning things, but he is already a force against players coming down the lane. He's growing as a rebounder and has some offensive game. Who needs Andrew Bogut?
The Buzz Williams Factor. The Marquette coach has sons who probably see more basketball than your average gym rat. So, on a rare night with his boys, where does he take them? To a Bucks game. The boys, who go to the same barber as their dad, got plenty of excitement, which is what you are looking for as a father/son outing on a Saturday night.
The Guy With No Shirt Factor. I can't remember the last time I saw a guy without his shirt at a Bucks game. I saw two of them Saturday night. Each had the word "Bucks" scrawled in Green sharpie across their not too hairy chests. And as they walked around, they made the Clay Mathews arm thing and screamed at unsuspecting fans.
Hot Women. The women at the games seem hotter than normal. The flip side of this is that Energee, the dance troupe, seems just as stuck in uninspired routines. The girls are very cute, but they need some inventive choreography. And those white vinyl boots are sooooooo yesterday.
A jacked arena. A normal Saturday night at the Bradley Center (does anyone know what BMO stands for?) is filled with crowds that forgot to take any Red Bull. On this night, with a game that went back and forth, it was one of those where you think the crowd believes they can lift the players up to a high level with applause and yelling.
The whole thing was, as the Bucks promotional stuff says, "Amazing."
Facebook Comments
Disclaimer: Please note that Facebook comments are posted through Facebook and cannot be approved, edited or declined by OnMilwaukee.com. The opinions expressed in Facebook comments do not necessarily reflect those of OnMilwaukee.com or its staff.