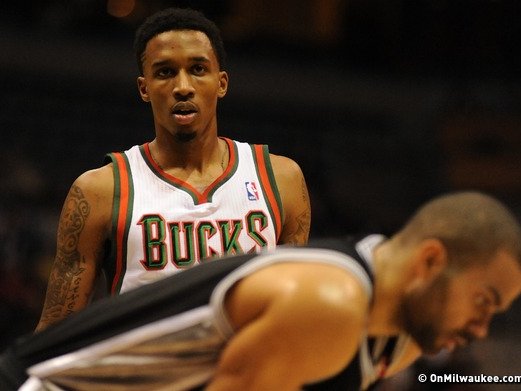 Bucks falter again, questions arise
The Milwaukee Bucks season has finally come to an end, once again with the shroud of disappointment draped over their shoulder.
Another year when there is no post season action for this team. No playoffs. They gave it a little run to squeak in toward the end of the season, but they couldn't win when they had to win.
The Bucks, who need a new arena to become more financially viable, could really use a playoff run to help generate excitement for the team. That excitement would clearly translate to more grass-root support for a new facility.
In the last 12 years, since the turn of the century, the Bucks have made the playoffs just five times. And in four of those they were eliminated in the first round. Scott Skiles is finishing his fourth year and he's got just one winning season, 2009-10.
Any time a team has a season like this, or a string of seasons, the questions grab most of the attention in any discussion of the future. The Bucks are no different. Let's look at a couple of the questions, and some possible answers.
Are there enough good players? The plain answer is no.
Not to say that the Bucks are dogs. They aren't. But I think you'd have a hard time putting the word "star" with any player. The only two who seem to be candidates for that label are guards Brandon Jennings and Monta Ellis.
Stars have great ability along with leadership skills, physical strength and high basketball intelligence. It's possible Jennings or Ellis may get to that level, but they aren't there yet. The Bucks need a star player. I know they don't grow on trees and they cost a lot of money. But if you are smart about it, having a star on your roster goes a long way toward making you a better team.
Is the coaching good enough? You judge a coach by his record. And in four years Skiles does not have a satisfactory record. Is it all his fault? Of course not. But he must share in the blame.
Contrary to his physical appearance as a ferocious bulldog, he seems to be very calm, both during the game and after the game. It's possible he's a fiery leader in private and his placid nature is just a public vision. But I think there is at least some disconnect between the coach and the players. Basketball is a game that demands some passion and I'm not sure that Skiles shows that passion.
In the last decade Herb Kohl has demonstrated a short leash for his head coach. I think Skiles is near the end of his leash and wouldn't be surprised if they made a change. Whether that's the best decision is a totally different matter.
Is the management of the Bucks good enough to win? I think in many cases the influence of management on the wins and losses is overrated. The Bucks sell everything they can. The organization provides a great experience for fans.
I think the two big management questions concern the owner, Kohl, and the general manager, John Hammond. Hammond has had a difficult road because of the handcuffs of financial burdens. He's had almost no room under the salary cap. That has eased a little bit and we'll see how well he manages his extra revenue. Kohl has owned the team for over a quarter century and has not won a title. He's never even made it to the NBA finals.
The question to ask is whether a new owner will lead to more success on the court I think the answer to that question is not necessarily. Nobody has ever accused Kohl of being cheap or unwilling to pull the trigger on big deals. He may not have always made great decisions, but failure to pay has not been one of them. I think.
Will a new arena really help? Let's put it this way: It can't hurt. All we have to do is look next door to the Brewers. Once they got Miller Park they became attractive to a new owner and look what happened. Mark Attanasio would never have bought the team without Miller Park and a good lease arrangement.
Plus, if a new arena doesn't appear on the horizon, they will become a much better candidate to move eventually. And that hurts the city. If the new arena is built it will obviously increase revenue for the Bucks. And increased revenue means a chance to sign better players.
I feel badly for the Bucks. I know many people there and they bust their butts year after year and keep coming up short of their goal. Answer some of these questions and the excitement will return to the Bradley Center.
Talkbacks
mrjohn | April 24, 2012 at 10:11 p.m. (report)
I am not buying the new arena theory and am single handedly pointing the finger at Herb Kohl. Miller Park was built under the premise we needed it to create better revenue which would certainly give us a contender. The threat of losing the team was held over our heads yet the park was empty 5 years later as Wendy Selig and company ran the team into the ground. I recall that final Selig season being in the stands with 2000 people even though the game attendance was announced as 7000+. It starts at the top. Bottom line. The Packers are the smallest market in the NFL. The Milwaukee Brewers reached over 3 million last year. Why? Because they have people running/owning the teams who want to win and are smart enough to make it happen.
brewcitypaul | April 24, 2012 at 4:34 p.m. (report)
I like that you posted this article saying "bucks season over" with 2 games remaining on the schedule. Truly funny and very true. Hammond isn't smart enough, Skiles doesn't have good enough players and the players don't fit well together and can never stay healthy. Same story every year. I look forward to the time that Herb Kohl decides to sell and we see a new arena being built. My only hope is Attanasio puts together a group and does for the Bucks what he did for the Brewers.
Facebook Comments
Disclaimer: Please note that Facebook comments are posted through Facebook and cannot be approved, edited or declined by OnMilwaukee.com. The opinions expressed in Facebook comments do not necessarily reflect those of OnMilwaukee.com or its staff.