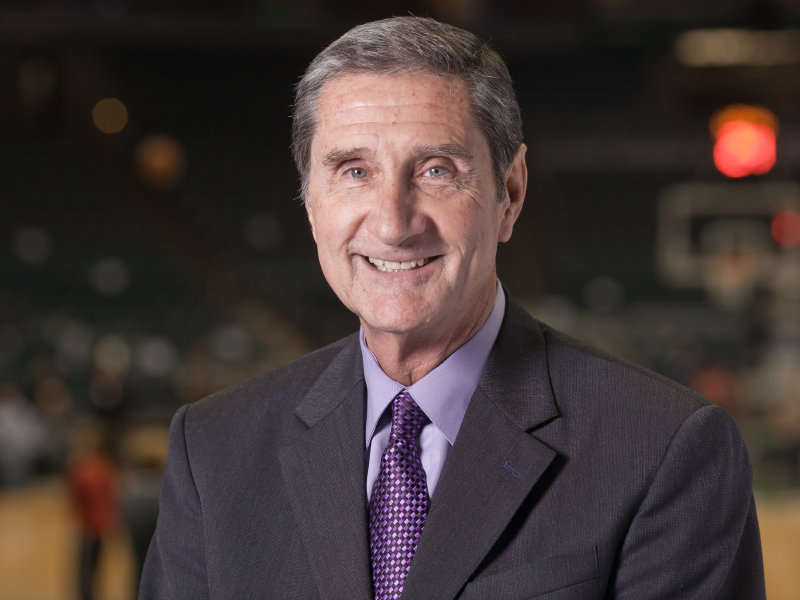 McGlocklin goes part time for the first time in his career
It took Jon McGlocklin two years to find a home, but once he did, a box of dynamite couldn't get him to leave.
Drafted into the NBA in 1966 by Cincinnati and then picked in an expansion draft by San Diego the next year, he was chosen in yet another expansion draft by Milwaukee in 1968.
Now, 45 years later, he has decided to cut back on his duties as color man on Bucks' broadcasts to about half the games, almost all of them at home.
This will be the first time in those 45 years that McGlocklin will be a part-time anything. If any one thing marks those 45 years it's that McGlocklin always showed up and always gave whatever he was doing – playing, broadcasting, charity work – 100 percent.
As McGlocklin moves to half time, someone should write something nice about the guy and I've elected myself.
I was there in 1968 when he stepped onto the floor at the Milwaukee Arena for the first time. He scored 12 points in an 89-84 loss to the Chicago Bulls.
That was the start of a great eight-year career that included a championship in the 1970-71 season when he played alongside two of the all-time greats, Kareem Abdul-Jabbar (then Lew Alcindor) and Oscar Robertson.
McGlocklin never threatened to win any defensive player of the year awards, but he had a great jump shot and enough speed to run with the Bucks. And he was a very smart player.
While he was a real contributor on the court, it was in the community that he really made his mark. There was no charity or good cause that he wouldn't help or lend his name and presence to.
But he was no goody two-shoes. He had an edge.
When he retired, the Bucks decided to retire his uniform.
At the time, I wrote a column chiding the team since McGlocklin didn't have the kind of stats you'd normally associate with such an honor. I wrote that if the Bucks were doing this for all his community work, they should retire his white leisure suit instead.
I thought it was funny. McGlocklin didn't, and he made it clear to me the next time we saw each other.
We went through a short time where he wouldn't even talk to me, but typically, he didn't hold a grudge for long. Before the door shut for good, we were back on good terms.
I think I could make a pretty good argument that McGlocklin and Jim Paschke are close to the best television broadcast team in the NBA. They aren't afraid to point out mistakes, even though it's clear that given their druthers, they'd hope for a Bucks win.
McGlocklin has brought expertise, clear talk and a sense of humor to his television role.
And his part in creating the MACC Fund has led to one of the premiere fund raising organizations in the fight against childhood cancer.
After four decades of NBA travel, which often involves looking at the matches next to your bed to remember what town you are in, McGlocklin clearly deserves a little break. He's 70 years old, after all, a year older than me.
So I don't begrudge him the move, and I like Sidney Moncrief, who will fill in on the other games. But my guess is there are a lot of people, including me, who will miss the man so many call "Jonny Mac."
Talkbacks
TosaJim | Sept. 24, 2013 at 9:12 a.m. (report)
Not having to watch and announce as many games for the Bucks will probably extend his life for another 30 years....the agony that poor man must have gone through over the years trying to say positive things about such a lousy team. He was the one highlight about the Bucks... always entertaining and informative....
Facebook Comments
Disclaimer: Please note that Facebook comments are posted through Facebook and cannot be approved, edited or declined by OnMilwaukee.com. The opinions expressed in Facebook comments do not necessarily reflect those of OnMilwaukee.com or its staff.