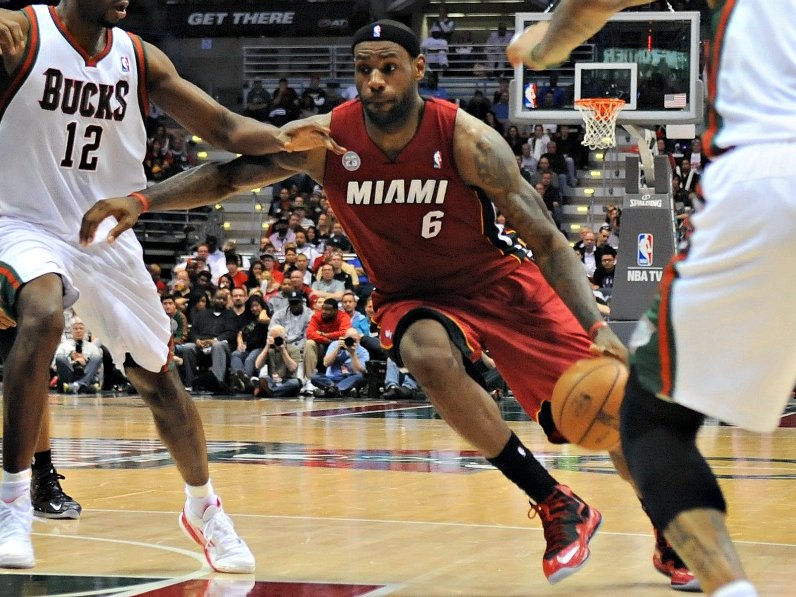 Does LeBron belong on the all-time top 10 list?
The NBA finals begin this week with the promise of a tense and exciting series between the two best teams in the league, Miami and San Antonio.
The Heat, of course, are led by LeBron James, who many people claim is one of the top 10 to ever play the game. And some people put him in the top five.
Which, of course, got me to thinking: who are my top 10 basketball players of all-time and does James make the list?
My list is not based on titles won or scoring average or years played. The one thing that I look at is domination.
Does a player absolutely dominate every game he plays? Is he such a force that his performance dictates the pace, style and outcome of the game? Is he a guy who is unstoppable, no matter what the opposition tries?
It's important to understand that I do not actually consider the different eras in sports. I don't think you can compare George Mikan to Kareem Abdul-Jabbar, but you can compare their respective dominance.
So here we go.
My top four are Abdul-Jabbar, Wilt Chamberlain, Bill Russell and Oscar Robertson.
Each center changed the game and couldn't be stopped from what they did best. Abdul-Jabbar was an offensive force, Russell was a defensive genius and Chamberlain did it at both ends of the court. Robertson is the only man to ever average a triple-double for an entire season.
Numbers five and six on my list are really fairly easy for me: Michael Jordan and Magic Johnson. Jordan brought an athleticism to his sport and Johnson brought a charismatic versatility that made them the kind of players who could take control whenever they wished.
Larry Bird is No. 7. His story is legend and he may well be known as the toughest player ever. He seemed to have an iron will that went with his magnificent talent.
The eighth player on my list is Elgin Baylor, a guy who was LeBron James over a decade before James was born. He was big and tough and could shoot from the outside, drive to the basket and post up just about anyone.
Number nine goes to the "Doctor," Julius Erving.
Wayne Embry, the former Bucks' center and general manager tells a great story about Erving.
"I had these camps in Boston and one summer after we finished playing, I went to the camp," Embry said. "They had this kid who they wanted me to play against. This skinny little kid started to back me down and I blocked him and then all of a sudden, he wasn't anywhere around. He had just gone to the sky and dunked over me."
Rounding out my top 10 is Walt Frazier, the smooth guard for the Knicks. Frazier was just about the smartest basketball player I ever saw. He never made a mental mistake and could run an offense like nobody I ever saw.
I think James is a great player. And he may eventually have to make the top 10. But as long as I'm leaving off people like Jerry West, Hakeem Olajuwon and Kobe Bryant, King James still has some way to go.
Talkbacks
Photodavie | June 3, 2014 at 7:06 a.m. (report)
Please stop writing sports articles. Just stop. You're embarrassing yourself.
Facebook Comments
Disclaimer: Please note that Facebook comments are posted through Facebook and cannot be approved, edited or declined by OnMilwaukee.com. The opinions expressed in Facebook comments do not necessarily reflect those of OnMilwaukee.com or its staff.