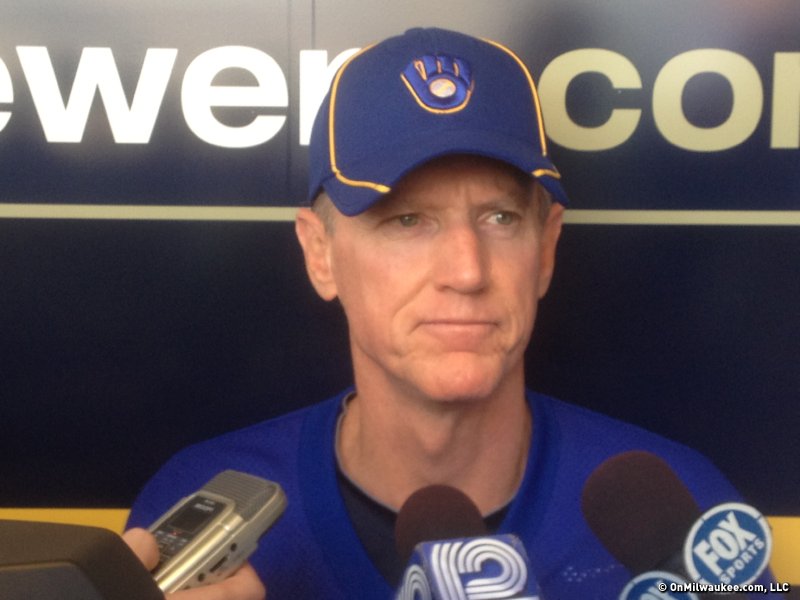 Roenicke's future with Brewers may be determined soon
Well, so far the baseball season for the Milwaukee Brewers is certainly something less than what we expected and hoped for.
Here we are with our guys behind the dismal Chicago Cubs in the standings. The only two teams in all of baseball with worse records than the Brewers are the Miami Marlins and the Houston Astros, although we could argue a couple of percentage points on a few other busts, as well.
When a team is as bad as the Brewers have been, you kind of just hold your breath, waiting for somebody with authority to lose patience with the whole thing and start chopping. And, as we all know, the normal first head on the chopping block belongs to the manager.
Now I don't know Ron Roenicke very well. I've talked with him a couple of times and I've watched him in action on television. He seems like a very smart baseball guy and a very nice man. Some people might suggest that he may be a little too nice.
Roenicke has been around long enough, I'm sure, to realize the noose that fits around his neck will remain loose for a little bit longer, but production certainly seems in order.
The most crucial stretch of games for Roenicke is coming up. The Brewers play 15 of their next 20 games in the friendly confines of Miller Park. This is a double-edged sword as far as Roenicke's continued employment goes.
Make hay and he probably saves his job. But what does "making hay" really mean?
The Brewers begin that run of 20 games with a 17-26 record. They are a .400 baseball team. So let's say they improve enough to play .500 ball over that stretch of games, which is a big improvement from what they've been so far this season. That would give them a record of 27-35 with 100 games left.
I doubt if that would be good enough. At some point Doug Melvin has to face what all general managers face during their careers. When do you make the move to make a change, even though deep in your heart you know it's not the fault of the manager and that the players aren't playing the way you think they should?
Occasionally the decision is kind of easy. Pressure from fans and from owners and the media can do that. But I don't see much of a groundswell of criticism from fans in Milwaukee. We've got pretty smart fans in this town and we don't get fooled by easy answers.
Still, though, if things don't get better, something is going to have to be done, if only to pretend that it looks like the organization is taking this whole thing seriously.
So what numbers save his job?
Asking the team to get to the .500 mark seems a little much. They'd have to become a .700 team in order to get to 31-31. So if that's out the equation, what kind of benchmark seems to be fair?
Maybe there isn't a number that you can put on this. Maybe it's position in the standings.
The Brewers and Cubs are locked in a mortal death match to see who can be the worst team in the division. On top are the Cardinals, Pirates and Reds. The Brewers are eight games behind both the the Reds and Pirates. What if the Brewers were to cut that margin in half in the next 20 games? Of course that's easier said than done, because so much depends on the teams you are chasing.
But if the stars align right, that kind of movement in the standings might save the manager's job.
There is also the possibility, although it's slight, that it won't be about numbers. In some cases, especially in sports, people do things based on their gut instincts. Even if the Brewers keep puttering along like they have been, Melvin may just think Roenicke is still a good manager and would be hard to replace with someone equally as good, or better.
So, while the measurement may be in doubt, I think it's pretty certain that the next 20 games will be critical in making a lot of important decisions about this version of the Milwaukee Brewers.
Talkbacks
Photodavie | May 21, 2013 at 11:22 a.m. (report)
He's got another year of contract after this year and another club option after that. He's not going anywhere. It's a long season. Management is not the problem. This team has shown flashes of greatness. Give them till midseason to see if they can get it together.
AndrewJ | May 21, 2013 at 10:15 a.m. (report)
Can't say I'd be upset with a change, but I don't see it happening. That position is turning into a revolving door under Melvin; shooing Roenicke would make 5 managers in 6 years (including the new guy). Melvin has got to know that at some point the gaze turns to him, when a laundry list of managers aren't working. That said, it's probably sink or swim with Roenicke, or wholesale changes are coming from the top down.
Facebook Comments
Disclaimer: Please note that Facebook comments are posted through Facebook and cannot be approved, edited or declined by OnMilwaukee.com. The opinions expressed in Facebook comments do not necessarily reflect those of OnMilwaukee.com or its staff.