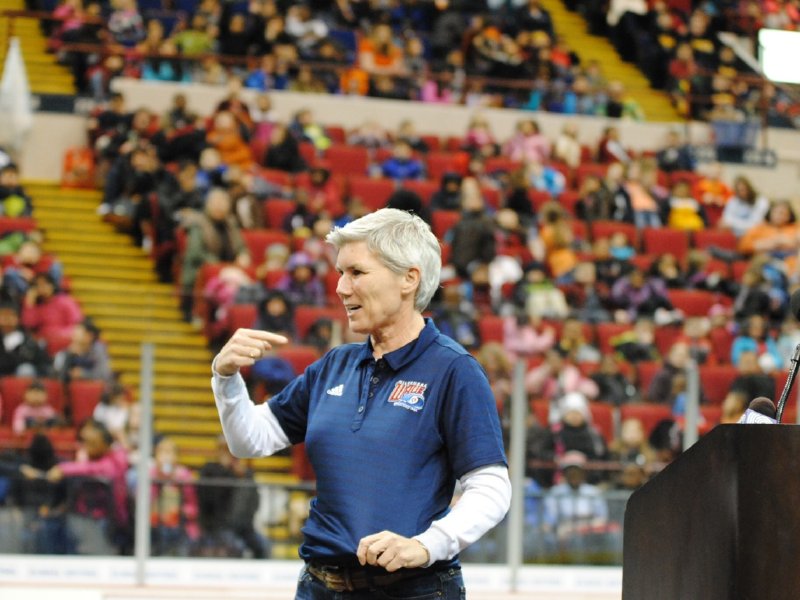 Sue Black can get Wave turned around
I am one of those guys who roots for Sue Black.
I have always liked her and respected her. I first met her in a bar in Madison while she was the director of state parks. That night we talked and I could hardly believe how enthusiastic she was about everything, the bar, her drink, my drink and the parks.
She sounded like a mother talking about her favorite child.
She became the director of Milwaukee County Parks and left a trail of vapor wherever she went. This dervish did a lot of good things in the parks but Chris Abele fired her for some reason known best to himself. I would be willing to bet that both some policy disagreements and his jealousy about how popular she was played a role in her getting the axe.
Then, with a stunning surprise, she became the owner of the Milwaukee Wave.
She didn't have to money to buy it, but she found it. She begged and borrowed and before you could say "goalkeeper" she was the owner of a professional sports franchise.
It was touted as being an "historic" event because Black is a lesbian. I guess that was a big deal at the time, but by now I don't care what color Black is. (Get it?)
Now she is in the middle of a kind of confusion about her soccer team.
First she fired the longtime coach, Keith Tozer. They can try to gild this lily, but everyone knows that as the Wave restructures, expenses had to be cut. So long, Keith. He said it was mutual, but I would be shocked if that was true.
The league it played in, which has folded its tent, has left the Wave a team without anybody to compete against. So the Wave is going to join the Professional Arena Soccer League (PASL). And she's in search of enough money to help pay the team's rent of just over $5,500 per game at the U.S. Cellular Arena. She makes noise about getting a new, lower rental rate, but that's not going to happen.
"The deal she has is pretty much in line with other teams in our league," said Keith Milliken, the commissioner of the PASL. "We generally recommend that teams pay somewhere between $4,500 to $7,000. The Wave has proven they can sell tickets. Now they just need a handle on their expenses."
There's a lot that goes into that concept of getting a handle on expenses. Assuming they do, what waits for them is a professional soccer league that will have 20 teams next year, according to Milliken.
The teams will play 20-game seasons, 10 at home and 10 on the road. That's what the Wave played in the MISL. And there are some natural rivalries, not the least of which is with the Chicago Mustangs, title winners last season.
If they group the teams by geography, the Wave will likely be in a division with teams in Chicago, Detroit, Cleveland and Cincinnati. There are also some East Coast teams, some West Coast teams and some teams in Mexico.
The Wave averaged almost 5,000 fans a game last year. The leading attendance teams are in Monterrey, Mexico, and San Diego. Some of the teams have a long way to go to catch on. The Chicago team, for example, averaged fewer than 800 fans a game.
Milliken says this league is in a "growth pattern" and he truly sounds like a man with a dream. And he admits that "we'll love having the Wave in our league."
My guess is that after all this hullabaloo, things will settle down and Black will get back to the business of running a sports franchise and finding people who can help her get better at it.
Sue Black can be brusque and she drives her people very hard, but no harder than she drives herself. She's very smart, even if she can be tempestuous at times. But she can hustle with the best of them and my bet is that she is going to find a way to grow this team and this league.
After all, I root for Sue Black.
Facebook Comments
Disclaimer: Please note that Facebook comments are posted through Facebook and cannot be approved, edited or declined by OnMilwaukee.com. The opinions expressed in Facebook comments do not necessarily reflect those of OnMilwaukee.com or its staff.