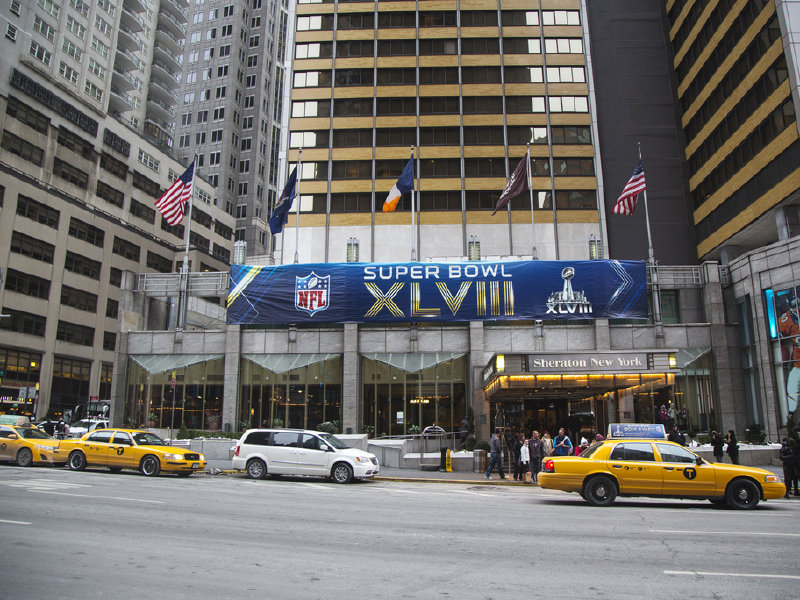 Random impressions from the Super Bowl
I tuned into Super Bowl four hours ahead of kickoff, just to get a sense of our cultural identity as it fits into the world of the National Football League (called by some the No Fun League).
What follows is kind of a stream of consciousness rundown of some of what made an impression, good and bad.
The Band Perry has been nominated for and has won a slew of country music honors. But if this is a country band then I'm Paul McCartney. The band played during the pre-game show and its performance was more Michael Jackson than Alan Jackson. All in black. Screaming guitars. Kimberly Perry with lots of leg and kneeling on the ground throwing her hair around. Is this really what country music has come to?
Leave it to Fox to continue to rub the salt of Sept. 11 into the wound and milk it for all its worth. They had Jay Glazer, a FOX reporter who lost a friend in the attacks, go to the top of the Freedom Tower and put his signature on a piece of the concrete wall. FOX host Curt Menefee said New York should be called "Phoenix' because it "rose from the ashes." Please.
Fawning was a big deal. Everybody with as microphone just loved everybody who didn't have one. I thought Terry Bradshaw was going to French kiss Joe Namath. Namath was pretty cool when he was young. Not so much now.
Lots of promotions filled up lots of time. Kevin Costner, who has a movie about the NFL draft coming out in April, caught a football someone threw to him. He caught in his hands. He looked familiar with a football.
I can't help but wonder if members of the armed services aren't starting to feel a little bit used by all the people, sponsors and organizations that trot them out to prove how patriotic we all are.
Bruno Mars' real name is Peter Hernandez. I'm pretty sure I like his real name better. But he delivered a pretty good halftime show even though the shirtless Red Hot Chili Peppers were a bit of a distraction. Mars seems cool. And with his high energy band behind him, he reminds me a little bit of James Brown.
It cost $1.6 billion to build MetLife Stadium. Joe Buck said it was the most expensive stadium ever built. And it's in New Jersey, of all places.
FOX Sports is 20 years old. It seems much older than that.
The producers seemed to be trying for as many tears as they could wring out of the viewing audience. John Madden's shaking chins at the funeral of Pat Summerall was one of the biggest tearjerkers.
Erin Andrews, dressed in a cowl neck sweater and black tights retains her crown as the No. 1 hottie among female ports people.
Apparently Tim Tebow, finally realizing he's not going to be a football player anymore, seems to have no shame in his ridiculous commercials for T-Mobile.
I wonder if anyone shakes hands the way we were taught to when we were kids, or does everyone do the white guy version of the soul brother handshake?
Cardinal Timothy Dolan hosted a little feature on Vince Lombardi. What's not to like with two Wisconsin legends in the same piece? It made no sense to have Dolan in the piece except for the fact that there's this new Catholic momentum because of the new pope. I will bet, however, that the ultra-conservative Dolan voted against Pope Francis.
I really tuned out as one after another people showed up to promote a movie or some show on FOX I've never heard of and nobody ever watches.
Who's the White House guy who said it was going to be okay for President Obama to sit down with Bill O'Reilly? Talk about an absence of respect for the office.O'Reilly gets the prize. He managed to ask about healthcare, Benghazi and some imagined conspiracy involving the Internal Revenue Service.
Another thing (as Hunter Thompson used to say) is that nobody seemed to dislike anyone else. Fawning was the word of the day. And everyone behaved.
Do you think that officials noticed how soprano Renee Fleming sang the national anthem? No strain, no pain. Just a soaringly beautiful voice from someone who really knows how to sing.
Kurt Russell was the actor someone hired to introduce the teams. Kurt Russell. Married to Goldie Hawn, but anything else? Kurt Russell?
Sometime I'd like to see a game without that huge flag that takes a couple of hundred people to hold.
Football. Finally Football.
If Peyton Manning had been an advanced 12-year-old he could conceivably be Russell Wilson's father. But Wilson seemed calm and collected. Manning seemed nervous.
Boy, I really wish the Packers had a defense like Seattle's. They are tough, fast and smart. Three things the Packers could use a lot of.
If anything ever proved an axiom, it was this game. Offense wins games and defense wins championships. Even though the NFL keeps changing rules to let offenses score points almost at will, they can't stop a great defense. No kidding.
That was my Super Bowl.
Now, when does training camp start again?
Talkbacks
AndrewJ | Feb. 4, 2014 at 10:59 a.m. (report)
"Leave it to Fox to continue to rub the salt of Sept. 11 into the wound..." The Freedom Tower, to almost everyone, represents something positive, and a comeback for the worlds greatest city. The tower just recently opened, and the network covering the Super Bowl does a story on this fact while the entire world is watching. Again, something that should make most Americans swell up with pride. Millions around the globe are watching, and we get to show them what's risen from the ashes of 9-11. Instead, you take it as an opportunity to slam FOX, presumably because of their cable networks political leanings. Your classlessness knows no bounds. The entire rest of the world sees: "wow, look at that amazing tower...and they're hosting a Super Bowl... what a great story - you can't keep America down", and you're grumbling about political agendas. I almost feel sorry for you.
TheyThink | Feb. 4, 2014 at 10:53 a.m. (report)
I'm sooo glad ol' Dave thinks it's "disrespectful" to ask our President about HIS healthcare plan that was awarded the Biggest Lie of the Year as well as the situation surrounding the deaths of a US ambassador and several other Americans that was an attempted cover up by the White House. I thought the media was supposed to ask tough questions of our elected leaders? Or maybe ol' Dave thinks Pres. Obama is above reproach?
Photodavie | Feb. 4, 2014 at 7:30 a.m. (report)
"Namath was pretty cool when he was young. Not so much now." Kinda like Begel was a pretty good writer when he was young. Not so much now.
Facebook Comments
Disclaimer: Please note that Facebook comments are posted through Facebook and cannot be approved, edited or declined by OnMilwaukee.com. The opinions expressed in Facebook comments do not necessarily reflect those of OnMilwaukee.com or its staff.