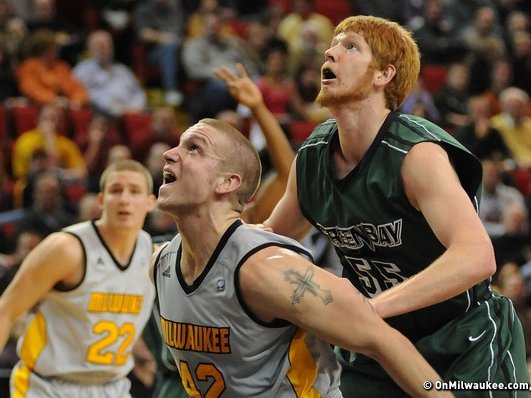 The time may be right for UWM to drop its athletic programs
If ever there was a perfect time for the University of Wisconsin-Milwaukee to bite the bullet and take a huge and dramatic step, this is it.
Now is the time for UWM to end the folly of a collegiate athletic program and get on about the business of building a reputation in some field other than women's cross country or swimming and diving.
UWM is going through athletic directors who come and go with little logic in their arrival and lots of secrecy in their departures.
The latest departure is Rick Costello, who was fired a couple of weeks ago, just a year and a half into his reign that was highlighted by a rebellion of his soccer players, the resignation of a high profile coach and a nutcase dream of creating a Division I football team on campus.
Nobody said why he was fired from his $200,000 a year job but everybody wished everybody else well and success in all future endeavors.
Sure they did.
Almost every time this guy opened his mouth I found myself shaking my head and muttering "He can't be serious, can he?"
He wanted a football team. He wanted to build a basketball arena in the middle of the densest population area in the city. He couldn't keep alumni, students or his coaches happy. Or his bosses, apparently.
Here's the situation right now at UWM. They need a new athletic director. They need a new soccer coach because the old one was fired by the athletic director who just got fired. The soccer coach got fired because he apparently swore and stomped his feet and even used some ethnic slurs when he was talking to his team. He even apologized for his language, but still got fired. Then they also are looking for a new women's basketball coach since the old coach left that juggernaut to work in the alumni relations department.
We also have a huge study of the athletic department going on, which was supposed to be paid for with $80,000 from the coffers. It was this study that was going to be used to further the argument that they should build a basketball arena on campus, even though there is no good place to actually build it.
Fortunately, some smart guy, realizing that the whole athletic department was in disarray, cancelled the contract after spending just $15,000 that had already been spent.
History is not on the side of the university. First they hired George Koonce, who left under mysterious circumstances after a year. Then they hired Costello, who was fired under mysterious circumstances after just a shade over a year. The same people who made those two hires are essentially the same people who will hire the next one.
Doesn't give you much hope, does it?
This just seems like a perfect storm. Lots of high profile vacancies. No boss. An investigation that may well result in some NCAA infractions. Summer vacation is approaching so the throngs of students who go to the UWM games will be busy working as lifeguards, lawn fixers and fast food servers.
Hardly anyone would even notice if they dropped athletics.
This is the chance for the university to realize other dreams which are much more realistic than having a football team, a new stadium or a berth in the Final Four, Elite Eight or Sweet 16.
People need to come to the hard realization that the words college athletics and UWM don't belong in the same sentence. This is an athletic program destined to be mired in mediocrity, or less, so let's cut bait before we keep draining resources into a black hole.
This university has a dynamic leader in new Chancellor Mike Lovell and an outstanding faculty, adept at both teaching and research. It has a commitment to being the best "freshwater" research institution in the world.
This is the time I say "go for it." Build your reputation. Help slake the thirst for, and absence of, drinkable water in some of the roughest and driest spots in the world.
Developing valuable and drinkable water for the whole planet may seem like a huge task. But it pales in comparison to the pipe dream of creating a big-time athletic program at a school where almost nobody cares if the Panthers win, lose or even show up.
vezzetczxvcyuvcwvusbcqdbyeqzvdc
Facebook Comments
Disclaimer: Please note that Facebook comments are posted through Facebook and cannot be approved, edited or declined by OnMilwaukee.com. The opinions expressed in Facebook comments do not necessarily reflect those of OnMilwaukee.com or its staff.