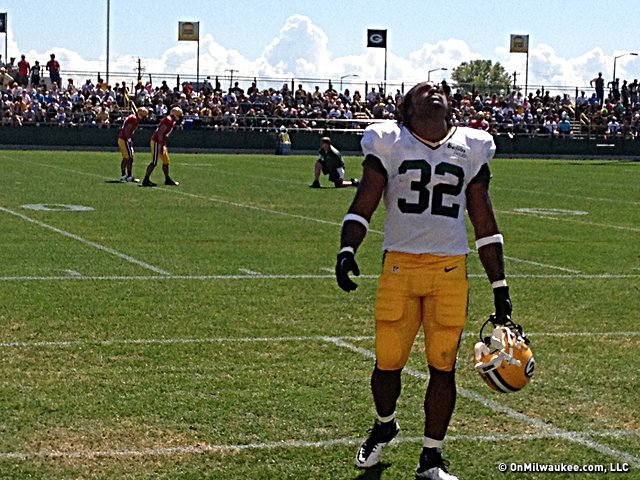 Benson goes back to school with Packers
GREEN BAY – There is no desk, and no pages to flip – at least manually – but Cedric Benson definitely feels the clock has been turned back as he has begun to assimilate himself into the Green Bay Packers offense over the past week.
"It's reminding me a lot of college, sitting in the hotel, sitting at a desk and going over the plays," the 29-year-old veteran said. "Except the only thing different now is it's all on an iPad."
Benson has put in the film and tablet study since signing with the Packers last Sunday, yet the eight-year veteran admits his transition from a numbers based playbook to one with language has been difficult.
"It's coming along," he said. "I got a nice grasp of a large part of it, but there are times where things get tricky. Just gotta get the repetitiveness of it, keep hearing it, and it'll lock in. It's quite different. They like to call it a West Coast philosophy and I've never played in a West Coast philosophy or heard the plays so it's a little tricky at times. I'm used to a numbers system and it's a lot of calls."
Donald Driver, a 13-year veteran who played under head coaches Ray Rhodes and Mike Sherman before Mike McCarthy, said the questions about Benson's adjustment aren't overblown.
"If you go from numbers system to a verbiage system, it's a little bit tougher," Driver admitted.
Driver added that the transition begins visually – hence the film study. Every player knows what a particular pattern or blocking scheme looks like, so it's just associating a word to that visual.
The next key is simple – listen.
"That's the whole thing about the transition," Driver said. "If you can put in your head that if you listen, you kind of know what you have to do. Everything is for different people. If they go '200 jet', that talks to the offensive line, that doesn't talk to us. So we just gotta listen to whatever comes out. If you get to a point where you don't listen, you get lost."
It's why Benson has basically attached himself to the quarterbacks, getting used to not just the words in the play, but the cadence.
It's why he crouched behind Aaron Rodgers, Graham Harrell and B.J. Coleman, listening to them run through calls during individual throwing sessions.
It's why he made his way to where the offensive line was working in a group, watching them shoot into their blocks during drills.
"The more times I can hear it, the better it gets for me," Benson said. "There's going to be times where I'm also going to need to know the route combinations. The more work I can get in there, especially with Aaron and the quarterbacks in general, just hearing them call it and hearing them make calls and go through film and some of their progressions it just gives you more knowledge not only on the game but also on the playbook."
Thursday's preseason contest in Cincinnati will be Benson's first game action since Week 16 of last year, and he's looking forward to processing and applying at high speed.
The offense won't look markedly different than what Packers fans are used to, however – other than maybe a quicker tempo.
"It's very important, in my opinion as an offensive coordinator, and philosophically, to have a system that tailors to any of your player's needs," McCarthy said. "So we don't have to change anything and Cedric doesn't have to change anything that he does to fit in to our offense."
Benson, who will be 30 in December, is going through a graduate course in offense where enough time has passed to have moved from an actual play "book" to applications that can alternate from text to picture to video at the swipe of a finger. It's an evolution he's going through himself.
"It gets easier once you know the concept of it," Driver said. "I guess that's what they're trying to do with Ced. Once you know the concept the offense is pretty much easy to run."
Facebook Comments
Disclaimer: Please note that Facebook comments are posted through Facebook and cannot be approved, edited or declined by OnMilwaukee.com. The opinions expressed in Facebook comments do not necessarily reflect those of OnMilwaukee.com or its staff.