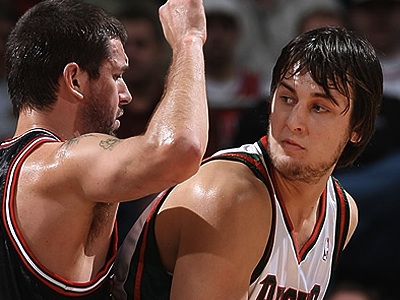 Bogut lifts Bucks to 99-97 victory over Bulls in return
Scott Skiles didn't really know what to expect from Andrew Bogut in his first game back after missing two weeks with a leg injury. The one thing he was pretty sure of was that his center probably wouldn't be ready for a full game.
"He probably won't play 38 minutes," Skiles said before the game.
The Bucks head coach held true to his word, as Bogut played just under 35 minutes in Milwaukee's 99-97 victory over the Bulls Monday night at the Bradley Center.
"I wouldn't have predicted this after so many days off, but he looked fresh," Skiles said.
But that's not quite the story. It's what Bogut did in those 34 minutes that sent 13,684 people home happy.
The seven-footer led the Bucks with 22 points and 15 rebounds and recorded a pair of crucial blocks down the stretch to help his team snap a four-game losing streak. It was his sixth double-double of the season.
Fourteen of those points came in the second quarter and the Bucks took a 48-44 lead into the locker room at halftime.
"I kind of told (the coaching staff) when I came out in the first quarter that I didn't want to come out," Bogut said. "I feel great and there was no reason to come out."
Bogut's biggest contribution, though, came with time running out on the defensive end of the floor. With 1:30 left and the Bucks up, 93-90, Chicago's Luol Dang went up for what looked like a sure dunk but Bogut, with barley any effort ripped the balls from Dang's hands for the block.
Bogut drew a goaltending call on the other end to put Milwaukee up by five with 1:08 left and recorded another big block, this time on Derrick Rose with just under a minute to play.
It was plays like that, Skiles said, that the team was missing while going 2-4 during Bogut's absence.
"We needed the one big block or the one key rebound or the one made shot, whatever it is," Skiles said. "When it got right down to it tonight, he was very helpful out there."
His return provided a boost of confidence for a slumping team that was riding a four-game losing streak. Brandon Jennings, the rookie point guard with whom Bogut has formed a difficult inside-outside tandem was more than a little impressed.
"I wasn't expecting that," Jennings said. "He's a big help ... (he) just opens up the game for everybody else. Having him back tonight was really big."
Bogut said he didn't feel any pain during the game but did expect some soreness and stifness the next morning which he says is just part of the process.
"I'll get the ice bath for recovery and I should be alright," he said.
NOTES: The Bucks ended the month with an 8-6 record, the most November victories since the 2002-2003 season. ... All five starters scored in double-digits. ... Milwaukee held the Bulls to just two three-pointers, a season-low for a Bucks opponent. ... Luke Ridnour played in his 450th career game, but left early with an undisclosed injury to his hand. ... The Bucks' 29 assists were a season-high. ... The Bulls were without Kirk Hinrich, who will miss the next two weeks with a sprained thumb. ... The Bucks return to action Wednesday when they take on the Wizards at 6 p.m. in Washington D.C.
Talkbacks
jk1522 | Dec. 1, 2009 at 10:51 p.m. (report)
Right?! Seriously, Jalen Rose? The guy was only ROY last yearand he confuses him with a good player, but one that has been retired for a few years now. What a joke!!
suavecitoog | Dec. 1, 2009 at 10:28 a.m. (report)
Bogut blocked Jalen Rose?! I could have sworn it was Derrick Rose.... 8-P
LegallyBlonde | Dec. 1, 2009 at 9:27 a.m. (report)
Great to have bogut back. Clearly the glue to this puzzle of talent. keep it up skiles.
Facebook Comments
Disclaimer: Please note that Facebook comments are posted through Facebook and cannot be approved, edited or declined by OnMilwaukee.com. The opinions expressed in Facebook comments do not necessarily reflect those of OnMilwaukee.com or its staff.