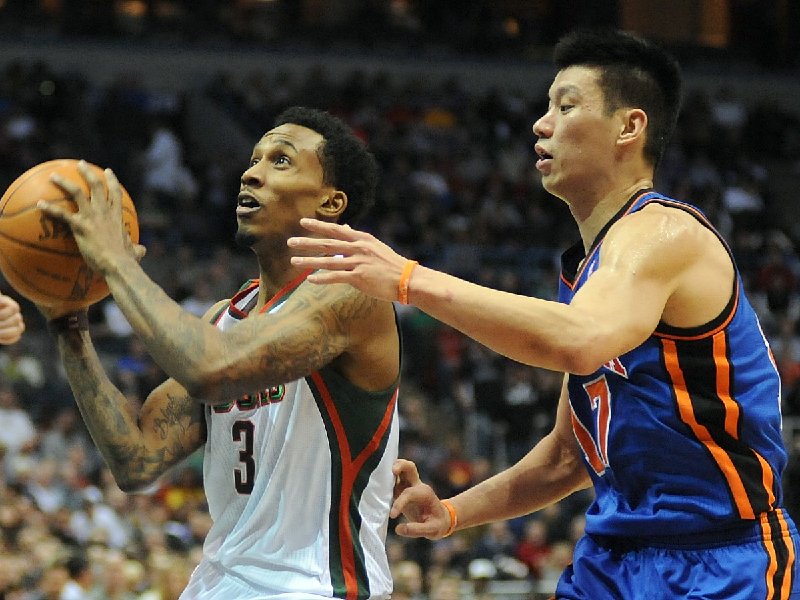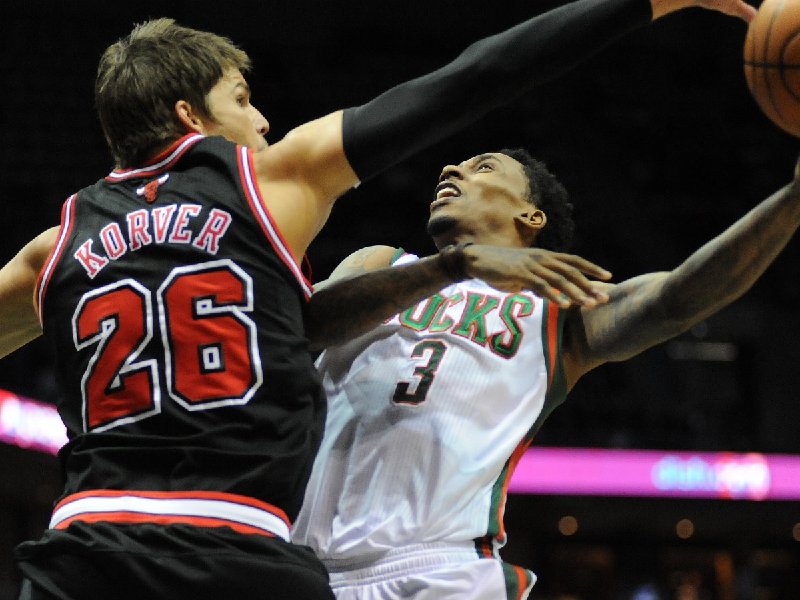 Decision time: Bucks' Brandon Jennings on verge of payday or exit
Draped across the back wall of the Cousins Center is the banner commemorating the Milwaukee Bucks lone NBA championship, won in just the franchise's third season. The hunter green is muted, the original Bucks logo looking less cartoonish, less cheery.
In the foreground, Brandon Jennings' blue and orange Under Armour sneakers spoke to a more vibrant future.
The question is whether owner Sen. Herb Kohl believes he's seen enough in the first three years of Jennings' tenure to believe that future could include another NBA title with the 22-year-old guard from Compton.
Jennings is eligible for a contract extension in July, likely needed to be of the maximum variety in order for him to entertain it.
Jennings began the dance in February saying he would be doing "homework" on big market teams. He didn't distance himself from that report when the season ended, but continues to profess affection for an organization that drafted the kid who went from high school to a team in Italy.
"To tell you the truth I don't know what the future holds, but while I've been here I have been enjoying it," Jennings said. "At the end of the day the Milwaukee Bucks took a chance on me. I was a kid who came from Europe who never got a chance to play, so they didn't know what they were getting themselves into."
What the Bucks have gotten is a point guard who averages five assists a game, improved his scoring average in every season and finally cracked the 40-percent mark from the field.
Jennings took some individual positives out of the year, yet spent more time breaking down his deficiencies in candid self-evaluation. Bucks coach Scott Skiles has noted the natural maturation in Jennings' game, something the guard plans to take to expedite with more strength to finish at the basket, a higher free throw percentage, and a mid-range game.
"There are lots of areas in his game, his shot selection, things that he's still working on," Bucks coach Scott Skiles said. "One thing you know with Brandon though, and it's what gives you a comfort level, is he loves the gym, he likes to play, he works on his game, he's easy to coach. Those are real positives."
But is it enough? Has his current pace of development and proven penchant for gym work given Bucks ownership sufficient incentive to open conversations with agent Bill Duffy about officially making Jennings The Franchise?
That question can't be answered for a few months, but Jennings said it's a role he's been preparing for since Kurt Thomas pulled him aside three years ago for a heart-to-heart.
In the most successful Bucks season in the last decade, one led by former No. 1 pick Andrew Bogut, the prescient veteran told the rookie it was only a matter of time before he was put in that position.
"As far as being the point guard in general, it's going to be important that I do take that leadership role and being more of a vocal guy coming into next season," Jennings said. "It's something I want to do. It's just in me."
Regarding an extension, Jennings said if he and Duffy determine the years and the money is right in a potential offer from the Bucks, he will sign.
"I mean, why not?," he said. "If everything's right and my agent comes back and says this is what we should do, then I'm going to do it.
"At the end of the day, it's an NBA team. And if you ask any guy in the NBA 'Would you want to be the face of a franchise?' I'm sure 80-percent of them would say 'Yes' no matter where they're at."
Right now, Jennings is with an organization a step or two away from an ascendance, or a precipice.
For him, the days of walking that tightrope are over. The leap in his game is coming. The leap for the organization is no longer on the horizon.
"I hate the word 'try,'" he said. "We use that word in Milwaukee too much, like 'We're trying to make the playoffs.' That's just one word I'm sick of hearing. Next year when we meet, every time we're just going to say 'playoffs.' We need to make the playoffs, we're not trying no more."
He tilted his head as he spoke, looking in the eyes of the assembled media behind a pair of black frames. The movement brought the championship banner back into view, a juxtaposition that for a moment didn't seem so far-fetched.
"I'm tired of the word try," he repeated. "We need to just start doing it and make the playoffs."
ztcszfsw
Talkbacks
brewcitypaul | May 2, 2012 at 12:33 p.m. (report)
Jennings is not a max player. If that's what it takes to keep him, I would let him walk. But the Bucks are too scared to do stuff like that. We always get bullied by players agents and have to overpay because players really don't want to stay in Milwaukee during the cold winters and losing seasons that come along with it. I like what Jennings is saying about "trying"....."Do or Do Not...there is no try" said Yoda.....now we just need to go out and do it.
Facebook Comments
Disclaimer: Please note that Facebook comments are posted through Facebook and cannot be approved, edited or declined by OnMilwaukee.com. The opinions expressed in Facebook comments do not necessarily reflect those of OnMilwaukee.com or its staff.
ztcszfsw