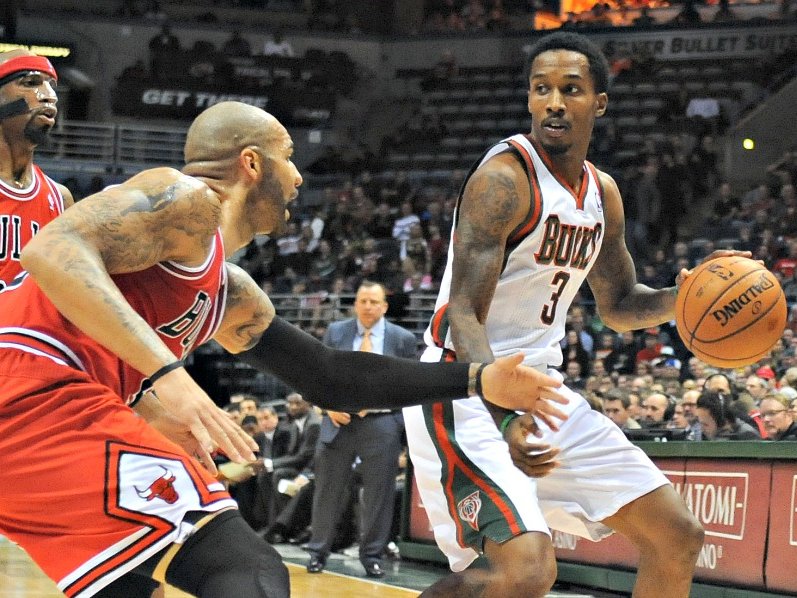 Bucks' Jennings still developing as a player
His image is on billboards, his jersey the most prominent in the seats at the BMO Harris Bradley Center. They roar for him at introductions, for running floaters and sharp passes.
Brandon Jennings captured Milwaukee's heart in a beat, a brash, unknown commodity in 2009 after a turbulent year in Europe. Yet there he was, at 20 years old, scoring nearly 16 points and handing about six assists per game as the Bucks made a playoff run.
"From day one that kid has been in a very difficult position here," general manager John Hammond said. "He kind of put himself in that difficult position playing as well as he did in his rookie year. The next thing you know he became the face of this organization and when he had his 55-point game people started talking about the Milwaukee Bucks and we started playing better and they started talking about 'Fear The Deer' and that was basically Brandon Jennings kind of kickstarting that for us as a 19-year-old rookie."
It was just four seasons ago, but Jennings has been the identifiable face on the team, even when former No. 1 pick Andrew Bogut was still in town. There was just something about Jennings, the skinny, scrappy lefty who played with a chip on his shoulder that endeared him to the city.
He's loved Milwaukee back, too.
"I'm comfortable here. I embrace the city," he said. "There's actually a lot to do in Milwaukee, you just got to go find it. I'm just enjoying myself."
He's been frustrating, too. Four years into the NBA, five years into his professional career, and the dreaded word "potential" hangs over him still. Jennings just topped the 40 percent mark from the field last year, has yet to be among the leaders in assists, and his shot remains too iffy to hover atop the scoring charts.
"Brandon's a very, very good player but he's still a developing player," coach Scott Skiles said. "He's getting better all the time. More than anything I want Brandon to focus on himself and his own game. He's an unselfish guy anyway but he's coming and we think he's going to keep getting better."
Developing? By the end of the year, barring injury, Jennings will have played nearly 300 games in a Bucks uniform. Bucks management has praised Jennings for his work ethic, and he is often one of the last Bucks off the practice floor.
"I always put pressure on myself," he said. "I'm my biggest critic at the end of the day. If I had a bad game I'll tell you. If I'm not playing to my potential I'll always tell you. I don't hide anything. I'm my biggest critic."
But, he's only 23.
Jennings is younger than Deron Williams, Chris Paul, Rajon Rondo, Mike Conley, Jeff Teague, Russell Westbrook and even Derrick Rose.
Developing? Definitely.
"Brandon came in, 19 years old maybe, and he's old enough to go to the casino now at least," said Drew Gooden, with a laugh. "That's a big change in itself. I think he's maturing. He knows the game. He's doing a great job being a professional and I think that's a great step in this league when you can do that."
The Bucks recognize that, too.
"I think he's had a tremendous amount of pressure and you look at what he's been through for this team and what he's had to do for us, on the floor, off the floor, more or less the face of this organization, I think he's handled it tremendously well," Hammond said.
But that doesn't get you paid. Being a mid-market franchise, smart decisions have to be made regarding long term, maximum-level contracts. Jennings, naturally, felt he was worthy of such a deal. The Bucks proved they felt otherwise by not offering him such an extension before the season.
It was a fiscally sound decision on the part of the Bucks, but Jennings admitted the extension talk got to him – especially when he saw members of his draft class receive extensions of their own.
There was no time to pout however.
"The biggest goal for the season is to be a better leader, a better person on and off the court and we're getting to the playoffs, man," he said. "That's my whole goal."
Talkbacks
brewcitypaul | Dec. 20, 2012 at 10:49 a.m. (report)
The last two games are a perfect summation of Jennings right now. Against the Pacers he was making big shots all night and shot a great percentage and looked dominant in the 4th quarter. Basically looked like a PG for the next 5 years for the Bucks. Last night he can't hit the broad side of a barn and he looks like the worst PG in the league. Hard to get a feel on how much to pay this guy. Bucks don't have many options unfortunately besides paying Jennings, trading Jennings & drafting a new PG or keeping Beno and making him the stop gap for a couple seasons. Bucks are in a tough spot with him, but we have the leverage and we're letting the market determine his value which is a better route than we took with Mo Williams.
Facebook Comments
Disclaimer: Please note that Facebook comments are posted through Facebook and cannot be approved, edited or declined by OnMilwaukee.com. The opinions expressed in Facebook comments do not necessarily reflect those of OnMilwaukee.com or its staff.