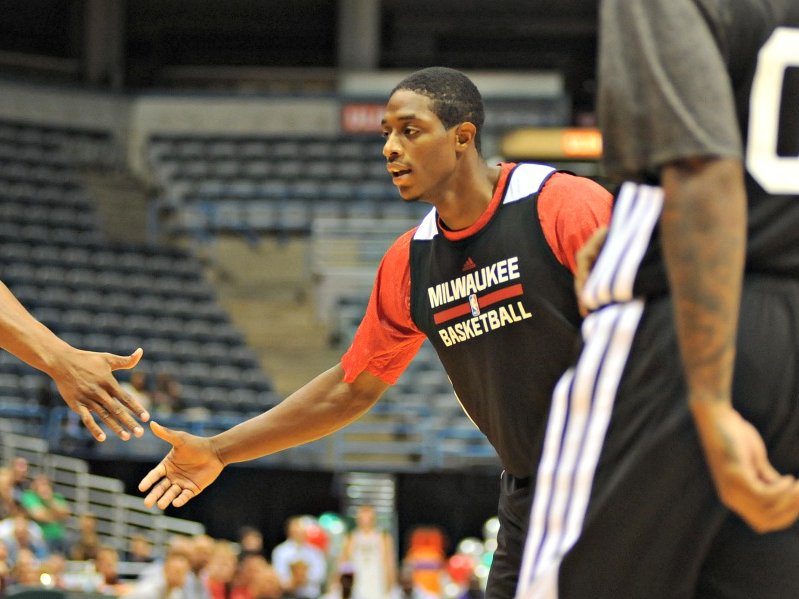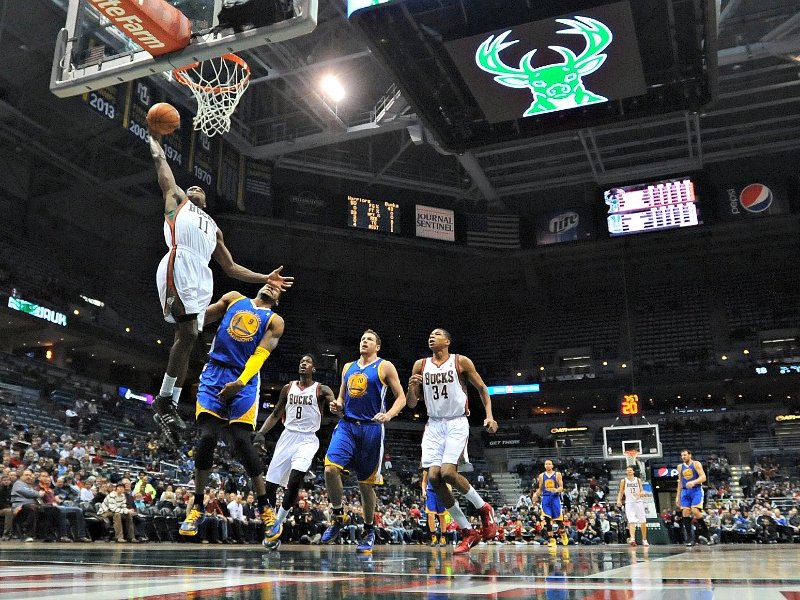 Knight has shined in dark season for Bucks
Few things this season have been constant for the Milwaukee Bucks. Head coach Larry Drew has had penciled in 27 different starting lineups. Players have missed a total of 267 games to injury, illness, suspension and league paperwork. Nineteen different players have seen court time.
From the beginning of training camp, little could be counted on.
Yet if there was one metronome to the year, at least at the Cousins Center, was Brandon Knight staying long after practice was over, shooting.
Even as Knight missed games with own list of injuries, the 22-year-old would partner up with assistant Josh Oppenheimer, and take shot after shot after shot.
It's symbolic, really.
"I would say, everybody learns or develops a mentality from somewhere," Knight said. "I don't think they just 'get it.' They go through certain things in their life that gives them a certain frame of mind, a certain mentality. And in my household, it was just everything you do, you compete for it at a high level. If you're not competing, don't do it."
"Try to be the best, try to be a perfectionist at everything that you do, and at the end of the day, if you give 110 percent, then you can be satisfied. If you know you haven't done all you can do, then you're going to come home and say 'I didn't give my best today' and not be able to sleep at night."
The beginning
What shaped him though? What pushed Knight to become one of the most decorated high school basketball players in the last 30 years, a player who told John Calipari he'd come play for him at Kentucky – but that he wasn't committed to him.
What about him led him to be named a team captain in his freshman campaign at Kentucky, as he led the Wildcats to the Final Four?
It started at home, first in his home, with his parents Ephraim and Tonya. Education and expression through art were as important as athletics. He attended Pine Crest School, a highly regarded private prep school in Ft. Lauderdale, Fla., known as much for producing future actors, CEOs and scholars as well as professional athletes.
It started in his driveway, too, as a first grader. An older cousin would beat him incessantly at one-on-one, sending Knight into his house, crying.
Then, he would come back out, and shoot. And shoot. And shoot.
He would try again, and fail again.
Repeat.
Until finally, that cousin lost. One child reveled in the victory, seeing the payoff for hard work. He also saw his foil retreat, give up and never play again.
"That kind of pushed me over the edge as far as getting better at basketball," Knight said. "I saw that, how quickly things changed with that, and that's kind of been my mindset ever since – I can outwork any player in the league. I know that. Just based on what I do and what I hear people do."
But to hold on to that, at such a young age?
"You don't want to go into the house crying every day," he said. "It kind of sticks with you. That's where that drive for me comes in."
That drive was tested in high school when it looked as if basketball would be taken from him forever.
What's amazing is that a significant life trial has become just a footnote, really, in a stellar career at Pine Crest. He earned back-to-back Gatorade National Player of the Year awards, joining only LeBron James and Greg Oden. He won two state championships, was Florida's Mr. Basketball and was a McDonald's All-American.
Almost no one remembers he missed the bulk of his junior campaign because he returned in time to win another state title.
Knight still doesn't talk openly about the surgery he had on his spine in 2007, when it was revealed that protective cerebrospinal fluid, a colorless fluid that protects the brain and spine, was somehow obstructed and collected in his spine.
The result of that obstruction is the formation of a syrinx, which captures the fluid within the spinal cord. Knight also developed a cyst because of that fluid buildup. Left undetected, it could permanently damage the spinal cord.
Knight realized something was wrong when he couldn't feel the difference between hot and cold water, and was fortunate – some people live for years without knowing they have a syrinx, and the damage is irreversible.
It was caught, and fixed, and Knight only missed 19 games.
That part of his story has been broached occasionally between Florida and Kentucky, but he typically downplays its impact on his life.
That doesn't mean it wasn't large, however.
"A lot of people really don't know the, uh …"
Knight paused, his eyes looking around for the right context.
" … the meaning of it. I'm just … "
He cleared his throat.
"I'm just thankful. Thankful for the opportunity. It could have went either way. That's why I say you've got to be thankful for every opportunity you get. That's why I know I'm here for a reason."
As one of the top recruits in the country, every program knocked on Knight's door. Kentucky and John Calipari landed him – but on his terms. Because of a rumor that Calipari might leave for the NBA, Knight signed only an aid agreement with the university. That meant he would not be bound to the university should the coach leave.
It never came to that, and Knight declared for the NBA draft after his lone season in Lexington. The Detroit Pistons made him the eighth pick in the 2011 draft.
Knight led the team in minutes played in the lockout shortened season, earning a spot in the Rising Stars game over the All-Star weekend and was an NBA All-Rookie first team selection.
Last year, he was second on the team in minutes played, but he never felt comfortable. He was often paired with Rodney Stuckey in the back court, but veteran point guard Jose Calderon was acquired at the end of January.
Unfortunately, he became more known for his challenge of Los Angeles Clippers forward DeAndre Jordan on a dunk attempt than anything else his first two years in the league. But anyone who knows Knight couldn't have been surprised that while he stands 6-feet, 3-inches, he wasn't going to give the 6-11, 250-pound Jordan a free pass.
"I just don't care," Knight said. "I'm a guy that's going to make the right basketball play. That's just my mentality. Play hard. I have a competitive edge. I just don't like giving guys things. If you're going to get something, you're going to work for it. That's just all that is."
That's the mentality he's hand since early childhood, and it's why this offseason he went back to Florida, to reconnect with himself and with what got him to the NBA lottery in the first place. He got bigger, stronger, but it wasn't necessarily about that.
"This summer I just wanted to focus on myself and that's why I went home," he said. "A lot of it was mental."
Then the trade happened, and while a new door opened Knight hoped it would take him down a well-worn path.
"I think in Detroit I kind of looked over my shoulder a little bit," he admitted. "But here I'm just trying to get back to playing the way that got me to this level."
Page 1 of 2 (view all on one page)
Next >>
Talkbacks
AndrewJ | April 17, 2014 at 8:46 a.m. (report)
I'm applying the Charles Barkley "looter in a riot" theory to Knight... for now. He's a decent player on a god-awful team. SOMEBODY has to score points.
Facebook Comments
Disclaimer: Please note that Facebook comments are posted through Facebook and cannot be approved, edited or declined by OnMilwaukee.com. The opinions expressed in Facebook comments do not necessarily reflect those of OnMilwaukee.com or its staff.