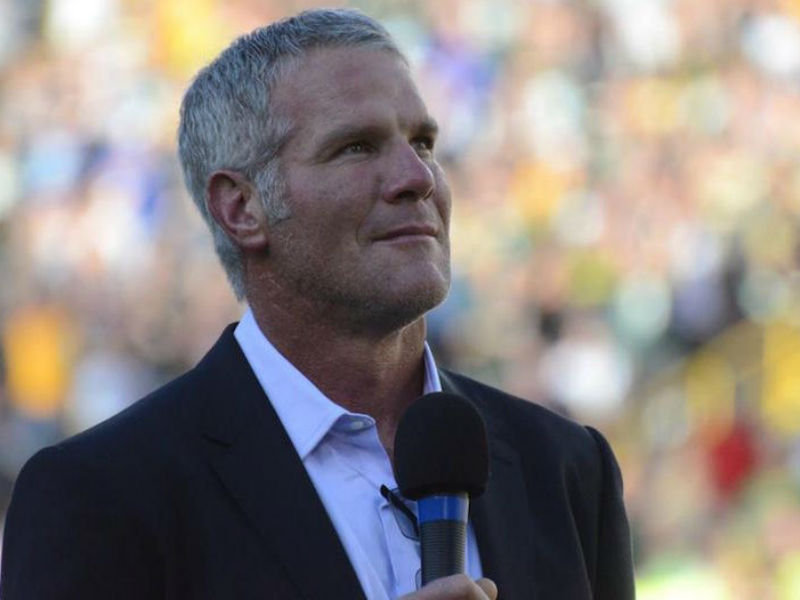 Brett Favre says Packers are "team to beat" and "they will be in the Super Bowl"
He may be just a little bit biased, but Brett Favre thinks the Packers are going to the Super Bowl.
The legendary Green Bay quarterback and recently inducted Pro Football Hall of Famer said on his weekly SiriusXM NFL Radio show that he thinks his old team is going to advance through the playoffs and represent the NFC at Super Bowl LI. The fourth-seeded Packers host the fifth-seeded New York Giants at Lambeau Field in a Wild Card Round game, the marquee Sunday afternoon matchup that kicks off at 3:40 p.m.
Favre said he was looking at Green Bay's chances from an objective point of view, so book your flights to Houston now, cheeseheads.
"Taking emotion out of it, I believe that the Packers are the team to beat, and I believe that they will be in the Super Bowl," Favre said. "Not taking anything away from the Giants, not taking anything away from Atlanta and the Cowboys and so on and so forth.
"I just feel like within the Packers organization, (head coach) Mike McCarthy may be saying, 'Hey, we've got to improve here, or we've got to improve there.' Of course, coaches are going to say that, but I feel like collectively speaking, they're as close to hitting on all cylinders as possible. Not perfect, and nobody is, but they're super-productive on offense."
Green Bay has won six straight games – it hasn't lost since Aaron Rodgers' comments in late November that he thought the team could "run the table" – capturing the NFC North Division title and clinching a playoff spot in Sunday night's victory over the Lions in Detroit. The Packers enter the postseason as the hottest team in their conference – the AFC's Pittsburgh Steelers have won seven games in a row – and are currently 4.5-point favorites over the Giants.
Where the Packers are, as Favre said, "hitting on all cylinders" most is on offense. They averaged 30.8 points per game over their six-game winning streak, which would have ranked second in the NFL in scoring for the entire season. In particular, Rodgers' quarterback play has been peerless during the stretch, as unrivaled as it was during his two MVP seasons in 2011 and 2014. Over the past month and a half, Rodgers' passer rating is 121.0, which exceeds even his lofty 104.1 career mark that is the highest in league history, and he's thrown 15 touchdown passes to zero interceptions.
Despite their at-times rocky personal relationship over the years – a few months ago, a book about Favre stirred up memories of their prickly early interactions after the Packers drafted No. 12 as No. 4's successor – Favre praised Rodgers, as well as the team's turnover-forcing defense.
"Aaron, obviously, is playing great," Favre said. "They have an opportunistic defense (that) is extremely well-coached, and maybe they give up a few plays, but they're going to create a bunch too. I just give the advantage, not just in this game, but on this side of the NFL to the Packers.
"I'm just sitting here thinking off the top of my head – no one has stopped the Packers, have they? Maybe the Packers have stopped themselves, but I don't believe that anyone has really shut down the Packers yet, and I don't think they will."
He's far from an impartial observer, of course, so take Favre's prediction with a grain of salt – but maybe only a grain. As noted on Packers.com, the winner of the seven previous playoff matchups between the Packers and Giants has gone on to win the NFL championship (pre-merger) or the Super Bowl each time. Green Bay defeated New York, 23-16, at home in Week 5, the third of three consecutive losses for the Giants. They went on to win nine of their final 11 games, though, while the Packers had their mid-season struggles before catching fire over the last six weeks.
The Packers have lost their last two playoff meetings at home against the Giants, however – in the 2007 NFC Championship Game, when Favre threw an interception in overtime that led to New York winning, and in the 2011 Divisional Round, when Green Bay's 15-1 season abruptly came to an end at the hands of Tom Coughlin, Eli Manning and Co.
Favre's bold proclamation on his radio show wasn't his first time prognosticating the Packers in the Super Bowl. Back on Dec. 13, when Green Bay was just 7-6 and still on the outside of the postseason picture, Favre said, "This sounds crazy, but I think that they are the favorite for the Super Bowl in the NFC. I mean, they've got to get in the playoffs, but I think that will happen and I think that they will go all the way."
What do you think, Packers fans? Are you glad the old gunslinger is predicting his old team in the Super Bowl, is he jinxing them or does it not really matter?
Facebook Comments
Disclaimer: Please note that Facebook comments are posted through Facebook and cannot be approved, edited or declined by OnMilwaukee.com. The opinions expressed in Facebook comments do not necessarily reflect those of OnMilwaukee.com or its staff.