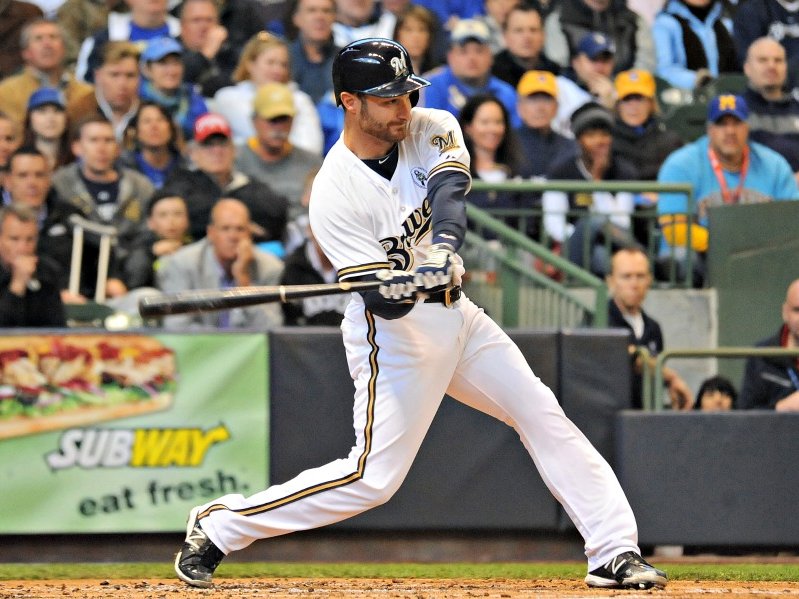 Several Brewers making an all-star case
When you're the best team in baseball on the field, you're allowed to have a little fun off it.
Such as a game of "hot foot" on Scooter Gennett during a postgame interview, and then dousing his head with water as his foot burned. Or, if you're Carlos Gomez, spreading eye black over your face Commando-style and running through the clubhouse with a Nerf gun.
The team seems to have mastered how to make viral video and commercials, and last week several players let out of Miller Park to head over to Summerfest to take in shows and mingle with fans.
"It comes with the territory," reliever Will Smith said. "If we were in last place, it wouldn't be nearly as fun around this clubhouse as it is right now, but we're not in last place. We're having fun, we're playing good baseball and we're winning an everybody's just having a good time with it."
There's a part of the game where fun off the field mixes with the success on it, and it's in the run-up to the All-Star Game.
"It's good – it just makes or team that much better to kind of give some recognition," Brewers first baseman Lyle Overbay said. "It's on a big stage and that can put some guys on the map."
This year's contest will be held in Minnesota at Target Field on July 15, and as fan voting for position players ends this week, the Brewers could see third baseman Aramis Ramirez and centerfielder Carlos Gomez elected by the public. (Fans can vote online through July 3.)

Gomez made his first All-Star team last summer and his numbers are virtually identical at this point, but Ramirez's name is a bit of surprise – even to him – considering he missed a month due to injury.
He last made an All-Star team in 2008 as a member of the Chicago Cubs. His only other trip in his 17-year career was in 2005.
"It's fun," Ramirez said. "Anytime you got the opportunity to go you should. It's a fun time, especially for the family."
The 36-year-old is hitting .294 with 11 homers and 40 RBI.
"I don't really think about it," Ramirez said. "It's a win-win situation for me. If I go, it's fun for my family. If not, I've got four days off and I get to go home (to the Dominican Republic). For me it's really a win-win situation. Right now my focus is on just trying to win games here. We've got a really good thing going here, we're in first place and that's my only focus right now."
Right fielder Ryan Braun remains in the fan voting mix as well, as does first baseman Mark Reynolds.
"They vote here," Ramirez said. "The fans, they're really passionate about their team. A lot of guys here deserve it too. We've been playing pretty well."
Catcher Jonathan Lucroy trails only St. Louis Cardinals catcher Yadier Molina in fan voting, but there seems to be little doubt that he will be elected on the player's ballot.
Then you have the pitchers and reserves, some which will be selected by St. Louis manager Mike Matheny. The players will pick eight (five starters, three relievers) of the minimum 13 pitchers required.
This will add some intrigue for Brewers fans as they wait out these picks.
Matheny is a former Brewer, but fans will wonder what divisional politics may come in to play. And, no one knows how Matheny views an All-Star selection: does he go strictly by the first half numbers, or does he take career experience into account?
Don't think the players don't wonder about this, either.
There has been conversation in the Brewers clubhouse about who has and hasn't been deserving of a pick in year's past.
Last year, San Francisco Giants manager Bruce Bochy had nine starters and five relievers on his team while Detroit manager Jim Leyland went with 10 starters and four relievers, and non-closers like Will Smith have gotten more recognition for their contributions.
Closer Francisco Rodriguez (27 saves, 2.34 ERA) seems like a lock, but the 24-year-old Smith might be the most deserving Brewers bullpen arm. He's appeared in 44 of the Brewers' 84 games and has posted a 1.36 ERA in 39 2/3 high leverage innings while striking out 11.1 batters per nine innings.
"It's a cool position to be in, but our ultimate goal is winning games," Smith said. "If we make the team or not make the team, who cares if we're playing in October. That's where it really matters. I think all these guys in here would trade not going to the All-Star game to winning in the World Series. I know I would.
"It's cool to be in those conversations but the ultimate goal is to win ball games and go to the playoffs."
Then there's Brewers ace Kyle Lohse.
In his 14th season, the right-hander has never made an All-Star game – even when he wound up finishing the 2012 season 16-3 with St. Louis.
Lohse is currently 9-2 in a league-high 17 starts and has a 3.08 ERA with a career low 1.079 WHIP (walks plus hits divided by innings pitched).
What makes Lohse's situation interesting is that he's been the best starter for one of the National League's best team, but his overall stat profile isn't top-end in the league.
He's tied with teammate Wily Peralta and two others for fourth in the National League in wins (St. Louis' Adam Wainwright, Los Angeles' Zack Greinke and Cincinnati's Alfredo Simon have 10). His Wins Above Replacement is 20th and ERA is 17th among starters, but his WHIP is eighth.
So while it will make for a great debate leading up to the midsummer classic, it's all good things in the clubhouse.
"It's a fun thing," Brewers reliever Zach Duke said, who made the 2009 All-Star team with Pittsburgh. "You want your teammates to be acknowledged and you want their works acknowledged. You want the guys that have been doing really well to get the respect that they deserve.
"There are definitely guys in this clubhouse that deserve to be on the All-Star team and if they're not, there's obviously going to be questions about snubs and all that stuff, but at the same time inside this clubhouse we know who deserves to be there and who doesn't and I think that's the main thing."
Facebook Comments
Disclaimer: Please note that Facebook comments are posted through Facebook and cannot be approved, edited or declined by OnMilwaukee.com. The opinions expressed in Facebook comments do not necessarily reflect those of OnMilwaukee.com or its staff.