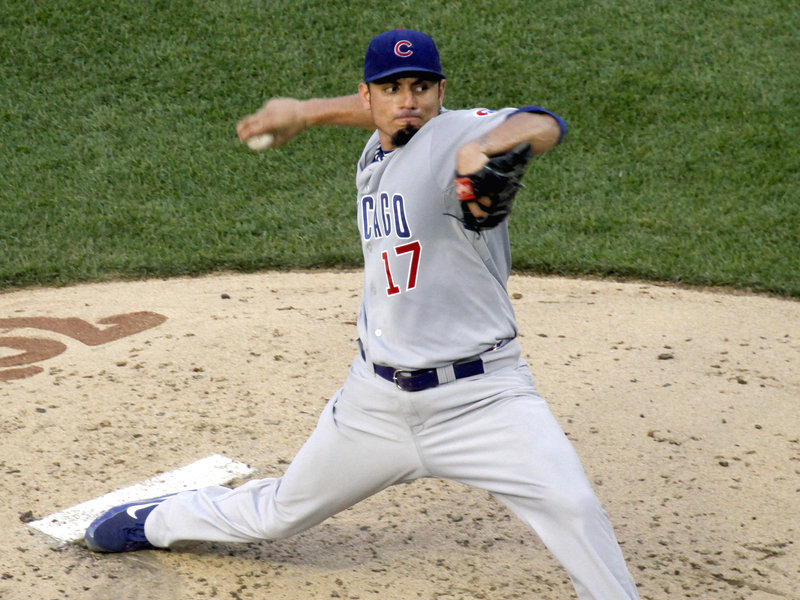 Brewers' stove just turned on
Talk about timing.
On Friday, I was all set to talk about how cold the stove had been at 1 Brewers Way all winter.
Then again, perhaps it's something that doesn't need to be turned on until deep in the winter by Milwaukee Brewers principal owner Mark Attanasio and general manager Doug Melvin.
If you remember, at about this time last year, the pair met the media in a staging area behind a curtain at the Brewers On Deck at the Wisconsin Center, and were peppered with questions about a certain free agent right-hander by the name of Kyle Lohse.
Both men kept with the "young pitching" mantra, hoping to build off the promising starts the likes of Mike Fiers, Mark Rogers, Marco Estrada and Wily Peralta had made.
Then, days before the 2013 regular season opened, Attanasio struck a deal with agent Scott Boras to sign Lohse to a 3-year, $33 million deal.
It was the biggest move of the 2013 offseason for the Brewers and a big surprise, and it gave the team a bit of a buzz around Milwaukee as it prepared for Opening Day.
A year after deflecting questions about signing a veteran pitcher, Attanasio brought a record crowd at Brewers On Deck on Sunday afternoon to its feet with a simple statement about a different one:
"We've come to an agreement with Matt Garza," he said. "We have a four-year deal for him to pitch for our club. It's still going through its final approvals at the league and the player's association."
What surprised most of us in the local media was that Melvin and Garza admitted they had been talking about a contract for weeks, but were going to wait until Japanese ace Masahiro Tanaka set the market for free agents to finalize a deal.
"It didn't matter if you wanted to get a pitcher at (the winter meetings) you weren't going to get him anyways," Melvin said. "The whole starting pitching world's representatives all waited for Tanaka to sign. We could have gone out and probably offered five years years at the winter meetings and they weren't going to sign. That's more the other side, the players and the player's agents. They control free agency."
Once Tanaka pulled in $155 million from the New York Yankees on Thursday, the 30-year-old Garza and the Brewers moved quickly to make the deal happen.
"We've been in contact with the Brewers for quite some time," Garza said. "It was just kind of the right fit. It wasn't a surprise. I was expecting an open market and that's what I got. I'm really happy that I'm a Milwaukee Brewer."
Unfortunately for Attanasio and Melvin, there isn't a "saving grace" like Lohse and Garza at first base.
Because of that, it's impossible to say the Brewers' stove will ever hit the highest temp.
In a quiet offseason punctuated by moves that may pay off in a couple years – like the trade to Boston for 20-year-old reliever Luis Ortega and waiver pickup of 21-year-old starter Wei-Chung Wang – there isn't much left on the free agent market that fits this team's needs.
First base was Melvin's primary concern heading into the winter, but the market – at least at the price and years the Brewers were willing to commit to – was thin.
Juan Francisco was given a $1.35 million contract to avoid arbitration.
Mark Reynolds was signed to a minor league contract with a $2 million bonus if he makes the 40-man roster. The 30-year-old Major League Baseball single season record holder for strikeouts will probably make the team, serving as a backup for the creaky Aramis Ramirez at third and platooning with Francisco at first.
Lyle Overbay, 37, was also signed to a minor league contract while the 40-man roster also includes first basemen Sean Halton, Hunter Morris (.247/.310/.457 with 24 HR and 73 RBI in Class AAA) and Jason Rogers (.270/346/.468 with 22 HR and 87 RBI in Class AA).
The best free agent available at first is Kendrys Morales, who will be 31 in July. Unfortunately, he hasn't been the same player since breaking his leg in a home run celebration in the summer of 2010. Unfortunately, he has draft pick compensation attached to his name, so the Brewers are out of that mix.
That's it for available free agent first basemen, unless you want to give ol' Yuni B another shot at it.
The Brewers are set elsewhere on the diamond, with All-Stars at second base (though Scooter Gennett will platoon with the declining Rickie Weeks there), shortstop, third base, center field and right field. Aoki was moved so Khris Davis could be given an everyday shot in left field and Jonathan Lucroy has All-Star potential behind the plate.
Now, a trade can always be made to improve first base – the Brewers do have some pitching depth in their farm system now with Smith, Tyler Thornburg, Ariel Pena, Jimmy Nelson and Johnny Hellweg – but there just aren't any players left to sign at that spot.
The hot stove went from off to the slow cook setting with Garza in the fold for $50 million over the next four years, but three weeks remain until pitchers and catchers report and there are over two months left before Opening Day. At this point, it'd be impossible to say it won't be turned up any further by then.
Talkbacks
Photodavie | Jan. 28, 2014 at 7:43 a.m. (report)
Oh come on Jim! You're the one who always tells me to look on the bright-side! For the 1st time since we made the play-offs we have 3 solid starting pitchers. It really comes down to health. If all the key players stay healthy this year, the Brewers can definately compete. The NL Central had 3 dominating teams last year and no Houston to beat-up on. Brewers made the necessary moves (that they could afford) to try to compete with the Reds, Pirates, Cards. Should be a fun season. Go Brewers!
TosaJim | Jan. 27, 2014 at 2:54 p.m. (report)
Too bad we're having mostly left-overs for dinner.
Facebook Comments
Disclaimer: Please note that Facebook comments are posted through Facebook and cannot be approved, edited or declined by OnMilwaukee.com. The opinions expressed in Facebook comments do not necessarily reflect those of OnMilwaukee.com or its staff.