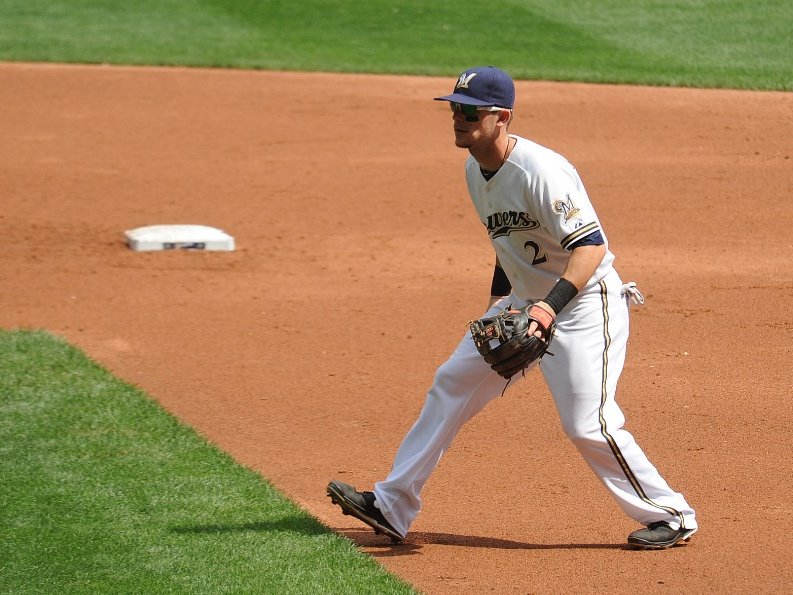 Brewers position players report to spring training
Pitchers (and catchers) reported to spring training last week, but now all of the Milwaukee Brewers have arrived in Maryvale with the team's first full workout taking place on Saturday.
We take a look at each position as the Crew look to big things in 2014.
First base
This is definitely the biggest mess for manager Ron Roenicke to sort out.
As of now, the job seems that it is either Juan Francisco's and Mark Reynolds' to win or lose, or face a platoon. Francisco, a left-handed hitter, was inked to a $1.3 million deal and Reynolds will get $2 million if he makes the Brewers 40-man roster at any point. Francisco played in 89 games (270 plate appearances) and hit .221/.300/.433 with 13 homeruns and 32 RBI while striking out 95 times.
In 504 plate appearances with Cleveland and the New York Yankees, the right-handed Reynolds hit .220/.306/.393 with 21 homers and 67 RBI while striking out 154 times.
Veteran and former Brewer Lyle Overbay (.240/.295/.393, 14 HR, 59 RBI) has been invited to camp as well, and minor leaguers Hunter Morris (.247/.310/.457, 24 HR, 73 RBI at Class AAA) and Jason Rogers (.270/.346/.446, 22 HR, 87 RBI in Class AA) will also get a look.
And, don't forget about Sean Halton, who spent 42 games (111 plate appearances) in Milwaukee is also on the 40-man roster. He has hit .238/.291/.396 with 4 homers and 17 RBI in limited time.
Second base
While it seems like Melvin is leaning toward having Scooter Gennett as his starting second baseman, don't count out veteran Rickie Weeks just yet. Weeks struggled mightily (.209/.306/.357 10 HR, 24 RBI) before tearing his hamstring and he hasn't been healthy throughout much of his 10-year career – but he's likely playing for his career at this point, as he won't reach the number of plate appearances to vest his $11.5 million option for 2015.
Gennett hit an impressive .324 with 19 extra base hits over 69 games in Milwaukee last year. He walked just 10 times though for an OBP of .356, but he still has a lot to prove over the long haul.
If Weeks tears up spring training, it is likely Gennett will start the year in the minors. If it's an even competition, anticipate seeing the platoon Roenicke used with both players last June.
Shortstop
This is a no-brainer, with All-Star Jean Segura back for his second full season with the Brewers. And, he should be fresh, having not played winter ball for the first time in his career. Segura faced the same questions that Gennett will get this year following his impressive 44-game trial run in 2012, and he responded with a .294/.329/.423 campaign that saw him steal 44 bases, collect 42 extra base hits and challenge for the National League hit crown.
Third base
Aramis Ramirez will turn 36 in June and is coming off a year in which injuries limited him to just 92 games – the second lowest of his career since becoming a full time player in 2001. It may be too much to expect him to be completely healthy all season long (he's only topped 149 games played three times) so Reynolds will likely serve as a backup option there.
Always a slow starter (.277/.337/.475 career first half compared to .295/.352/.883 in the second half), the Brewers will likely do all they can to make sure he's 100 percent heading into Opening Day. It's unknown how long Ramirez plans to continue playing, but he does have a $14 million mutual option for 2015 (with a $4 million buyout). It creates a nice incentive for Ramirez to have a great season, even at this point in his career.
Left field
The Brewers believed in Khris Davis' performance over 56 games last season where he hit .279/.353/.595 with 11 HR and 27 RBI to ask Ryan Braun to move to right field following the trade of Norichika Aoki. He battled some nagging injuries during his time with the Brewers and says he focused on improving his throwing arm in the offseason, but this job is his to lose.
Centerfield
Carlos Gomez is coming off an All-Star, Gold Glove-winning campaign in his seventh year in the majors at the age of 27. He posted career bests in average (.284), on base percentage (.338), slugging percentage (.506), homeruns (24), RBI (73), stolen bases (40) and WAR (8.4). He had his share of bumps and bruises due to his style of play in the outfield, and there are questions if he can follow that offensive performance up – but the Brewers appear set here through 2016.
Right field
Ryan Braun will be the most watched hitter of 2014, even more so than after his successful appeal of a suspension after his 2011 Most Valuable Player season. He was hurt for much of the first half the season anyway, appearing in just 61 games and producing modest (for him) numbers at .298/.372/.498 (all below career averages) while hitting just nine homers before having to sit out the rest of the year for violating the league's joint drug agreement. And, of course, people will be watching to see if his numbers take a permanent dip. The defensive transition to right shouldn't be that difficult, as Braun says playing there is actually easier at Miller Park than left.
Catcher
OK, we know these two have been in Arizona for a week, but Jonathan Lucroy and Martin Maldonado are position players after all. Lucroy has the talent to be an All-Star, but the question is whether he can put an entire season together. He was hitting .345/.387/.583 with 5 homers and 30 RBI before breaking his hand 43 games into 2012, and then he hit .291/.361/.472 with 10 homers and 40 RBI over his final 79 games of 2013 after starting off in a terrible slump.
Maldonado took a serious step back offensively last year with his average plummeting nearly 100 points, but he was a steadying influence on Wily Peralta and has an excellent arm. The Brewers would like to see his bat return to 2012 form, but he's a solid backup catcher.
Bench
The Brewers claimed Elian Herrera off waivers and put him on their 40-man roster, and he's appeared in 71 career games for the Los Angeles Dodgers the last two years, hitting .251/.336/.328 with 12 extra base hits and just four stolen bases in 195 at bats. He does have experience playing third base, second base and left field, so he may vie for a backup utility role.
Jeff Bianchi would be his primary competition at that spot, as the 27-year-old has backed up at third and shortstop the last two years for the Brewers, hitting .226/.262/.305 over 133 total games.
Caleb Gindl and Logan Schafer will be competing for the fourth outfielder spot (or perhaps a starting job if Davis falters in the spring). Aided by Braun's suspension, Schafer appeared in 134 games but couldn't really find a groove at the plate, hitting .211/.279/.322 with seven stolen bases and 22 extra base hits. Gindl got a look last year as well, appearing in 55 games (155 plate appearances) hitting .242/.340/.439 with 5 homers and 14 RBI.
Facebook Comments
Disclaimer: Please note that Facebook comments are posted through Facebook and cannot be approved, edited or declined by OnMilwaukee.com. The opinions expressed in Facebook comments do not necessarily reflect those of OnMilwaukee.com or its staff.