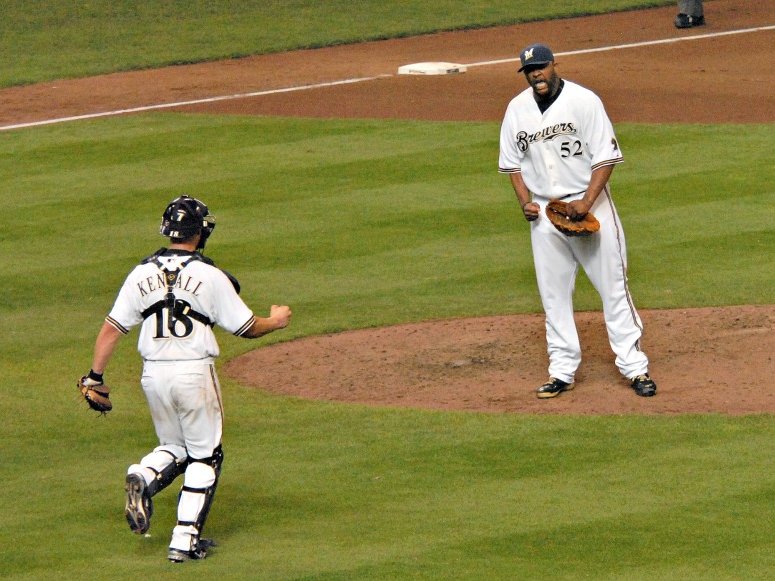 Will the Brewers make a deadline splash?
The clock is ticking, but do the Milwaukee Brewers feel the need to strike before it stops?
Despite a middling May and an early July swoon, the Brewers have been in first place in the National League Central since early April, and have maintained one of the National League's best records.
A 20-7 start to the year showed general manager Doug Melvin and manager Ron Roenicke how good this group can be, but a little under four days away from the non-waiver trade deadline, are they certain how good they will be?
"We're going to have our ears open," Melvin said. "We're open to anything that can improve our club. But as a team we still have to play well as a team and not thing that any one acquisition makes a difference because not many times does one acquisition without the team still continuing to play well."
One thing is certain, however – Melvin isn't afraid to tinker if he thinks his team can make the postseason. And that comes from the top and owner Mark Attanasio.
"Mark's always been there if we needed somebody," Melvin said at the very start of the season. "We're not afraid to make trades."
Indeed.
There was, of course, the early July acquisition of ace CC Sabathia in 2008 that spearheaded the Brewers first postseason berth since 1982.
The Brewers won the division in 2011, which were precipitated by big offseason transactions. First, Shaun Marcum was acquired in December 2010. A few days later, Zack Greinke (and Yuniesky Betancourt) followed. Nyjer Morgan was brought in at the end of March.
The main in-season trade for a position player was fairly small – utility man Jerry Hairston, Jr. was brought in from Washington for minor leaguer Erik Komatsu at the deadline – but it played big dividends down the stretch with Hairston assuming a key role at third base.
The big, and surprising, move of 2011 was made on July 12 when the Brewers acquired closer Francisco Rodriguez from the New York Mets for two minor leaguers. He appeared in 31 games (29 innings) setting up John Axford, and posted a 1.86 earned run average. Rodriguez also pitched in five postseason games, allowing one earned run.
Despite those success stories, Melvin takes the broad view. He noted how dealing Greinke to the Los Angeles Angels of Anaheim didn't result in a playoff berth for them in 2012. He noted how Matt Garza was dealt from the Chicago Cubs to the Texas Rangers last summer, and that also didn't ensure a playoff run.
"It's no different than the off season," Melvin said. "There's a lot of acquisitions you can make in the offseason and all it does I make you look better on paper. It doesn't make you a better ball club. Same as the July trade deadline. You can add players that will make you better on paper, if you go and add a player, but it doesn't make you, necessarily, a better ball club as well as a team."
There was no early July move made this season by the Brewers, and there has clearly been no rush to force the issue as the July 31 deadline nears. Part of that delay is the fact that there are 11 teams in baseball that are within seven games of one of the two wildcard spots available in each league.
"I think because of the wild card I think it makes it a little bit tougher," Melvin said. "I think you can tell everybody – the streak we had covered 11 games, we lost 10 out of 11 – that's all you need is to win 10 out of 11 and everybody's back in it. I think that's an indication of why teams don't ever want to give up until they absolutely have to, or teams don't want to move players until they absolutely have to. There's too many games. And those kind of streaks can happen."
But, the lasting arm injuries to right-handed relievers Jim Henderson and Tyler Thornburg – as well as heavy use of left-handers Will Smith and Zach Duke (102 combined games) – has to weigh on Melvin's mind.
Then again …
"You can go out and acquire a relief pitcher, but he may pitch eight innings for the month," Melvin said "I was looking at (Pat) Neshek with the Cardinals, an All-Star pitcher, he pitched eight innings for the month (of June). Eight innings in a month when you play 250 innings. So you still gotta play good baseball for 242 innings in that. When you get down to it, it's a workload and the at-bats and innings pitched. It's still a team game and a team effort."
As far as Roenicke is concerned, until someone new is handed to him, he's not going to worry about it.
"I think you look at what we did at the beginning of the season," he said. "I know we lost Henderson and I know we lost Thornburg, and that makes a difference having that one extra arm down there, a power arm, but I like what we have on the field. I think you can always improve yourself somewhere. Every team can. Sometimes it works out in a trade, sometimes it doesn't. But if it doesn't, then we'll work with what we have."
Facebook Comments
Disclaimer: Please note that Facebook comments are posted through Facebook and cannot be approved, edited or declined by OnMilwaukee.com. The opinions expressed in Facebook comments do not necessarily reflect those of OnMilwaukee.com or its staff.