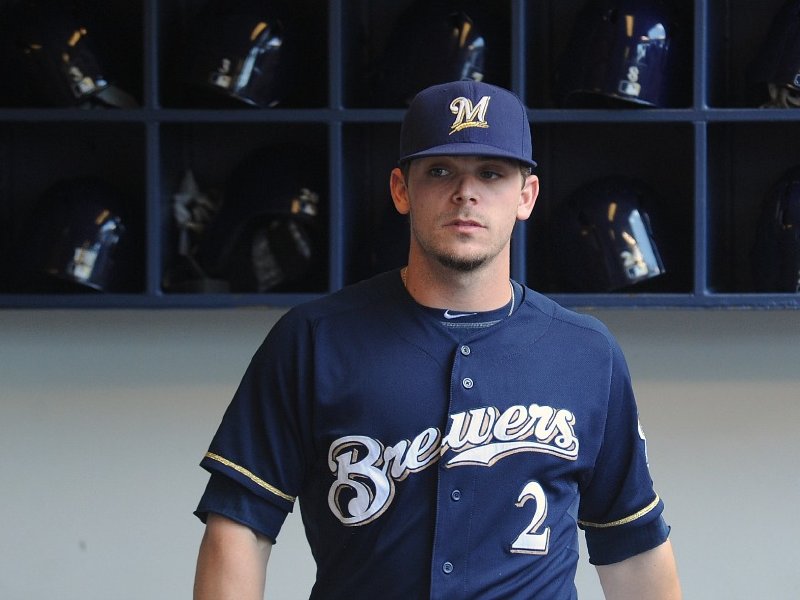 5 questions for Brewers second baseman Scooter Gennett
OnMilwaukee.com is catching up with Milwaukee Brewers players in this occasional series called "5 questions for ..." Sometimes we'll talk baseball, sometimes we won't, but regardless you'll get new insight into some of your favorite players.
Scooter Gennett got a taste of the big leagues in 2013, and now he's helping the Milwaukee Brewers make a playoff push in his first full season. We caught up with the second baseman to talk about what he's learned about the Cream City, being set on fire and how he likes to relax on off days.
OnMilwaukee.com: Now that you've been in Milwaukee for the entire year, what have you learned about the city that maybe you didn't know, or learn, during your stints last season?
Scooter Gennett: My first year in low A in Appleton was the first time I really experienced the Wisconsin fans, so I think just coming here more often, just being around more often, I just feel like I'm fortunate to be here because they're there. They were with us last year when we weren't doing too good. Obviously this year we're doing a lot better but it's probably the same; we're probably drawing the same crowds. Really loyal and just great fans.
I'm sure in the winter there's not a whole lot to do other than watch the Packers or that kind of stuff. That's probably one thing I've learned about Milwaukee, is that there's good fans and good people. It's not dangerous to walk out in Downtown Milwaukee. Like all the other places we go, it's like hey, don't go here, don't go there. Here, and in Wisconsin in general, it just seems to be good, blue-collar type people that aren't going to talk crap if they see you out about how you did that game. They're just good people and good fans.
OMC: You've had some off days lately. Is there something you really like to do when you have that day?
SG: For me, it's sleeping in. Sleeping in and just relaxing, if it's down at the pool or going out. Me and my girlfriend go to the park up at Brookfield that has a little pond and beachfront area (Fox Brook Park). Just getting out and doing something I wouldn't normally do. I'm sure a lot of these guys do stuff even when we do play games (because) we don't have to be here until like 2 o'clock, so there's some stuff to do, but getting away from the game, getting away from whatever's on your mind is probably the best thing to do on an off day.
OMC: OK, I've got ask you about the postgame interview you conducted back on June 26. Have you ever been set on fire before?
SG: That's the first time that's happened to me. It's nice to get it out of the way, but I think if they wouldn't have thrown water on me it probably would have been pretty bad. That was the first time I've gotten the hot foot.
OMC: To that end, what's it been like for guys like you and Khris Davis who are essentially "first year" players in this clubhouse?
SG: It's awesome. We've learned a lot of things that we should do and shouldn't do, especially as guys just getting into the big leagues. We're not, me and Khris we're not the veteran-type guy yet, so we have to know how to act, how to play, how to do certain things that maybe we're not accustomed to doing, certain things like getting the water when we get off the plane for the guys. It's all good because you pay your dues and then one day you can have someone carrying your stuff or whatever it is.
As far as getting crap, or people talking crap, it's not like it offends you. We're all up front and pretty open, so if you mess up out in the field we'll joke about it and just get a good laugh in. It's not the intent to make you feel bad or put you down. I've heard some stories in that sense, the rookie stuff, and it's gotten a little better now. I talked to some guys before that they dreaded coming to the ballpark, but that's not the case for us. I think a lot of it has to do with how you take what they say. if you get mad and stuff it just gets worse. When it comes to that, I think that me and Khris do a pretty good job.
OMC: Finally, do you have a piece of equipment or anything that you absolutely must have in order to feel like you're ready to play, aside from a bat and a glove, of course?
SG: Materialistic stuff, not really. It's just more getting the work in, getting in the cage, doing my routine. I feel like everybody has some type of routine that they do. There's my chain, which means something to me, but I don't need it. As long as I feel like I've prepared the right way, then I feel comfortable out on the field.
xtvbfxfuar
Facebook Comments
Disclaimer: Please note that Facebook comments are posted through Facebook and cannot be approved, edited or declined by OnMilwaukee.com. The opinions expressed in Facebook comments do not necessarily reflect those of OnMilwaukee.com or its staff.